ALEC PETERS is pretty much a man who needs no introduction…at least in the fan community.  But if you've only just landed on this planet, here's a quick run-down.  Alec has been the driving force behind the fan production AXANAR for half a decade, writing, producing, and appearing in the widely popular Prelude to Axanar fan film.  He worked ceaselessly over three crowd-funding campaigns to raise more than $1.3 million in fan donations to build out a studio and sets and begin filming a 90-minute Star Trek fan film detailing the final battle of the Four Years War with the Klingons at the planet Axanar.
And then Alec got sued by CBS and Paramount for copyright infringement.  He fought back, and after a year of legal proceedings, the lawsuit was settled just days before a trial was set to begin.  While the specifics of Alec's settlement with the studios aren't public, we do know that Alec is now allowed to make two 15-minute Axanar fan films with his original cast (if they choose to return) as well as other entertainment industry professionals.
That settlement came nearly a year and a half ago, and still there is no completed follow-up Axanar fan film or films.  With that in mind, let's pick up where we left off yesterday as I ask Alec a question that both Axanar supporters AND detractors have certainly been wondering about…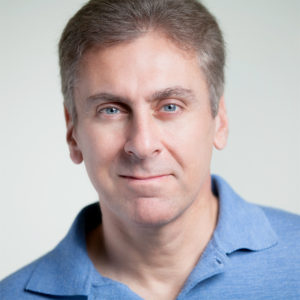 JONATHAN – Alec, back in March of 2014, Prelude raised $101,000 in a Kickstarter. Three and a half months later, you premiered a completed fan film in San Diego during Comic Con. Now, you settled with CBS and Paramount back in January of 2017. It's nearly a year and a half later and you haven't filmed a single line of dialog yet.
What is heck is taking so long???
ALEC – There's a bunch of reasons. But first, I want to make sure everyone understands something: Prelude wasn't made in just three or four months. Yes, it was just over three and a half months from the end of the Kickstarter to the finished film. But we had been working on Prelude for almost a year before the Kickstarter. The cast was already selected, signed up, and scheduled. We had a director chosen, a production team in place, make-up people, costumes, even CGI. Tobias [Richter, of The Light Works in Germany – Jonathan] and I had already worked out the designs of the ships you see in Prelude, and he created the most amazing models and finished most of the VFX…all months before we ever launched the Kickstarter.
After the settlement, while were weren't starting over again completely from scratch, we did have to go back and rework a lot of stuff, most importantly the script to make 90 minutes fit into 30. We also had to move the sets and all the studio resources across the entire country to Georgia and get the new studio set up. The sponsorship agreement with OWC Digital had to be hammered out to help us be able to continue being in the new location. The bridge set still needed work. There was a lot of stuff that had to get done.
JONATHAN – But still…a year and a half, Alec? And you're only just now looking to start production "later this year"?
ALEC – Well, this leads to my second point. Back when we were creating Prelude and doing crowd-funding and pre-production on the main Axanar feature film and setting up Ares Studios, I was working on this FULL TIME. So were Rob Burnett and Diana Kingsbury. And things moved pretty quickly. If the lawsuit hadn't hit in December of 2015, we had scheduled principle photography to begin in January 2016. Things moved fast back then.
Now, however, no one is working on Axanar full time…not even me! I've got a LOT of other things going on at the moment.
JONATHAN – Like what?
ALEC – Well, I've been auctioning off a lot of my personal collection of screen-used props and costumes through my company Propworx and in partnership with Heritage Auctions, the third largest auction house in the world.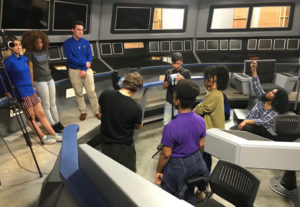 I've also been working with Pasha Souverin, the head of the Gwinnett County schools video production team. The program serves the 28 high schools schools in the county, and we've been working on a program to open OWC Studios to high school students. We even had our first student film shot at the studio! Georgia is a big film-making state now, and there's a lot of people to meet with…who want to work with us! I'm meeting with two production entities for projects after Axanar. One of the guys is a huge Star Trek fan—we met after he read an article about us in the Atlanta Business Chronicle—and we've become good friends. We're working on ways to monetize OWC Studios after Axanar is done.
JONATHAN – Wait a second, pal! Isn't monetizing your studio one of the things that got CBS and Paramount so pissed off?
ALEC – We're not monetizing Star Trek! What we do with the studio and my own productions has nothing to do with CBS or Paramount. After Axanar, it'll all be about original sci-fi projects, and CBS and Paramount don't have anything to do with any of that.
JONATHAN – Okay, cancel red alert. Anything else taking up your time?
ALEC – Yeah, I'm helping a few friends with a new business, helping them raise start-up capital. When I lived in Atlanta many years ago, I raised about $9 million for two technology companies that I started. So I offered to do the same for my friends. That's been taking a up a LOT of my time, but I think they have a really great business model, and I want to help them succeed in any way I can.
JONATHAN – So that's a pretty long list. Is there anything else delaying Axanar, Alec?
ALEC – Yeah, I had to sell my house!
JONATHAN – What does your house have to do with producing a fan film?
ALEC – A lot! As you said, we made Prelude for about $125K. That was one 20-minute fan film. Now we have to produce two 15-minute fan films. We estimate the cost will be about $150,000. As you know, the money that came in from the Kickstarter and Indiegogo campaigns is long gone. It went to things like building the bridge, transporter, captain's quarters and Klingon bridge sets, rent and utilities for Industry Studios and other production expenses. Just keeping the studio open while we were being sued took a lot of money.
JONATHAN – Don't forget the sushi and tires!
ALEC – Don't be a smart-ass, Lane! Anyway, I've now put in, I estimate, well over $ 150,000 of my own money to keep Axanar alive, including paying $9,000 for the move across country and $26,000 in legal fees.
JONATHAN – Hold on. Weren't you getting FREE legal representation from the Winston & Strawn law firm?
ALEC – Yes, but I still had to cover incidentals like travel and lodging, court filing fees, printing and postage…there's a long list. Anyway, I know we're gonna need over a hundred thousand dollars to film Axanar (possibly more), but I'm not exactly living high on the hog right now. That's one of the reasons I've been selling a lot of my collection. But that's covering living expenses. I also want to put some of my own money in Axanar…especially if I'm going to ask others to help. So when I had the opportunity to sell my house in Florida, I jumped at the chance.
JONATHAN – Wait, don't you live in Georgia?
ALEC – I wasn't living in that house in Orlando. I bought it back in 2013 for my very dear friend and her two sons, both of whom are my godsons. We're really close; I've known them since they were three and a half, and I visited them every few months even when I was living out in Los Angeles.
JONATHAN – And you bought them a whole house??? You're, like, the best godfather ever! (Well, maybe Brando was better.)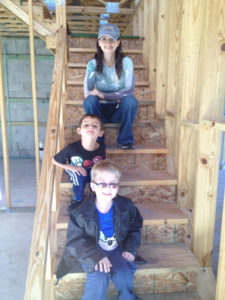 ALEC – I'll explain. Their mother, Damaris, was going through some hard times back then, and Ethan was getting chemotherapy (he's fine now, thank God). But she wasn't going to make it financially, and I really love those kids. It was a big decision for me, but I decided in 2013 to sell half of my prop and costume collection at the time and buy her a house that was being constructed about a mile from the kids' school. I paid cash, so I owned it outright.
Last year, Damaris told me she wanted to buy the house from me. She's back on her feet in a really great job where she's thriving. And she wants to own the house herself. That was great news, since it allowed me to take the proceeds and buy a house of my own and still have money for Axanar. I don't want to ask donors to pay for everything without being willing to put in money myself.
JONATHAN – Oh, wait a minute! WAIT A MINUTE!!! Back to red alert, Alec. I thought your settlement with CBS and Paramount doesn't allow you to raise any more money from crowd-funding.
ALEC – Well, first of all, you haven't seen the settlement, Jonathan. I have. Without going into specifics, I can tell you that we are not permitted to use public crowd-funding services like Kickstarter and Indiegogo. And we won't be. But the settlement does not prohibit us from approaching fans for donations privately. And that's what we intend to do.
JONATHAN – So you bought yourself a house with the proceeds from selling your other house. Why not just rent a small apartment and then fund Axanar completely yourself?
ALEC – Well, I could just say to f–k off and that my financial decisions are none of anyone's business…because they aren't. However, as any tax adviser will tell you, when you sell a house for profit (and there was a profit), that money is taxed…unless you use it to buy another house, which I did. So if I'd rented, I would have lost a ton in taxes. .
And it's not like I bought a mansion. I've got a nice house next to a big pond (I call it a lake!) with a large basement for a man-cave and extra bedrooms for guests. If you and Jayden and Wendy ever want to come to Atlanta, you don't need to pay for a hotel. You're welcome to stay here. And I'm sure I'll be hosting a lot of friends and fans in the future. But I've got a mortgage and there's some things that need improvement. The house was something that I could afford close to the studio…and I don't think that's too much to ask.
I mean, some people think I should live like a pauper and give everything to Axanar until it is made. Well, I have spent 4 years of my life and spent well over $ 150,000 of my own money on this project. When all is said and done that number will likely be over $ 200,000! So if any fan thinks that isn't enough, well, I am sorry.
JONATHAN – Hey, I've got no problem with it. I'll probably throw in another $250 myself when the time comes.
ALEC – Thank you.
JONATHAN – Anything to get this thing made, dude! Speaking of which, I know one reason for the delay that you forgot to mention, Alec.
ALEC – What's that?
JONATHAN – The 2018 midterm elections and J.G.'s hair!
ALEC – Oh, that's right! I did forget to mention that.
JONATHAN – You want to explain it to the readers?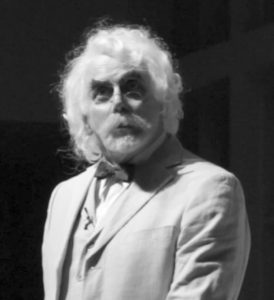 ALEC – J.G. Hertzler, who plays Sam Travis and will be in the two Axanar films, is currently running for Congress in upstate New York in the 23rd District. He's running as an independent, but he's also running as author Mark Twain. Well, he's not REALLY running as Mark Twain. The ballot will say "J.G. Hertzler." But he's campaigning in character as Mark Twain, coming out at J.G.'s rallies and speaking appearances as a "special guest" to share his thoughts. The thing is, though, that in order to keep up the Twain persona, J.G. grew his hair out REALLY long. And Sam Travis has short hair. I'm not gonna make him cut his hair and torpedo his congressional campaign just so he can appear in Axanar. So we've gotta wait until after the November 6 elections to film his scenes.
JONATHAN – Can you film everyone else's scenes earlier and just wait till November to do J.G.'s scenes?
ALEC – Possibly. But there's budgetary issues to consider. We need a production crew at the studio for filming. That costs money to set up. If we shoot everyone's scenes over the course of a few days or a week, that means we only set up once. If we have to do it twice, that makes things more expensive.
JONATHAN – Yeah, I can see that. So when will you start looking for donations? $150,000 is a lot of money to raise quickly..especially without Kickstarter or Indiegogo.
ALEC – Not sure yet. I am really trying to get the Indiegogo patches shipped first. Plus we have a bunch of cool stuff we are giving donors that they didn't expect. I just found several hundred Battlestar Galactica Presidential ballots. These are screen used props from the third season episodes where Gaius Baltar beat Laura Roslyn because she tried to fix the election!  I am going to be giving these out to donors, with Certificates of Authenticity, just as a gift for being patient.
JONATHAN – And what happens of you don't reach $150,000?  Will you be selling more of your collection or taking out a second mortgage?
ALEC – Well, we will just have to be smarter with our money!
JONATHAN – Should fans expect another Annual Report like the one that caused so much controversy last time?  I'm guessing not.
ALEC – Then you guessed wrong.  We recently hired one of the top accounting firms in Atlanta, which handles a lot of big film industry clients in Atlanta, to handle our taxes and all accounting moving forward.  We intend to be completely transparent with everything we do and every dollar we spend.
JONATHAN – Then I shall look forward to my eyes glazing over as I review yet another endless spreadsheet!
<we laugh>
JONATHAN – Is there anything else you'd like to say before we sign off?
ALEC – We do want to thank our donors and supporters who have stuck with us through some major challenges.  Things are definitely on track, and we're really excited about having Paul Jenkins as director, Bing Bailey back again to do DIT and color, and Mark Edward Lewis doing our editing.  The team is shaping up fantastically, just as it did for Prelude.  Be patient for a little while longer, and you'll see two really spectacular fan films that are going to be as good if not better than Prelude.
In the meantime, there will be some updates along the way, but not as many as last time.  We want to focus ourselves on getting The Four Years War produced and finished.  But keep checking out the Axanar Productions website for my Captain's Logs and other important information.
JONATHAN – And don't forget Fan Film Factor!
ALEC – How could I ever do that, Jonathan?  You won't let me!  <laughs>  But seriously, you do an amazing job and provide an important service to the fan film community.  Keep it up.
JONATHAN – I will, Alec.  Thanks.
ALEC – Thank you.