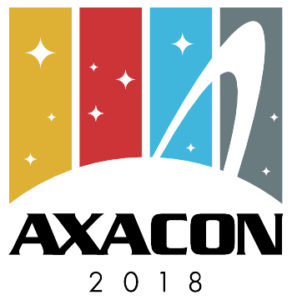 Things are beginning to get very exciting when it comes to AXACON, the "con-within-a-con" that is happening during the first weekend of November in Atlanta, GA.
In the last few weeks, some major new guests were added, and last week, tickets finally went on sale.  The guest list now includes GARY GRAHAM (who plays Ambassador Soval in AXANAR) and J.G. HERTZLER (who plays the surly Admiral Sam Travis in AXANAR)—both of whom are veteran television Star Trek actors—along with tribbles creator DAVID GERROLD.
Other announced guests include director/co-writer of the upcoming Axanar sequel fan films PAUL JENKINS, editor/sound designer MARK EDWARD LEWIS, art directors LESS QUESSENBERRY and ALEXANDER RICHARDSON, STEVEN JEPSON (Admiral Slater from Prelude to Axanar), and of course, writer/executive producer/Garth of Izar himself ALEC PETERS.  There's also a growing number of notables from the fan film community including Stalled Trek creator MARK LARGENT, Chasing the Infinite Sky creator ALBERT J. MARTINEZ, Axanar fan artist MARK PAYTON, and your favorite Fan Film Factor blogger JONATHAN LANE.
Also announced is that Axacon ticket holders will be invited for a Friday tour of OWC Studios in Lawrenceville, GA, where the Ares bridge set is located.  Guests need to provide their own transportation to and from the studio, which is about 40 minutes from the hotel.
Tickets for the event can now be purchased.  Note that these are "add-on" tickets, meaning that a ticket for Axacon (either $25 or $50) can only be purchased AFTER you first buy a ticket for SphinxCon (which is a separate $50 ticket).  SphinxCon, a convention celebrating the Honor Harrington book series, is happening at the same location and is acting as the "host" convention (meaning they are paying the main expenses for the hotel facilities).  Axacon is happening in a special area of the convention open only to Axacon ticket holders.
The event will be taking place at the  Crowne Plaza – Atlanta Airport (free shuttle from Hartsfield-Jackson Atlanta International Airport) on November 2-4, 2018.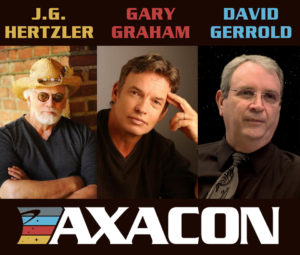 ---
And come back tomorrow for a surprisingly candid interview with J.G. Hertzler discussing his recent political campaign, his haircut, and whether or not he'll be appearing in the Axanar sequel films!