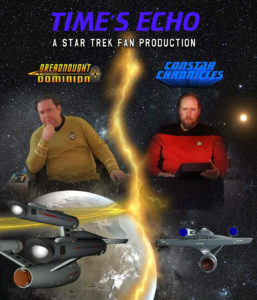 I like to call VANCE MAJOR the "Where's Waldo of Star Trek fan films."  He seems to be all over the place, listed in the credits of Starship Valiant, Melbourne, The Lexington Adventures, Dreadnought Dominion, The Romulan Wars, and Outlaws.  He's also one of the two people running Starbase Studios, LLC at the moment, helping Trek fan filmmakers find resources and sets to shoot on.
And of course, Vance has played the character of Erick Minard in nearly three dozen fan films, including Starship Valiant, Melbourne, Chain of Command, Command and Conquer, and about 30 fan films in the MINARD saga spanning multiple eras of Star Trek.
Those Minard films came to a conclusion his past February.  And in multiple interviews, Vance confirmed over and over again that this was it for him making fan films!  He was willing to step in and help behind the scenes if asked, but he was done making his own fan films.
Well, that New Years resolution didn't even make it past summer…
A couple of months ago, Vance announced that he would be returning to fan films with a new series titled CONSTAR CHRONICLES, about the heavy cruiser class starship that Minard commanded in the later part of his long career.  The debut episode of that new series just premiered a few weeks ago as a 5-minute crossover with Dreadnought Dominion featuring Vance's friend GARY DAVIS playing Captain Jason Brousseau.  It's a fun little vignette, and I must say that it's about time!  You'll get that joke after you watch it…
Of course, the big question on my mind for Vance was: "What part of 'I'm done with making fan films!' isn't he understanding???"  But seriously, I was really curious what made Vance change his mind so quickly…and what his plans are for this new fan series.  Will it go another 30 episodes like the Minard saga?  How will it be different than what we've seen before?  How soon until we see more episodes?
I asked Vance these questions and more in yet another audio interview (below).  It feels like I have this guy as a guest on my blog almost monthly!  (Maybe I should just rent him my guest bedroom…)