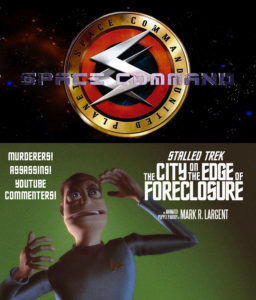 Have YOU donated yet?  Smack dab in the middle of a year that's turned out to be very busy on the crowd-funding front, two active and worthy Kickstarter campaigns are heading into their final days.
Both are well past their goals, so each will get to keep the money donated.  In fact, each has even surpassed a stretch goal or two, so they're doing quite well.
But there's always room for more donations, right?  Well, at least I think so!
The first campaign ends on Monday night just after midnight Eastern Time.  It's raising money to pay for post-production on the third part of the 2-hour pilot for SPACE COMMAND: "Redemption."  (Here's the link to their Kickstarter page.)  With an initial goal of $45,000, they're currently at $73,581 from 921 donors.  If they reach $100,000 in donations, post production on the pilot can be completed.
Creator MARC ZICREE has just added a new perk at the $1,000 level (for those who can afford it): "A 16 Gigabyte Jump Drive with an INCREDIBLE AMOUNT OF SUPER SECRET SPACE COMMAND MATERIAL! Screen Tests! Concept Drawings! Visual Effects Tests! Rehearsals! Outlines! Series Bible! Scripts! Behind-the-Scenes Footage! Character Designs! Alternate Takes! Discarded and Bonus Scenes! Trailers! And MUCH MUCH MORE!"
---
The other Kickstarter campaign isn't nearly as ambitious, but it's just as deserving of your support and contribution.  It's for the Star Trek animated parody STALLED TREK.  The first episode, "Amutt Time" (watch it below), was hilarious.  Now creator MARK LARGENT is ready to create a sequel: "The City on the Edge of Foreclosure."
With a modest goal of only $600, the campaign quickly surged passed that level as well as its first $2,000 stretch goal: a special behind-the-scenes feature for download and included on the Blu-ray for anyone donating $25 or more.
Right now, with just six days left, Mark has taken in $2,281 from 74 backers.  If he crosses $4,000, he'll be able to render out a special HD version of "Amutt Time" to include on a Blu-ray.  (Here's the link to his Kickstarter page.)
---
Check out videos for both.  Here's Part 1 of Space Command: "Redemption"…
---
And here's Stalled Trek: "Amutt Time"…