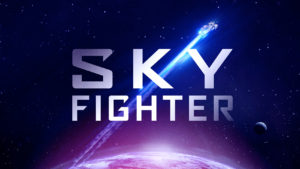 Well, that was sure quick!  Man, with all the crowd-funding campaigns we've had this summer, it seems like ages ago—at least to me—that the sci-fi genre SKY FIGHTER fan film (to be edited by Axanar's ROBERT MEYER BURNETT) was clawing its way to reach a $25,000 goal on Indiegogo.
Ultimately, the campaign took in more than $31,000, allowing writer/director LUKAS KENDALL to create his dream project: an excellent 12-page script (which he shared on the Indiegogo page) that would serve as a short "proof-of-concept" to sell a larger full-length feature script that he also wrote and wanted dearly to direct.
Filming would be straightforward, done primarily on the Laurel Canyon Stages' "Spaceship Sets" (which you've seen dozens of times in multiple films), with a couple of very quick "memory/flashback" scenes that would be shot in an outdoor location.
Let me turn the mic over to Lukas and an update he sent to donors earlier this week…
---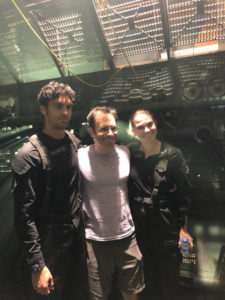 We shot the majority of the live-action footage this weekend at Laurel Canyon Stages—and it went great! Here I am with stars Tom Maden (Scream: TV Series) and Jess Gabor (soon to be seen in Shameless). I am smiling because we were done! (We still have to shoot the flashback/memory scenes, which we'll do in the next two weeks.)
The shoot went better than I could have possibly imagined. There are three aspects to directing: camera, performance and then, essentially, storytelling—having everything work together to tell the story. The camera and I are just getting acquainted, but fortunately, ace cinematographer Dan Marks with his amazing team (put together by his producing partner at Outdoor Voices, Levi Smock) had that well in hand. (The Laurel Canyon Stages spaceship set was so spectacular, as dressed by production designer Ben Ralston, the stage staffer even said it was the best he had ever seen the set look.) I concentrated on performance and storytelling, and I am convinced we got all the pieces we need for Robert Meyer Burnett and I to tell the story in the editing room.
To the cast, crew, and all of you Indiegogo supporters, I just want to say, having watched all the footage as it went down…I think you gave me a directing career. That is an astounding gift and one I will never forget.
More updates to come!
Lukas