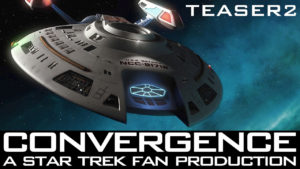 The last time fans saw ROBIN HIERT playing the role of Captain Alexander Richardson of the USS Batavia, it was December of 2016 in the finale of the popular Dutch fan series Star Trek: Dark Armada. 
(Technically, Robin also made a brief cameo in one of the final Minard Saga films.)
In the last minutes of that finale (spoiler warning!), fans discovered that the entire series thus far had been taking place in the Kelvin timeline (24th century), and we finally got a glimpse of Captain Richardson from the prime timeline.
At the time, Robin Hiert told me that a new sequel series, Batavia, would start filming the following year (2017).  But it's now far into 2018, and no episodes of that series have emerged yet.
And so, fans of Dark Armada will be very happy to see and hear that Captain Richardson and the USS Batavia will play a part in the upcoming multi-fan film crossover event CONVERGENCE from "Trekyards" CGI guru SAMUEL COCKINGS.  The second teaser was released this past weekend…
And for those who missed it, here is the first teaser again featuring NICK COOK of the fan series Star Trek: Intrepid…
Samuel will be releasing a third and final trailer this coming weekend before launching an Indiegogo campaign to fund production and post-production on this FIVE-WAY crossover.  Which other fan films/series will be included in the crossover besides Intrepid and Dark Armada?  You won't have to wait too long to find out!
Speaking of which, I've been shown a rough cut of the "ask" video for the Indiegogo page…and it looks really amazing.  To others looking to create crowd-funders, all I can say is watch this video and take careful notes!
Because several Convergence scenes and VFX sequences have already been shot and rendered, Samuel is able to provide some clips from the film itself, plus excerpts from behind-the-scenes interviews along with lots of footage taken during shooting on the green screen set with the main four actors.  So yes, you'll definitely learn which other three fan films/series will be a part of this major cross-over event once the Indiegogo launches in a few more weeks.
In the meantime, remember to visit Convergence on Facebook: