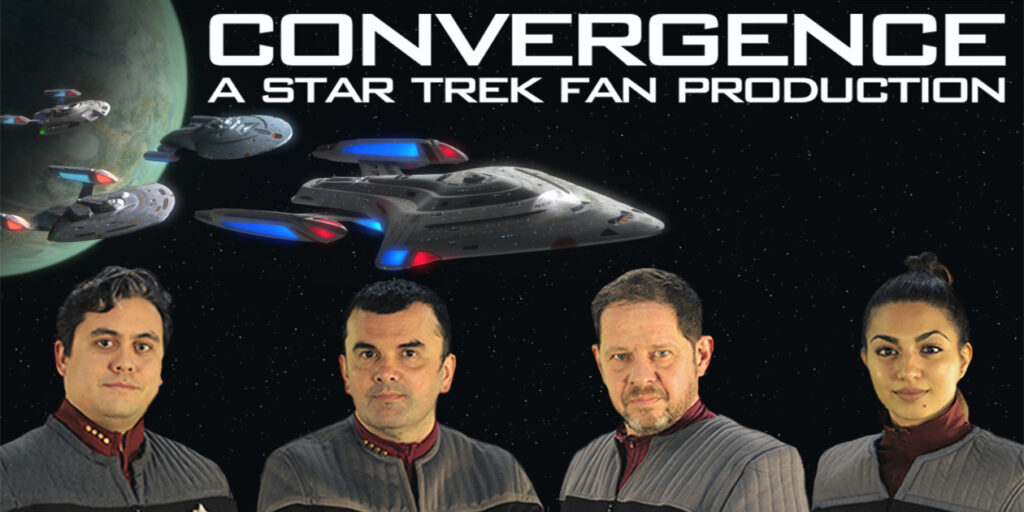 If you think of fan films without visual effects as being like plain chocolate bars, then there's one person in our community who is definitely nuts!
Yes, folks, it's time to check in once again with the elf who cobbles the CGI shoes, the beaver that builds the digital dam, Great Britain's own SAMUEL COCKINGS. I like to joke that it's quicker to list the fan films and series that Sam hasn't worked on than those he has. And while that's certainly a bit of an exaggeration, the fact is that in 2019 alone, Sam did the VFX for two episodes of DREADNOUGHT DOMINION, two episodes from the AVALON UNIVERSE, LINE OF DUTY from Aaron Vanderkley in Australia, THE FEDERATION FILES: "THE EQUINOX EFFECT", WAR STORIES from the upcoming THE ROMULAN WAR fan film (which he's also working on), plus his own mega fan film TEMPORAL ANOMALY. In addition to all of this, Sam releases regular weekly episodes of TREKYARDS (click here for the YouTube playlist) with STUART FOLEY plus reviews, interviews, and other special Trek and scifi features.
Considering how busy he is, it's a wonder Sam has the time to make yet ANOTHER Star Trek fan film, but back in 2018, he crowd-funded through an Indiegogo campaign $7,385 from 114 backers for CONVERGENCE (surpassing two stretch goals)! The fan film itself is a crossover of characters, aliens, ships, and/or actors from five different fan films: INTREPID, DARK ARMADA, RENEGADES, STARSHIP REPUBLIC, and Sam's own TEMPORAL ANOMALY.
Although one green screen shooting weekend had already brought together four of the cast members (the European ones), the Indiegogo would fund a second green screen shoot, this time also flying in actor JIM VON DOLTEREN from America to Britain. The idea was to schedule the shoot for mid-2019 and release the completed film before the end of the year.
But that didn't happen.
So what did happen? Well, why don't I just let Sam tell you that himself…?
Hmmmm…a lot to unpack there. With so much news about the project, Sam and I had an informative one-on-one chat to go a little deeper into the significant casting change, the last year of production, progress on the visual effects, and the timing for production in 2020 and release in early 2021. Take a look…