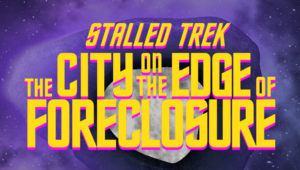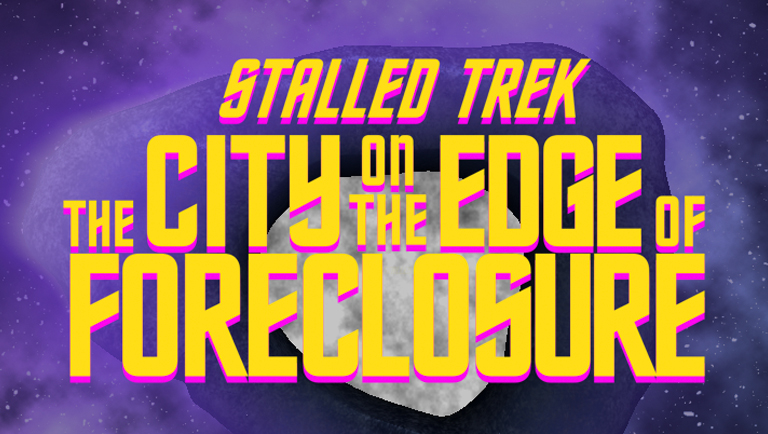 Back in 2012, a brilliantly zany and devoted Star Trek fan named MARK LARGENT released the wildly hilarious animated parody STALLED TREK: AMUTT TIME.  This must-see fan film used 3D computer graphics to create puppet characters for all of the original series cast members and put them into a tongue-in-cheek version of the fan-favorite TOS episode "Amok Time."
You can watch that parody fan film here…
This past August, Mark launched a Kickstarter for a brand new sequel, "The City on the Edge of Foreclosure," with a relatively initial low goal of only $600.  He reached that in less than 8 hours (!) and wound up with a total of nearly $4,200…700% of the initial goal!!!
Among the things this now allows Mark to do is hire a professional musical composer, which he is allowed to do, as parody fan films fall under the protection of Fair Use and do not need to conform to the fan film guidelines.
But whom to hire…?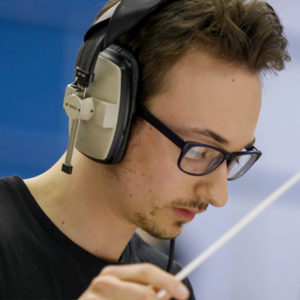 The answer came to Mark (instead of vice-versa) when composer MAX McGUIRE reached out to him.  Max has composed music for a wide variety of projects including shows airing on FOX, ABC, NBC, E!, CBS and TBS…and more recently provided additional music for the hit Syfy/Netflix series 12 Monkeys under the guidance of lead composer Stephen Barton.  In March 2018, Max conducted his score for the short film All The World's A Stage (starring Olivia Colman, who has been cast as Elizabeth II in seasons 3 and 4 of Netflix's The Crown!) at Abbey Road Studios in London.  The short is currently showing at festivals around the world including the Academy Awards Qualifying Festival, Hollyshorts.
So what's this well-known Hollywood composer doing asking to work on a fan film???
It turns out this isn't Max McGuire's first trip to the fan film rodeo!  In 2017, he co-scored the first episode of Renegades: The Series ("The Requiem" parts 1 and 2) under the guidance of long-time Star Trek (TNG, DS9, VOY, and ENT) composer DENNIS McCARTHY, himself no stranger to fan films.
Amusingly (and amazingly, in my opinion), Max wasn't the only composer who reached out to Mark Largent with the desire to create music for his upcoming parody fan film.  "I heard from a few people (you kinda get spammed when you do a Kickstarter)," Mark told me.  "Max McGuire reached out to me via my website.  I was impressed by his work, and he really liked the project and what I'd done before. We emailed back and forth and saw eye to eye on what I wanted the score to do and some of the specific cues. I really want beautiful, heart-breaking emotional music to counter play the comedy and Max is good at that. I'm very thrilled he's on board and I'm really looking forward to hearing what he does with it."
Because the Kickstrter was so successful, there's actually money available, according to Mark, for "having a live musician (like a celloist) record for some of it."
Mark is, of course, really excited about getting an actual Hollywood composer to create the music for his production.  "I think it's going to be really cool," he said.  "You know, I always refer to that quote about providence."  That quote was one he shared with me during an interview from early 2016:
"Until one is committed, there is hesitancy, the chance to draw back, always ineffectiveness. Concerning all acts of initiative (and creation), there is one elementary truth that ignorance of which kills countless ideas and splendid plans: that the moment one definitely commits oneself, then Providence moves too. All sorts of things occur to help one that would never otherwise have occurred. A whole stream of events issues from the decision, raising in one's favor all manner of unforeseen incidents and meetings and material assistance, which no man could have dreamed would have come his way. Whatever you can do, or dream you can do, begin it. Boldness has genius, power, and magic in it. Begin it now."
― William Hutchison Murray
Mark marveled at how everything is coming together for this sequel parody project.  "It's awesome what can happen."
Stalled Trek: "The City on the Edge of Foreclosure" is expected to be finished by April of next year…possibly sooner!