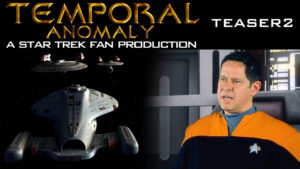 Over the past three weeks, 3D animator incredibus SAMUEL COCKINGS has released three teasers for his upcoming multi-crossover fan film, CONVERGENCE.  The project, already well into production, will be holding an Indiegogo shortly to cover expenses, and these three teasers are meant to build interest and excitement leading up to the launch of the campaign.  (Yep, crowd-funders, that's the way you should do it!)
One of the intriguing "mysteries" about Convergence was the question of which fan films/series will be crossing over—there will be five in all.  The first teaser revealed that Star Trek: Intrepid show-runner and star NICK COOK would be reprising his fan favorite role of Captain Daniel Hunter of the USS Intrepid.  The second teaser revealed that the fan series Star Trek: Dark Armada would also be part of this crossover, with that series' show-runner and star, ROBIN HIERT, playing his character Captain Alexander Richardson of the USS Batavia.
The third and final teaser filled in another two pieces of the puzzle.  JIM VON DOLTERAN of the Trek fan series Starship Republic will also be appearing, captaining a starship of the futuristic Archer-class, which was seen in the original Star Trek: Renegades fan film (before it de-Trekified itself).  Also appearing in Convergence will be the alien Syphon race, the terrifying bad guys from Renegades.
So with four fan films/series accounted for, fans still didn't know the fifth…until yesterday when Samuel Cockings posted an unexpected FOURTH teaser!  But this time, the teaser didn't include footage from Convergence but rather from his upcoming (and long-anticipated) fan film TEMPORAL ANOMALY.  (You can listen to an audio interview with Samuel about this project here.)  This project's release was delayed by CBS, but Samuel was ultimately granted a small guideline exemption in exchange for making certain adjustments, which are still being completed.
But the big news is that his new teaser, featuring an intriguing two-and-a-half minute scene from the final film, reveals that Temporal Anomaly will be the final of the five fan productions crossing over, specifically the character of Captain James Munro.  Take a look…