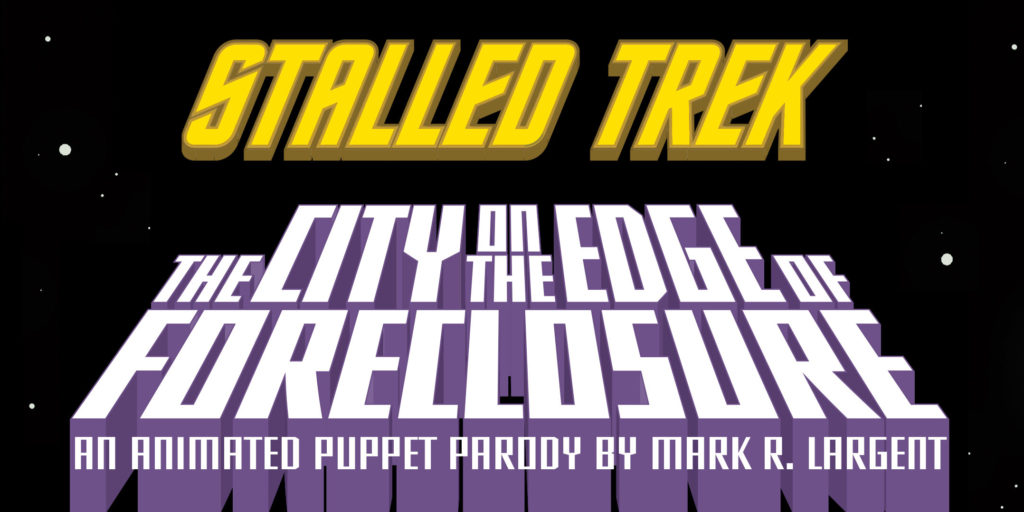 Last month, I published a blog updating folks on the status of more than a dozen eagerly-anticipated Star Trek fan films currently in production or post-production. While I'm certainly looking forward to all of them, I have to admit that one of the fan films highest on my "excitement" list is the latest episode of STALLED TREK: "The City on the Edge of Foreclosure."
If you haven't heard of Stalled Trek before, stop whatever you're doing RIGHT NOW and watch the first episode: "Amutt Time." As you'll see, it's a brilliant and hilarious Star Trek puppet parody of the TOS episode "Amok Time," created back in 2012 by MARK LARGENT. Four years later, Mark teamed up with a certain blogger named JONATHAN LANE to co-produce another Stalled Trek episode…this one a parody of PRELUDE TO AXANAR and the subsequent infringement lawsuit called PRELUDE TO AX'D-WE-ARE. Both Stalled Treks are 100% must-see fan film fun!
Then last year, Mark decided to return the the TOS Trek parody puppets by adapting the fan favorite episode "The City on the Edge of Forever" into a comedy romp. Sounds impossible? Sounds intriguing? Well, 114 Kickstarter backers were inspired to help fund the project to the tune of $4,181…and it was off to the races for Mark.
Except something bad happened.
A few months later, Mark learned that the 3D software he'd been using for years (and had planned to use for the next Stalled Trek) would no longer be supported on the Macintosh platform. And Mark has a Mac. He didn't want to have to transition his computer life from Mac to Windows (I know how he feels).
Fortunately, there is a free, open-source 3D application out there called Blender…and free is always a good price! And so Mark downloaded and installed the program on his Mac, and for the past several months, Mark has been teaching himself the application while creating the GCI models he will need for the animated parody production.
Back in June, to show fans and donors how things were coming along with the modeling and rendering in Blender, Mark released this comical short vignette…
But aside from that, most of the details of Mark's progress have remained secret—until now, that is. Mark just released an update to donors that included 11 renders of modeled environments and characters he's created so far to be used in the parody. Those images appear at the end of this blog. But first, I asked Mark to tell us a little bit about how things are progressing. Instead, I got a lecture about a truck. But it's a very special truck, as you'll discover below…
Continue reading

"STALLED TREK is anything BUT stalled! (update from MARK LARGENT)"