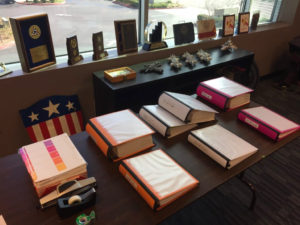 Last week, when I posted my blog editorial about Carlos Pedraza getting banned from Axacon, there were a LOT of comments posted.  One of them was a an impassioned post from ALEC PETERS himself, discussing Carlos' obsession with both Alec and the Axanar Productions finances.  Alec's post began with this…
I seriously considered telling Carlos to come to Atlanta and sit down and go through the detailed finances with me. I would even pay for my accountant from highly respected accounting firm Frazier and Deter to be there. But you know, it won't change Carlos' mind, and he would still twist it to serve his agenda. Facts don't matter to him. He will lie, manipulate and twist anything as he has done for almost three years.
Alec ended with…
Just about anyone in the Axanar world, especially donors, are more than welcome to Axacon, which is meant to be a celebration of Axanar and our fans. And frankly, I would probably sit down with anyone to review our finances in detail and share everything if I was asked. But not Carlos. He and his minions have made up their minds and only the facts that support their world view will be accepted.
I replied—as I often do—with a short, humorous little comment:
Hey, why not schedule a panel to show the full Axanar financials to everyone except the detractors? You could project them onto the big screen in the panel room! 🙂
I actually wasn't serious, but Alec wrote me back and said that he LOVED the idea!  Now he just needed to figure out how to do it…
My suggestion of projecting the thousands of receipts onto a big screen wasn't realistic.  And while Alec initially thought about bringing one of the accountants from Frazier & Deeter in for a special panel to talk about the Axanar books, that might not be as exciting as it sounds.  A full hour of attendees listening to an accountant give a lecture on budget analysis might not be the best use of the limited Axacon time, especially since the schedule was already super-full.  Also, Alec wasn't really comfortable taking the seven binders of Axanar financials, bank statements, and original receipts out into a public space where someone could walk off with them.
However, Alec did figure out a way to avoid all of these problems and still make the financials available for convention attendees to check out and examine.  The books will be open for inspection to anyone who attends the OWC Studio tour on Friday.  No accountant, but Alec will be on hand to answer any questions folks might have.
Naturally, I thought you readers might be interested in a short interview with Alec about this…
---
JONATHAN – Why are we still talking about the Axanar financial records?  Hasn't this subject been beaten to death?
ALEC – You would think so!  I mean lawyers, two sets of accountants, a panel of industry experts, and a number of donors have all seen the financials and approved of them.  But you know, Carlos Pedraza and his Axahater minions—none of which has any expertise or any facts—keep wanting to beat the drum of nonsense they spill, suggesting there is something nefarious about the financials.  So I thought we should give even more people the ability to see the detailed financial records.
I've always said that any Axanar donor could come to our studio at any time to look over every receipt we ever paid and verify for themselves that every penny of donations was spent on reasonable expenses for studio and set construction, improvements and maintenance, operating expenses, equipment, rent, insurance, utilities, pre-production, production on the Vulcan scene, post-production, craft services, marketing, supplies…everything totally above board and not one penny to me for anything.
JONATHAN – So why not just post the full spreadsheet of records onto the Axanar website…not just the summary but the whole kit-n-kaboodle of everything you ever spent?  Wouldn't that finally shut up the detractors?
ALEC – No, I don't think it would…not one bit!  Posting the entire item-by-item-by-item list of everything we ever spent money on is just opening up the door to an endless point-by-point debate about minutiae.  "Why did you use this insurance company when others would have charged you less?  Did you really need to buy all of that paint and lumber?  That seems to be awful expensive for nails—what are they made of…gold?  Who did you buy lunch for on August 7, 2016?  That's an awful lot of toilet paper to use in a month!"
Actually I originally wanted to release the detailed financials as I thought it was so clear cut, no one could have an issue with them.  But Mike Bawden, our PR Director, was the one who felt strongly that Carlos and the Axanar detractors would continue to find things wrong, because facts weren't what they were interested in.  Their agenda dictated everything.
JONATHAN – But you are letting people come and take a look at the receipts in person.  Sounds kinda like the same thing to me.
ALEC – Not really.  You go to a museum to look at the exhibits while you're there.  But you don't get to take them home with you.  You can buy a souvenir book or postcards or even take pictures of the exhibits sometimes, but they stay at the museum.
JONATHAN – So are you saying that people will be able to take pictures when they look through your books?
ALEC – No, the idea is get people to get their questions answered, and feel comfortable with how exhaustive our bookkeeping is.  We've got thousands of receipts, and we're not letting people spend forever standing there taking pictures.  We're opening up the books for two hours during the studio tour on Friday.  During that time, anyone can come over, look through any of the four 6-inch thick binders of receipts and three binders of bank records and financial summaries.  They can ask me questions, take notes, and hopefully they see how buttoned up we are.  But the books stay here, and the tour only lasts for a few hours.
JONATHAN – So just for a moment, I'm going to pretend to be a detractor…
ALEC – Oh, please don't!
JONATHAN – Bear with me, Alec.  Okay, the first thing I say is, "He's still hiding something!  No one can possibly look though all of those books in two hours!"
ALEC – Hiding what?  It's all there in plain sight.  People can see all of the expenses add up to $1.4 million, which is what we raised from all sources during 2014-2016.  But more importantly, our accountants have been through every transaction.  The fundamental flaw of the haters' lies is that we have a major professional accounting firm that not only has spent dozens of hours picking through the financials, but unlike the haters, they have both the actual financials AND the expertise to analyze where every dollar has been spent.  Our CPA even said she wished every client was as organized as we were with our books.
JONATHAN – Ah, but (still wearing my detractor hat) what if you left out those receipts that show you embezzling money from donors?  Where's the receipt for those tires for your car?  Where's your health insurance?  Where's all that delicious sushi???
ALEC – May I rip that stupid "detractor hat" off your head now?
JONATHAN – Seriously, though…what if this is all just a smoke screen?  What if you took out all of the incriminating receipts and left in only the "safe" ones?  What if you just forged all of the receipts in those books?
ALEC – Geez!  Who takes the time to forge thousands of receipts???  Many of them are store receipts from a register.  Others are invoices with corporate logos imprinted on the top.  These aren't forged, Jon.
JONATHAN – Scrubbed, then?  You pulled out the tires and sushi receipts!
ALEC – Well, that was NEVER charged to donors.  I spent hundreds of thousands of dollars out of my own pocket to keep Axanar going.  I paid rent and utilities, moving costs, all the legal expenses that weren't covered pro bono…yes even tires and sushi!  All from my own money, and I'm even covering the cost of Axacon myself.
Let me ask YOU a question: who embezzles money and then comes away with LESS money than when they started?!?  I'd have to be the most idiotic crook in the world!  Tires for my car cost, what, a few hundred dollars?  So I pay hundreds of thousands of dollars just so I can get free tires?  It makes no f*cking sense.  But that is the haters for you.
JONATHAN – Oh, I never claimed that anything the detractors said made sense, dude!
ALEC – But seriously!  Carlos, Sandy, Hinman, if you're reading this, think about it.  Does it make any sense at all that I'd steal people's money and then stick around for another two years to make a fan film?
Wouldn't I just close up shop, tell everyone, "Sorry, the lawsuit ate up all your donor money…" and then go off and retire to some tropical paradise somewhere?  Why the hell would I stick around, spend tens of thousands of dollars moving everything across the country, finishing the sets, hosting a convention, and hiring actors and an entire production crew?  Are those the actions of someone trying to take the money and run?
If you guys think so, you're even bigger morons than I already think you are!
JONATHAN – One more thing from detractorville: even if you claim to your dying breath and beyond that you never personally profited from anything Axanar-related, the judge in the lawsuit said you did in an official ruling from the bench!  And judges can't be wrong!!!
ALEC – Actually, yes, they can be wrong!  That's why we have appeals courts.  In fact, the same judge who presided over our copyright case was just found on appeal to have been wrong in a different copyright lawsuit he was adjudicating, and it's now been sent back by the 9th Circuit Court of Appeals for a complete retrial.
JONATHAN – Say it ain't so, Joe!
ALEC – Do you remember that Led Zeppelin case where the group was being sued for ripping off the riff for Stairway to Heaven from another band they toured with in the 1960s?  The jury found that Zeppelin didn't infringe, but a three-judge panel just threw out the verdict and ordered a new trial.  And they blasted [9th Circuit Judge] Klausner—who was also our judge—for TWO big mistakes: bad jury instructions and not letting the plaintiffs actually play the original song Taurus for the jury during Jimmy Page's testimony.  So, yes, even judges make mistakes…and our judge was certainly no exception.
And as YOU know, since you reported on it, when Judge Klausner handed down a ruling that we couldn't claim Fair Use as a defense, he made a HUGE mistake, ruling on a matter of fact, not law, which judges are supposed to leave to the jury. That is the whole crux of how we were able to get a settlement.  I made it clear that we would be appealing to the 9th Circuit because of that ruling, and the trial would have lasted at least two more years.  CBS didn't want that hassle and came to us to settle.
Look, when all is said and done, we've had TWO sets of accountants, plus lawyers, industry professionals, and donors all take a look at the books and have no issues.  And trust me, our current accountant firm, Frazier & Deeter, would never have even taken us on as a client if the books were shady in any way.
Yet the haters think THEY (who have zero qualifications) know better than accounts, lawyers, and industry pros?  Are you kidding me???
JONATHAN – No, but I think it's finally time for me to take off my detractor hat…
ALEC – Oh, thank God!
JONATHAN – …and ask if there's anything final you'd like to say to the readers and fans.
ALEC – Only that we'd really like to see them at Axacon (unless they're haters, in which case, don't bother coming).  But for anyone else who loves Axanar or just wants to learn more about it and get the latest updates, please join us the weekend of November 2-4 at the Crowne Plaza Atlanta Airport in Atlanta, GA.  We've got great guests including J.G. Hertzler, Gary Graham, and David Gerrold, fantastic panels, a tour of OWC Studios on Friday, and yes, we'll have the financials open and on full display during the studio tour.
You can buy tickets for just Axacon for the three days, a combo ticket for Axacon and SphinxCon together, and now we also offer Axacon tickets for individual days if you can't make it for all three.  Axacon tickets are all available here.  And if you'd like the Axacon/SphinxCon COMBINATION ticket, preregistration has closed, but those will be available at the door on the day of the convention.
JONATHAN – Cool!  I'll see you in Atlanta in thirteen days!