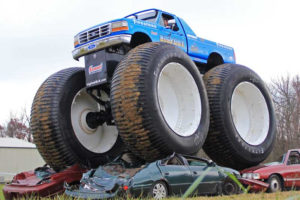 There's chutzpah and then there's CARLOS PEDRAZA chutzpah.  I'm talking cajones-the-size-of-monster-truck-tires chutzpah!!
It all began this past Sunday night at 5:54pm Eastern Time when a Paypal order came into SphinxCon for a ticket with an Axacon add-on for one Carlos Pedraza.  This immediately led to a discussion between SphinxCon's organizer, DAVID WEINER, and Axacon's organizer, ALEC PETERS.
About three and a half hours later, Carlos received the following e-mail from Alec…
Carlos:
We note you attempted to buy a ticket to Axacon.  Your ticket is being refunded.  You are on notice that you, or any current or former member of the Axamonitor Facebook group that attempts to enter the Axacon facility, will be asked to leave.  As Axacon is meant to celebrate and support the Axanar project, those who have shown repeated animosity, negativity, and antagonism toward Axanar Productions, its team members, myself, and guests of the convention are not welcome to attend.
A former Georgia Sheriff's Deputy is in charge of security and local law enforcement will be notified before the event that we have had an issue with stalkers and will be prepared to respond if you or any of your fellow stalkers attempt to attend.  The hotel will also be notified in advance.
It is very clear that, like your blog, your only intention is to make trouble.
Alec Peters
Had things ended there, I wouldn't have bothered writing this blog.  After all, I haven't blogged about Carlos Pedraza for several months (go ahead and check), and I was enjoying focusing exclusively on fan films.  But things didn't end there…
First, though, let me state that there's nothing illegal about Alec and David's decision.  Both SphinxCon and Axacon are private events, and the organizers can refuse entry to anyone they choose, or require people to leave for whatever reason—with or without a refund.
But this isn't a question of CAN they block people from attending; it's a question of SHOULD they.
After considering this question, I find that I agree with Alec and David.  Now, before all the detractors shout, "Well, of course you do, you sycophantic shill…!" let me remind those folks that I've very publicly disagreed with Alec's decision to arbitrarily ban detractors from the Axanar Facebook groups.  I always felt that was a wrong decision, and on Fan Film Forum, we implemented a series of escalating warnings and mutings that give most of our members up to five chances before they're totally banned from the group.  Right or wrong, that's the way I've chosen to do it.  Alec went a different way.
So why is banning Carlos from Axacon different than banning a detractor from a Facebook group?
---
Unlike Alec, I don't believe Carlos was intending to make trouble at the convention itself.  I'm certain Carlos was planning to be an absolute gentleman (lest he risk being escorted out unceremoniously by security).  But after the convention, all bets would be off…as Carlos' poison pen (or keyboard) is way mightier than any small sword he might want to whip out and wave around at the con itself.
Carlos has a tendency to report a rather, shall we say, skewed version of the "truth" (or just lie outright).  For example, who could forget Axamonitor's all-over-the-place reporting of the total funds that had been raised from Axanar donors prior to the lawsuit…which Carlos listed initially as $1.1 million and slowly crept its way up—$1.2 million, $1.3 million, $1.7 million—to nearly $2 million?  Then, of course, there was the infamous "big reveal" of the new location for the Georgia studio…which turned out to be completely wrong because Carlos rushed to publish without attempting to verify the information.
More recently, Carlos bent the truth into a pretzel when he reported the following…

"Some" turned out to be one (lifted from a single comment in a private group conversion of Atlanta volunteers on Facebook, where Carlos had installed a mole to secretly relay him confidential information).  And no one in the closed group ever used the word "exorbitantly."  I know, I was there.  When I asked Carlos what his source was for that "quote," he sent me the following screen cap (the highlighting was his)…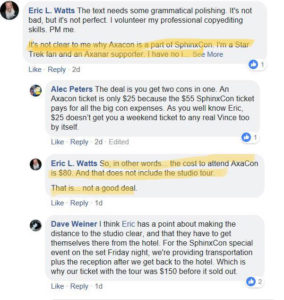 So one person commenting, "That is…not a good deal" magically transformed through Carlos' poison keyboard into "…some have complained are exorbitantly priced."  Responsible reporting there, Carlos!
Shortly thereafter, Carlos' poison keyboard was at it again, this time with even more outlandishness…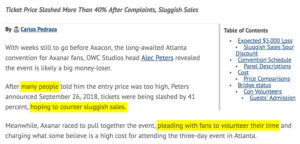 I've heard of scope creep, but this is ridiculous!  One person grew into "some" and has now reached the size of "many" before our very eyes!  You can literally watch as the truth is replaced by the lie.   (How long, I wonder, until Carlos simply says "everybody"?)
Then we also suddenly have Carlos stating, matter-of-factly and with no footnote to even try to back it up, the reason for the Axacon ticket price reduction as "sluggish sales."  Considering that Alec did an interview here on Fan Film Factor barely three weeks ago saying that 1) he assumed that the convention would lose money, 2) he wasn't expecting many people, and 3) the reason for the convention wasn't to pack in attendees but to generate video content that could later be shared with fans and supporters, I'm not sure how Carlos could have written the words "hoping to counter sluggish sales" with a straight face.
As for Alec "pleading with fans to volunteer"—now it's my turn to not have a straight face!  Wanna see what it looks like when Alec Peters "pleads" with volunteers…?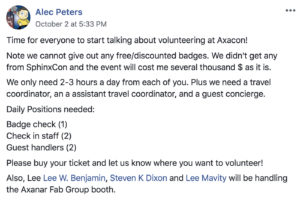 Yep, sounds pretty desperate to me!  Alec quickly got half a dozen volunteers, by the way.  But Carlos' magical poison keyboard calls that "pleading."  Uh, huh.
---
So with the well-established reputation of Carlos to make everything related to Axanar sound like a five-alarm fire, one can safely assume that he would treat Axacon in the same way…doing his best to present the event in as negative a light as his poison keyboard can manage.
But as Alec himself said in his e-mail to Carlos: "Axacon is meant to celebrate and support the Axanar project."  It's not intended for detractors, or self-proclaimed "journalists" with an Ax to grind, to exploit on their blogs and Facebook pages with skewed "reports," cleverly-edited sound bytes, and attempts to discredit anything they can twist from a positive into an ominous negative narrative.
In short, there's nothing really to gain from letting Carlos attend…and lots to lose.  Why invite the fox to party in the hen house?
---
So what about the chutzpah?  I promised you CHUTZPAH!
Well, that came about three hours after Alec sent his e-mail to Carlos when Carlos responded…
Hello,
I'm sorry to hear that you've decided against my attending Axacon, and I urge you to reconsider. I had no intention of causing any trouble while there.
Note the "while there" part.  Carlos didn't say he wouldn't cause trouble afterwards.  Okay, back to the e-mail…
I'll end up reporting what happened there regardless.
Hmmmm…  So even if Carlos doesn't attend, he will still report on what happened there?  Interesting.  Interesting.
You can avoid being seen as too cowardly to allow a critic to simply observe your event. I pose no threat to you.
The "I pose no threat to you…" is also interesting, considering the amount of effort Carlos has repeatedly put into trying to discredit Alec Peters and paint him as shady, secretive, incompetent, and nefarious.  I can only imagine how much time Carlos spent creating this graphic.  And heaven forbid you know or work with Alec, 'cause Carlos will shine his "journalist" spotlight on your business, too, as he did with this blog totally unrelated to anything Axanar.  "I pose no threat to you…"—not for lack of trying, old chap!
I planned to be respectful of the event while there, and only purchased a ticket for sessions taking place at the conference hotel; I understand trying to attend any of the events at OWC Studios would likely have been awkward for everyone since it is your place of business. I had also purchased the combo ticket because I wanted to participate in the Honor Harrington con, as well — just as an attendee, not as a reporter. I'm sorry I won't have that opportunity.
And the chutzpah?  Wait for it.  Wait for it…
Thank you for the refund on my registration fee, but if you stand by your decision, then I'd like to ask to also be reimbursed for the substantial cancellation fees imposed by the airlines for the non-refundable $413.50 fare I paid for the roundtrip to Atlanta. I'm happy to send you a copy of the receipt showing the cost of cancellation. Fortunately, it's still early enough to cancel the hotel reservation.
I hope you'll rethink your decision.
Regards,
Carlos Pedraza
Editor, AxaMonitor
Yep, Carlos wants Alec to REIMBURSE him not just for the convention ticket (which is fine) but ALSO for the "substantial" cancelation/change fees for the plane ticket (likely about$150).  Yep, folks, balls the size of monster truck tires…
What I find most amusing about Carlos' request is that the U.S. Department of Transportation requires all air carriers flying to or from American airports to allow customers to cancel an airline reservation for at least 24 hours after the reservation is made with NO PENALTY (assuming the reservation is made at least one week in advance, which Carlos had done).
Carlos received his SphinxCon/Axacon refund notice only 3 hours after buying his ticket…well within the 24 hours he was allotted by U.S. law to cancel his airline reservation.  Of course, perhaps Carlos had booked his flight days or weeks in advance.  But that doesn't seem to make sense…to plan a flight to Atlanta without knowing whether tickets were still available for the convention.  I think I'd have bought the convention ticket first—or at least at about the same time—rather than booking my flight days before buying the convention ticket.  Just seems weird to me.
Anyway, Carlos is, predictably, already beginning the narrative of playing the victim, decrying the lack of fairness in losing his deposit, and implying that Alec must have something to hide by not letting Carlos attend.  The following text message was sent by Carlos to a mutual friend of his and Alec's, asking for help in getting Alec to reconsider…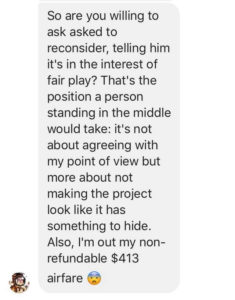 So as you can see, the narrative is already taking shape.  I suspect Carlos will be trying to milk the "non-refundable $413" for all it's worth…which is really $150 for a change/cancellation…and really should have been $0 in the first 24 hours.  Then again, we already know that Carlos likes it better when the dollar figures he reports go up-up-up and not down.
And yeah, it won't be surprising to see Carlos' magical poison keyboard also spin the whole "what are they hiding?" conspiracy theory into the stratosphere.  The answer, of course, is absolutely nothing.  Every panel is being recorded and will eventually be shared, but on Axanar's terms and timetable, not Carlos'.  He doesn't get to make that call…not this time.
---
I checked with Alec and David, and no, Carlos will NOT be receiving any compensation to cover the cost of changing or canceling his plane ticket…just as I won't be receiving any compensation from Carlos for all of the countless hours I've spent correcting his parade of manipulative and misleading misinformation presented regularly on the Axamonitor blog site and elsewhere.
But hey, Carlos, all is not completely lost!  You can still enjoy a trip to Atlanta for the weekend.  It's a lovely city with lots to see.  In fact, here's a suggestion: Fat Matt's Rib Shack on Piedmont.  Best baked beans you've ever had and some of the tastiest BBQ this ol' U.S. of A has to offer.  Bring your magic poison laptop, and you can enjoy an awesome meal while you make up things to "report" about Axacon.
(Yep, Jonathan can do chutzpah, too.)