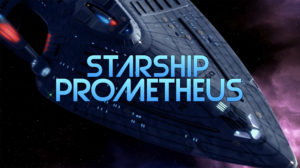 I've got some good news for you and I've got some bad news.  I also have some neutral news, and I'll start with that.  The fan film formerly known as Star Trek: Raven, later known as Voyager Continues: Raven (or was that Raven: Voyager Continues?) will now be known as STARSHIP PROMETHEUS…with its pilot episode being "Raven."  Is that all perfectly unclear?
The original RAVEN fan film was released in October of 2016, one of the first fan films to come out after the fan film guidelines were announced a few months earlier (although filming for the production had wrapped prior to the guidelines).  Initially, show-runner DAVID WHITNEY of Starfleet Studios in Iowa was prepared to challenge the guidelines openly by releasing Raven in defiant non-compliance with the new rules.
Ultimately, though, he only broke two of the "no-no's"—the video was 30-minutes long but wasn't released in two separate 15-minute parts, and the title appeared as Star Trek: Raven (the guidelines sy you can't use the words "Star Trek" in your fan film title).  However, the title appeared in the YouTube description as RAVEN: Voyager Continues – A Star Trek Fan Production.  So David kinda half-followed the guidelines in that department.
In the end, CBS took no action (and probably no notice).  After all, this was still the "transition" period just after the guidelines were released, and fan films released at that time seemed to be allowed a bit of leeway.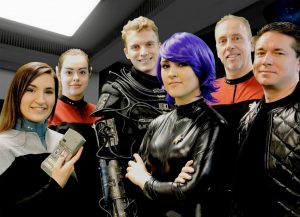 Since then, Raven has generated an impressive 130K views.  The cast was a mix of older Star Trek fans who weren't necessarily actors (including JIM VON DOLTEREN in one of his earliest Trek fan film roles—he would later go on to appear in The Federation Files, Starship Republic, and the upcoming Convergence) plus young fashion models…truly an interesting mix!
And even though it was called Voyager Continues (in addition to being called Raven), there was only one brief scene buried in the closing credits showing Seven-of-Nine (played by CAT ROBERTS, who has also appeared in multiple fan series including Star Trek Continues, New Voyages (an unreleased episode), The Federation Files, and The Red Shirt Diaries).  Although the missing starship Voyager was discussed, nearly all of the action in Raven took place in the Alpha Quadrant.
Okay, so what's the good news and what's the bad news…?
The good news is that, along with a title change, Starship Prometheus brings with it a whole new set of CGI effects sequences of starship and shuttecraft exteriors, as well as a couple of new space exteriors re-chromakeyed into scenes where an outside ship is viewed from inside another ship.  The new animated CGI sequences look gorgeous and were done by JOERG SOELLNER.
You can compare the two versions, if you'd like.  Here is the new Starship Prometheus "Raven" with the new CGI released two weeks ago…
And here is the original Voyager Continues "Raven" from 2016…
If you look closely, you'll notice that the original version ran 45 seconds longer than the new version.  Where did the time go?  David Whitney removed the brief cameo of Seven-of-Nine from the closing credits for Starship Prometheus.
And that brings us to the bad news…
Voyager Continues will no longer, er, continue.  Although Raven didn't focus on the crew of the USS Voyager lost in the Delta Quadrant, it did serve as a lead-in to was was to become a new Voyager Continues fan series.  In 2017, the first episode dedicated to just Voyager was released: "Derelict."  It only featured two actors (playing Seven of Nine and Harry Kim) plus an incredible voice-over of Captain Janeway that may well fool you into believing they somehow got Kate Mulgrew for their fan film!  It was a solid 10-minute production and showed promise for what would be one of the only Trek fan series focusing on the crew of the Voyager in the Delta Quadrant.
But alas, the dream (at least for now) is over.  And that also goes for any further episodes of the now-renamed Starship Prometheus and the saga of the purple-haired Raven.  David Whitney announced to me that he is stepping away from doing any dramatic Star Trek fan films in favor of humor…
I'm only going to be doing Star Trek parodies and spoofs that have the name Trek in them.  I'm scrubbing Star Trek canon and logos from future dramatic films.
When I asked why, David responded…
If I make a really great film and spend a ton of time on it, I do not want to risk CBS flagging it. I already have a concept and actors and non-canon ships for the next film. I was very put off about the Stage 9 game project getting the cease and desist.
To be fair to CBS, the Stage 9 virtual walk-through of the Enterprise-D, which was recently shut down as an unlicensed Trek project for potentially competing with a licensed Trek game, was not a fan film.  By all accounts, CBS has been going much easier with Trek fan films, having allowed Star Trek Continues to complete four episodes in violation of the guidelines, giving Starship Republic permission to distribute perks for their crowd-funding campaign in 2017, and reaching a compromise to allow Temporal Anomaly to exceed the two 15-minute segment time limit in exchange for removing clips of the TNG cast and creating an original score (rather than using copyrighted music).
Of course, David is the head of Starfleet Studios, and so the decision of what to produce remains his to make.  It is a relief, though, to know that he will continue to release fun Star Trek parodies like the entertaining QUICK TREK improv shorts.  And I'm eager to see how his non-canon offerings end up coming out.
But I will miss that Janeway voice-over actor.  That impersonation was uncanny!