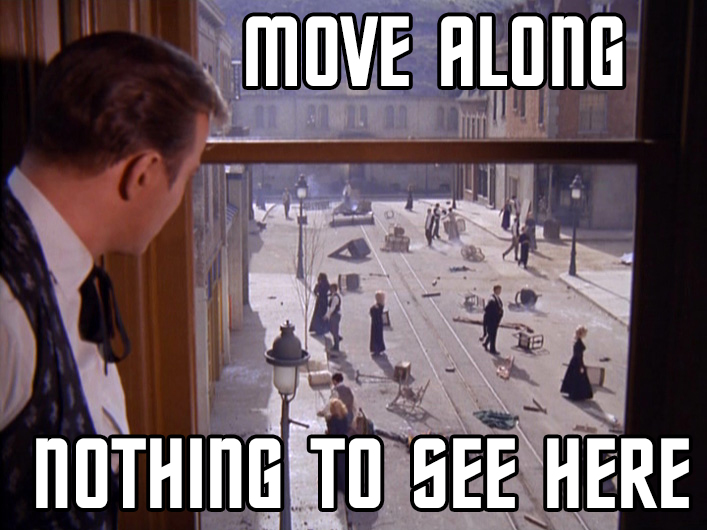 Earlier today, I reported that an attempt had been made to hack into the AXANAR YouTube channel…pointing out that the prime suspect(s) was/were most likely one or more detractors.
Very quickly, one of my readers, JOE DIAZ, forwarded me the following tweet from one of the people managing the channel…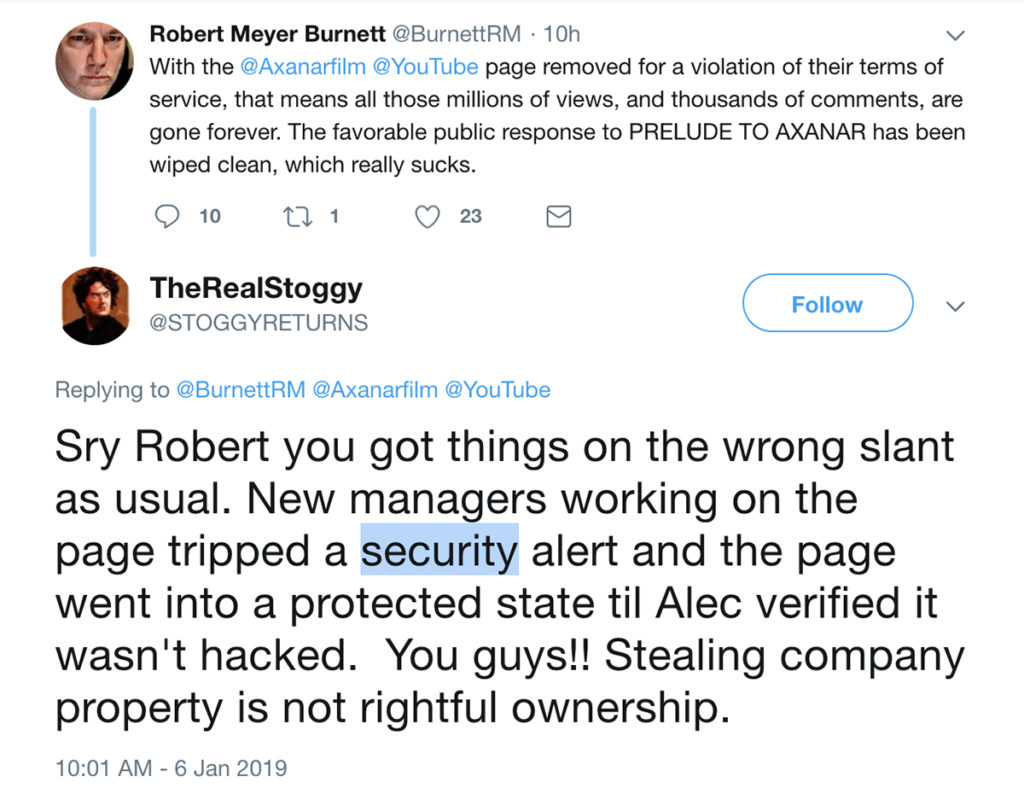 Other comments on my previous blog entry were now pointing to this tweet as proof that there was no hacking attempt. Naturally, if I've misreported something, I need to issue a retraction. But I first needed to verify that I had, in fact, misreported it. So I contacted ALEC PETERS and the aforementioned THE REAL STOGGY to ask what happened.
Here, as far as I can piece together, is the order in which things happened…
December – After uploading a series of quick "Axanar -Live" update videos shot with a cell phone over the previous months, Alec began posting higher-quality Axanar updates to YouTube, generating tens of thousands of views. One update from December 27 is currently up to 96K views.
January 5 – With the videos being so popular, Alec decided to create two YouTube channels: Axanar and Ares Studios. Actually, there had already been an Axanar YouTube channel, but it had been mostly dormant for a long while. Last night, three volunteers were given Manager status (Alec remained the channel owner), and began adding videos to the channel. There was a LOT of activity.
January 6, 8:43am EST – The two channels were suddenly shut down by YouTube. The only manage working on them at the time was the aforementioned Stoggy, who had pulled an all-nighter, and panicked when he was suddenly locked out. Here's what he told me…
I was on the site and I thought I did something wrong when the termination window popped up. I thought, based on the best information that I had and my knowledge of YouTube mechanics, that I f*cked something up. It was about 8:43 in the morning when I contacted Alec that something went wrong.
January 6, 10:01am EST – With the channels still down, and Stoggy still feeling responsible, he sent out the above tweet correcting a comment by ROB BURNETT, who conjecturing about the reason for the termination of the account. Stoggy explained his reasoning…
The way the system works, it isn't about the "now"—it is about the cumulative actions in a window of time. We managers all got added near around the same time. It was reasonable to think the system thought us hackers (in my mind). We are all in different locations with different IP's, and 12 hours prior, none of us was on the site. Now we were and making changes all over and answering messages, etc. It was an explosion of life on an otherwise dead account. That isn't normal to a pattern-based security algorithm standing in for human oversight.
January 6, about 11:30am EST – Whether or not it was the sudden flurry of activity that caused the account "termination," it was not permanent. As soon as Alec returned home and logged into his YouTube account as owner, the channel and all of the videos were restored automatically. He didn't receive any communications from YouTube/Google explaining why the channels had been deactivated and reactivated, although he has reached out to them since and hasn't yet heard back
January 6, 5:06pm EST – Alec received the following alert from Google:
While it's uncertain whether the channel shutdown was the result of hacking attempts or a misunderstanding by an automated algorithm, the above message clearly shows what looks like an attempt to hack the account using Alec's e-mail and password. How they got his password is unknown, but I did ask Alec if perhaps it was one of his new managers (either accidentally or on purpose)…
No, they don't have my password. No one does except me. Each manager uses their own unique login name and password. I don't know their passwords, and they don't know mine. This was an attempt to log in using my personal account.
---
And there you have it…the story so far as best I can verify it. You all can decide what you think is happening, although to me, it looks like—at least in the latter half of the day—Alec had an actual hacking attempt…perhaps inspired by the shutdown and subsequent reactivation of the channels.
And before anyone asked why I included the image at the very top ("MOVE ALONG – NOTHING TO SEE HERE"), it's an attempt at levity on my part. The image is from the TOS episode "The Return of the Archons" on the morning after Festival. The past twelve hours had been utter chaos, and now it's time for everyone to get about their business calmly and orderly. Whether or not that happens with Axanar and its YouTube channels is anybody's guess.
But we can at least hope!