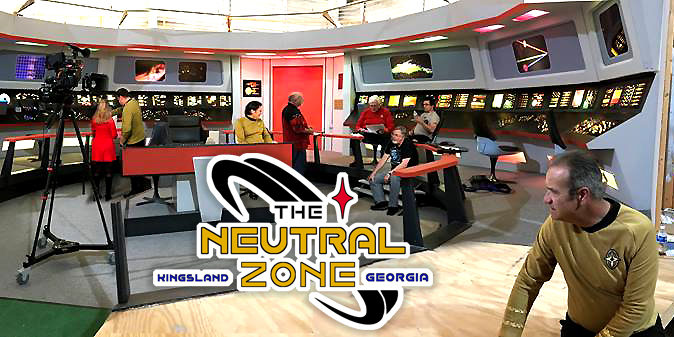 After STAR TREK CONTINUES completed its run of eleven amazing fan films shot on an awesome array of TOS sets, those sets sat unused in an industrial space in Kingsland, GA for many months. The sets were subsequently purchased by avid Trekker (and really nice guy!) RAY TESI, who renamed the facility STAGE 9 STUDIOS. Ray also took over paying the rent, utilities, and maintenance. Thanks to comparison sites that offer the likes of Business Gas package rates and other utilities, Ray isn't spending an obscene amount to keep the studio up and running.
Ray opened up the sets to fans to come see and film on. Already, numerous fan projects have been shot there, including multiple episodes of Dreadnought Dominion, the upcoming Constar Chronicles, the wildly popular Ghost Ship which premiered last Halloween, and even a few others. The sets are being offered FREE to fan filmmakers as long as they pay for the electricity used during filming. It's a great deal!
Unfortunately for Ray, though, what's "free" for fans is still costing him money each month, which is coming out of his retirement savings. Granted, Ray is happy to spend his own money to keep the dream alive, but he is also asking for help from fans out there like you and me.
At this point, many people in Ray's position would have turned to a fundraising platform like GoFundMe. Not only is it possible to crowdfund using the platform, there is also lots of help and advice for people who are in a position where they need to raise funds. For example, there is evertyhing you need to know about helping to pay rent and other utilities at https://www.gofundme.com/c/blog/emergency-rental-assistance. Ray, on the other hand, had a different idea.
Last June, he launched a Patreon campaign to raise donations—given monthly by supporters in increments as low as $1/month or as high as $100/month (the average is about $15/month per donor). After an initial spike, the next six months of the Patreon were fairly flat in the range of about $150/month (approximately 5% of the monthly rent).
Last week, however, everything changed!
First of all, Stage 9 Studios was renamed THE NEUTRAL ZONE (for reasons that will be explained below). At the same time, Ray used the name change to start promoting the campaign much more robustly. The result, as you can see below, has produced eye-popping results in just 7 days! The number of patrons has nearly doubled while the amount donated per month has nearly tripled to almost $500…!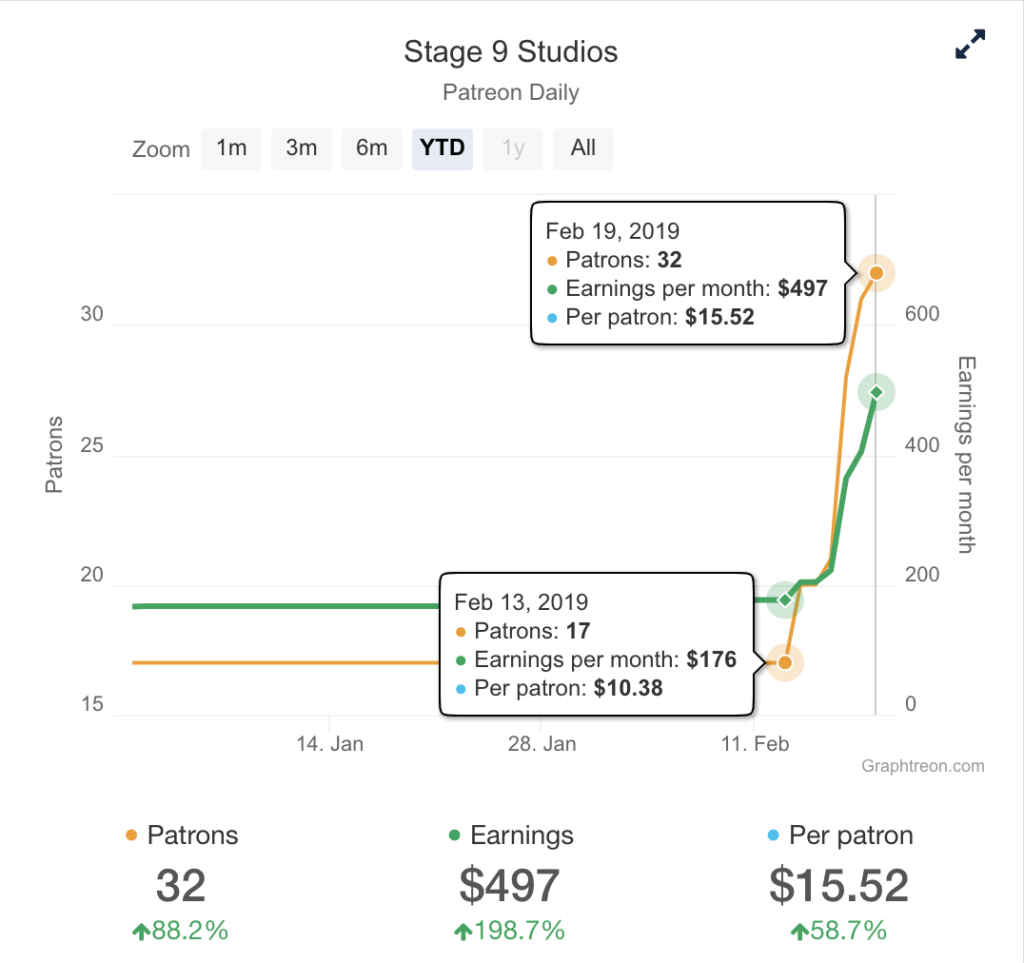 This brings Ray about 15% of the way to covering his monthly rent, so there is still a ways to go. Bu if YOU would like to help keep fandom's TOS dream alive, please click the link below (or at least share it with others)…
In the meantime, Ray has some other news to share with fans. Take it away, Ray…
WELCOME TO:
THE NEUTRAL ZONE
Effective immediately, STAGE 9 STUDIOS has re-branded itself as THE NEUTRAL ZONE.
OUR MISSION REMAINS THE SAME
The mission of The Neutral Zone is to pay homage to the legacy that is STAR TREK, and remain respectful to STAR TREK CONTINUES and CBS BROADCASTING, INC. To that end, The Neutral Zone is a full-service turn-key film studio that is now open fan film makers and event coordinators!
WHY THE CHANGE AND WHAT DOES IT MEAN TO FANS?
The reason for the name change is to give ourselves a unique identity and avoid some confusion that has surfaced.
Just prior to our Fan Appreciation Weekend in October last year, a cease and desist was issued to the STAGE 9 Virtual Reality UK Enterprise-D venture. While not associated with the Kingsland, GA studio, the situation caused confusion amongst fans and the Star Trek community. We are still here, alive and well, but even today fans mistake us for the VR walk-through. In addition, Stage 9 congers up images of Paramount Studios and 1966. To help set us apart, it was clear it was time for a change.
Plus there are other changes coming very soon! We have an array of new fan film productions scheduled to film in 2019 including Dreadnought Dominion, The Avalon Universe, The Constar Chronicles, Starship Potemkin, Starship Melbourne, Starship Republic, and the new series Tales from the Neutral Zone!
And it doesn't end there! The Neutral Zone is planning a series of special events for you, the community. Prepare for an Easter Egg Hunt and Roll on the sets of Star Trek Continues in our first annual Easter extravaganza in April! Don your favorite costume and get ready for Trek or Treat in October! Plus other fan and family-related special events as well as "away missions" to area conventions!
Visiting Kingsland? We've also worked out group-rate discounts at many area hotels for fans traveling to Kingsland GA to visit The Neutral Zone listed on our new website!

BECOME A MEMBER OF THE NEUTRAL ZONE
The Neutral Zone is an opportunity for you to share in the passion that millions of STAR TREK fans have for the series! It is not a money-making enterprise but an opportunity to share the passion that millions of STAR TREK fans have for the series!
If you would like to support us, please visit our Patreon page and consider making a monthly donation of as little as $5 or $10. And while you're there, check out our cool donation tiers:
We're offering some neat swag available only to members including patches, mugs, prop replicas and signed scripts.
Get a unique look at new behind-the-scenes info including studio sets, construction, new productions and more!
How about being on a monthly podcast where the featured guest will be … YOU!
Earn free access passes to our Kingsland studio to film, photo shoot or just walk around!
Cast yourself in a fan film!
Plus a whole lot more!
Your monthly contributions to the studio go towards rent, utilities and maintenance of this incredible set, as well as funding studio improvements and new set construction. And the best part is that your contributions unlock a variety of incredible tiers, all for you, a valued member of the STAR TREK community.
Also, please pass our message onto your friends, colleagues, and STAR TREK fans everywhere!
Every little bit helps!
So check us out at: patreon.com/neutralzonestudios

And while we're at it, we have new links to all of our social media sites:

Website: neutralzonestudios.com
Instagram: @neutralzonestudios
Facebook: @neutralzonestudios
Twitter: @tnz_studios
We value your friendship and hope to see you soon!
Sincerely,
Ray Tesi
President
The Neutral Zone