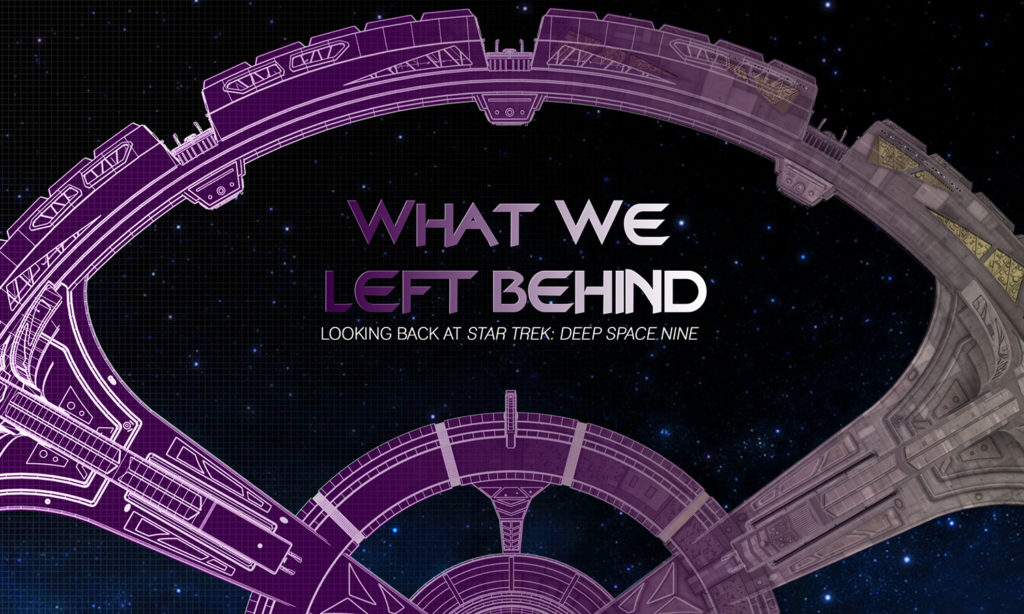 Sometimes it pays off to get backlogged on blogging! On March 1st, I received a donor update from IRA STEVEN BEHR on the current status of the crowd-funded Star Trek: Deep Space Nine documentary WHAT WE LEFT BEHIND. Although they held three theatrical screenings late last year in New York, Los Angeles, and London—where select donors and supporters got to see an early "final" cut of the film—things weren't quite finished yet. In fact, they weren't even close!
The delays in completion stemmed from a noble cause, however. Additional crowd-funding (over and above their initial $650K from fans) was generated to pay for remastering all of the 20 minutes of footage from the seven seasons of DS9 into digital HD quality to be shown in the documentary. Since CBS has no plans to remaster DS9 or Voyager or Enterprise (as they did TOS and TNG), this could be fans' only opportunity to see any of DS9 in high definition. Here's an example of the difference in quality…

The digital transfer process began with massive amounts of time in the CBS vault sorting through seemingly endless rolls of 35mm film reels looking for the footage they needed. Then a request was sent out to deliver 400 of those reels to CBS Digital, who would then digitally scan in the film into high definition for Ira and his team to color adjust, enhance, and edit into the final cut. At the time Ira posted the following video on March 1, about three-quarters of the requested film reels had been sent to CBS Digital for logging in and scanning…
I'd planned to share that update here, but in the last 13 days, I've published 9 other blogs (and two of those days were spent at Disneyland). So the DS9 news was pushed to the bottom of my "to do" list until this week. No big deal—updates about the DS9 documentary are not very frequent anyway. The news could certainly wait a week or two, right?
But then the BIG news broke…
The What We Left Behind documentary has just been acquired by SHOUT! Studios.
But what the heck does that even mean???
For folks unfamiliar with the way the entertainment industry works, to grossly simplify it, there's two parts of turning a cinematic dream into something folks actually watch in a theater or on TV: making it and showing it. Making a film is known as production, and there are many, many different production companies and studios—from individuals self-funding their small, independent films to big blockbusters made by Paramount Pictures or Disney Studios.
Once a film is made, what happens next? How does it get into movie theaters? Who decides which theaters carry it and for how long? Who's in charge of advertising it, releasing it onto DVD and Blu-ray with special features, making merchandise from it, and seeing if HBO or Showtime or Netflix wanna pick it up? All of that is called distribution, and it's a completely different skill set (and employee staff) from production.
Sure, sometimes the big studios both produce and distribute their own films. But more often, when you sit in a theater watching all of those fancy animated logos before the movie begins, some of those are production companies and some are distributors (and some are financiers)…and everyone gets a logo!
Ira and his team produced (are producing) a fine documentary film, funded mainly by fan donations. But without a distributor, the only way fans would have been about to see What We Left Behind was going to be on a DVD or Blu-ray, possibly on YouTube, or at a theater rented out for a special screening by Ira and his team.
SHOUT! Studios changes all of that. So who are they?
Founded back in 2003, SHOUT! began as the Shout! Factory and has grown and expanded ever since—first by looking for forgotten cult classics (anyone remember Freaks and Geeks or SCTV?) and acquiring the rights to them. Later, they'd produce special editions of the originalTransformers and G.I. Joe cartoons.
By 2010, they were partnering with legendary horror film creator Roger Corman to release dozens of his films under the brand Roger Corman's Cult Classics. They also began developing their own content by licensing from Marvel a series of "motion comics," including Thor & Loki: Blood Brothers, Black Panther, and Astonishing X-Men.
The next couple of years saw SHOUT! continue to acquire classics like R0ute 66 and many of the 1990's Nickelodeon children's series. By 2012, they launched their first branded imprint for iconic cult horror films: Scream Factory. They also began producing their own original multi-platform titles: the horror-comedy Cockneys Vs. Zombies and the animated family film A Monster In Paris.
By 2014, Shout! was off to the races, acquiring the rights to Pee-Wee's Playhouse and remastering all of the episodes for both Blu-ray and streaming on Netflix. Yep, Netflix.
When fans crowd-funded an entire season of Mystery Science Theater 3000 with a $6.5 million Kickstarter, SHOUT! was there as a partner and, two years later, would get Netflix to pick MST3K up as a series. SHOUT! launched its own streaming service called SHOUT! Factory TV, a SHOUT! Kids imprint, and in 2017 opened SHOUT! Studios to be their distribution and production arm.
And it's SHOUT! Studios that just picked up What We Left Behind. They're planning to release the documentary on multiple platforms before the end of the year…including on theater screens. It's HUGE news!
This bodes very well for the future of not just the documentary but also hopes of convincing CBS to change their minds and actually fund a digital remastering for DS9. I'll let Ira Behr explain…
A bigger release means a bigger audience. And a bigger audience means more people talking about DEEP SPACE NINE. And, of course, more people talking about Deep Space nine is a great thing!
If CBS Studios is to ever make the huge leap to remaster the full series of DS9, they're going to want to see that there is an audience, and a market for this large undertaking. We've already sparked their attention through this campaign, and the bigger splash we can make, the better message we can send that Deep Space Nine is still just as relevant today (if not more!) as it was when it first aired.
Also, having SHOUT! on board means more resources to finish production, and that means a faster release, although Ira wasn't sharing any hard dates yet (probably because they're still figuring everything out in terms of workload and schedule). But plans seem very solid to get the documentary out during the current calendar year.
Finally, here's a short tongue-in-cheek/pipe-in-mouth video from documentary editor/producer JOE KORNBRODT commenting on the news…