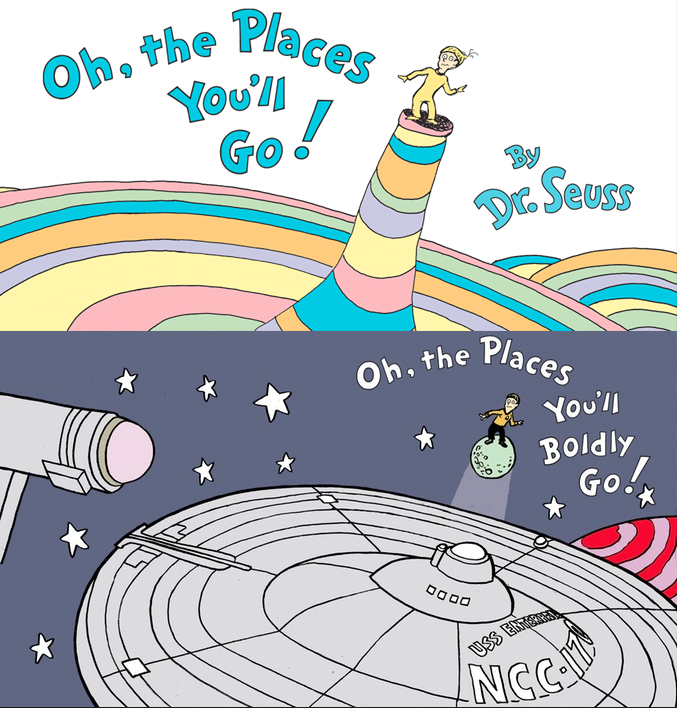 I've been watching this case closely for nearly two years, fascinated by the question of whether a"mash-up" of two separate intellectual properties (in this case STAR TREK and DR. SEUSS) could be successfully defended against a copyright infringement lawsuit using a defense of FAIR USE.
And yesterday, we discovered that the answer is officially "YES."
For a more complete history of this case, check out any of my previous 15 blogs on the subject (I told you I was watching it closely!). In short, DAVID GERROLD (the creator of the tribbles) and TY TEMPLETON (award-winning comic book artist) set out to create a Seuss/Trek mash-up book called Oh, the Places You'll Boldly Go!
Together with their publisher ComicMix, they set up a Kickstarter in late 2016 to fund a run of 5,000 printed copies of the book to sell through ThinkGeek. They raised about $30,000 when Dr. Seuss Enterprises (DSE) contacted Kickstarter with a DMCA takedown notice. The money was never collected.
Six weeks later, DSE sued the mash-up team for both copyright and trademark infringement. The case was an emotional rollercoaster ride for both sides, with the judge at one point dismissing the trademark claims and then later (after a re-refiling by DSE) reinstating the trademark claims.
On the copyright complaint side of things (different than trademark), the judge was ready to dismiss the case outright on grounds of Fair Use, but she gave DSE one chance to prove market harm by Team Mash-up. DSE was able to make a strong enough argument for financial damages that the judge allowed the case to move forward. That was 14 months ago.
The case has been complex, to say the least! And it had the potential, according to Ninth Circuit Federal Judge Hon. JANIS SAMMARTINO, to quite literally determine the fate of nearly all mash-ups well into the future. Would this new art form die in its infancy? Was it even a true art form? All of her rulings were carefully considered, and nothing was rushed.
After more than two years of legal wrangling, filings, responses, discovery and evidence and testimony, and motions for summary judgement, it all came down to pre-trial oral arguments made in Judge Sammartino's San Diego Courtroom five weeks ago on February 7.
So what exactly happened, and is this case finally over…?
Yes, the case is now over. The judge was presented with two pre-trial motions for summary judgement (read more about them here), one from each party. The Plaintiff was asking for the judge to do essentially the same thing that was done in the Axanar infringement lawsuit brought by CBS and Paramount: rule that Fair Use was not a valid defense. This would have made the case all but impossible for the Defendants to win.
Team Mash-up, on the other hand, was asking the judge not only to rule that Fair Use was a valid defense but that their work was, in fact, Fair Use after all. And if it's Fair Use, then it is protected by the First Amendment as free speech. The case would be dismissed.
Going into February, Boldly! was in a place in terms of Fair Use that the judge referred to as "near-perfect" balance. Let me explain that…
There are four aspects of Fair Use, and Team Mash-up already had the first one (is it a total copy or does it transform the original in some way?) firmly in their favor. Although the judge ruled Boldly! was NOT a parody—which is automatically protected speech—she did rule it was transformative. In other words, although it copied a lot of things from Dr. Seuss source material, it transformed those drawings and characters and text into something completely new and original. The plaintiffs argued in filings and court that the work was NOT transformative, but the judge didn't agree. So 1-0 in favor of the defense.
The second factor is sorta a "gimme" in any Fair Use case: is the original work worthy of a copyright? Is it creative and widely published? No one on either side argued that Dr. Seuss' works weren't worthy of copyright. And so the second factor, almost by default, weighed in favor of the plaintiff. The score was now 1-1…but the first ONE is big and the second one is smaller because it's almost automatic in copyright cases.
The third factor is the question of HOW MUCH was copied? This is subjective, to be certain, but did the Defendants copy more than was necessary to make their work…or was it just enough? In other words, in order to make a mash-up, you kinda need to make it recognizable as the two things you're mashing. So Boldly! needed to look like Dr. Seuss (and Star Trek, of course). But did it go too far?
The judge didn't think so a year and a half ago when she first ruled on this third aspect of Fair Use. And although the Plaintiff's lawyers tried really, really hard in their latest filings and arguments to change her mind, they came up woefully short. The judge explained in her ruling…
There is always an argument to be made that an infringement defendant could have used less---otherwise the case would not be in litigation. The pertinent question is whether Defendants "only copie[d] as much as [wa]s necessary for [their] intended use." L.A. News Serv. v. CBS Broad., Inc., 305 F.3d 924, 941 (9th Cir. 2002) (emphasis added) (quoting Kelly v. Arriba Soft Corp., 280 F.3d 934, 943 (9th Cir. 2002)). Here, Defendants sought to "mash up" the Star Trek original series with Go! in particular, rather than "Dr. Seuss" in general. 

Examining the cover of each work, for example, Plaintiff may claim copyright protection in the unique, rainbow-colored rings and tower on the cover of Go! Plaintiff, however, cannot claim copyright over any disc-shaped item tilted at a particular angle; to grant Plaintiff such broad protection would foreclose a photographer from taking a photo of the Space Needle just so, a result that is clearly untenable under---and antithetical to---copyright law.

But that is essentially what Plaintiff attempts to do here. Instead of replicating Plaintiff's rainbow-ringed disc, Defendants drew a similarly-shaped but decidedly non-Seussian spacecraft---the USS Enterprise---at the same angle and placed a red-and-pink striped planet where the larger of two background discs appears on the original cover. Boldly's cover also features a figure whose arms and hands are posed similarly to those of Plaintiff's narrator and who sports a similar nose and eyes, but Boldly's narrator has clearly been replaced by Captain Kirk, with his light, combed-over hair and gold shirt with black trim, dark trousers, and boots. Captain Kirk stands on a small moon or asteroid above the Enterprise and, although the movement of the moon evokes the tower or tube pictured on Go!'s cover, the resemblance is purely geometric. Finally, instead of a Seussian landscape, Boldly's cover is appropriately set in space, prominently featuring stars and planets. In short, "portions of the old work are incorporated into the new work but emerge imbued with a different character." 

Defendants took discrete elements of the Copyrighted Works: cross-hatching, object placements, certain distinctive facial features, lines written in anapestic tetrameter. Yes, these are elements significant to the Copyrighted Works, but Defendants ultimately did not use Dr. Seuss' words, his character, or his universe. The Court therefore stands by its prior conclusion that Defendants took no more from the Copyrighted Works than was necessary for Defendants' purposes, i.e., a "mash-up" of Go! and Star Trek, and that, consequently, this factor does not weigh against Defendants. 
So if you're still keeping score, that's not a point FOR the Defendants, but it's not a point AGAINST them either. It's still BIG 1 – little 1. One factor to go…
The final Fair Use factor is potential market harm to the copyright holder. This doesn't mean that a Fair Use work isn't allowed to make a profit (it totally is). But if its publication comes at the EXPENSE of the original owner, then it weighs against the Defendants.
Previously, the judge had given the Plaintiffs "the benefit of the doubt." But now it was time to "put up or shut up" (or, in legalese, prove market harm through a preponderance of evidence). DSE argued two points of harm. First, Oh, the Places You'll Go! (DSE's original book) wasn't intended only for kids but also for adults and recent graduates. Boldly! was obviously not a kids book, but by targeting adults and potentially adult graduates (assumedly Trekkies), some folks would buy the mash-up instead of the original. Voila…market harm!
The judge wasn't convinced:
What is clear is that Go! is Plaintiff's "best-selling book," and that is it a "NY Times best seller each spring" with "[o]ver 12.5M copies sold with sales increasing the past 4 years!" Defendants, on the other hand, raised $29,575 from 727 backers for Boldly over a two- month period through Kickstarter, and ThinkGeek placed an order for 5,000 copies of Boldly for Christmas 2016 sales. Although it is certainly conceivable that some would-be purchasers of Go! would instead purchase Boldly for a Trekkie graduate, there is a dearth of evidence or expert testimony permitting the Court to extrapolate the likely effect---if any---that Boldly may have on Plaintiff's sales of Go!  
The Plaintiff's other argument was theoretical: lost licensing revenue because potential licensees might see Boldly! getting away with using DSE's intellectual property and not bother purchasing a license either. Again, the judge wasn't convinced. Here she felt (and had previous caselaw to back her up) that simply imagining a potential market isn't enough. DSE had to show actual damages and lost revenue or a high likelihood of it.
Indeed, DSE's own Style Guide (intended for licensees) kinda helped prove the Defendants' argument that their mash-up work occupied a market that DSE was unlikely to ever license or develop…
Under "Do's and Don'ts," Plaintiff instructs its licensees not to show characters with items "not from [the Seuss] world" and not to "use Seuss characters with third party's characters."  Licensees are also not supposed to "make up Seuss-like rhymes." Boldly, however, breaks these rules: it makes liberal (if not exclusive) use of third-party characters from Star Trek, mixes them with non-Seussian elements and worlds from Star Trek, and it creates its own Seuss-like rhymes using Star Trek wordplay. It is therefore unlikely that Boldly is "precisely the type [of 'collab'] that [Plaintiff] might consider." 
Just as happened with the third Fair Use factor, the judge felt that there was no point against Team Mash-up and no point in favor of them. This left the score BIG 1 – little 1.
The judge ruled…
On balance, therefore, the fair use factors favor Defendants. Accordingly, the Court GRANTS Defendants' Motion for Summary Judgment as to fair use. 
So game over, then? Not quite yet. There were still two complaints remaining on trademark infringement (separate from copyright) for the use of the Dr. Seuss typeface and its artistic style.
Artistic style always seemed to me to be an overreach, and it went down quickly, as courts have typically kept trademark protections narrow rather than broad…and trademarking an entire artistic "style" would be highly unusual. Then the typeface claim went down almost as quickly. While the copyright ruling took the judge 20 pages to explain, the trademark rulings took less than 4.
You can read the judge's full ruling here.
---
So what happens now?
Well, DSE could conceivably appeal the judge's decision. But that would be a long process (2-4 years)…and they would need to find something about this case that was mishandled by the judge in order to appeal her decision. You can't just appeal because you didn't like the outcome.
I'm not just sure that Judge Sammartino did anything particularly wrong or unfair in this case. If anything, she gave DSE every possible chance, including resurrecting their trademark complaints after dismissing them earlier on. She even gave them an opportunity to win on Fair Use by proving financial harm in the marketplace, and they were unable to do so.
Aside from, "We don't agree with her ruling," I'm not sure what there is to be appealed. In the meantime, ComicMix is free to publish Boldly! whenever they want to.
Could CBS now also sue ComicMix (and Gerrold and Templeton) for infringing on THEIR copyright for Star Trek? The option is always available for CBS, of course, but would it be a wise choice? Personally, I don't believe so.
First of all, DSE had deep pockets (just like CBS) and still lost. So it's not like CBS can just say, "Well, if they'd only had better (more expensive) lawyers, DSE could've won. Let's show 'em how it's done!"
Second, the case was already lost once on its merits, with the work being declared Fair Use. It would be hard to un-ring that bell if CBS sued for infringement. The previous ruling for Fair Use (in terms of Dr. Seuss) would likely apply also to its use of CBS's Star Trek intellectual property.
And third, while Boldly! wasn't ruled a work of parody in regard to Dr. Seuss, it COULD be considered a parody of Star Trek (it makes fun of a lot of Trek tropes…like Kirk's many relationships with women). And if Boldly! is ruled a parody, the case is immediately dismissed.
So lots of potential pitfalls for CBS just to block a book that's gonna print maybe 5,000 copies (maybe 10 or 20,000 if it's lucky). Doesn't seem worth the hassle…at least to me. Then again, I wouldn't have sued Axanar either!
---
And finally, here's a quote (in rhyme!) from GLENN HAUMAN of ComicMix on yesterday's win in court…
Summary judgment at last we've received,
And so victory has been finally achieved.
The judge has ruled our book's fair use
And so we're allowed to mash-up Seuss.
We don't want to brag. And we will not gloat.
Allow us instead, to gratefully promote.
We thank the lawyer who brought sound defeat
To DLA Piper— we think Dan Booth's sweet!
Michael Licari helped us out as well,
And Ken White lit his signal, which really was swell. Os cassinos online brasileiros são representados por sites licenciados (legalizados). Nesses sites, os jogadores só podem obter jogo justo, acesso ao melhor software e retirada estável de ganhos – Casinos online Brasil

We thank all our backers who gave us their aid,
Which helped us to battle our legal crusade.
You all gave support as the motions dragged on,
Without you it's impossible to have boldly gone.
So what are their plans for Boldly! now that the legal drama is finished? Glenn hasn't told me yet, but I'm gonna keep pestering him!