SPOILERS MAKE YOU A BETTER PERSON!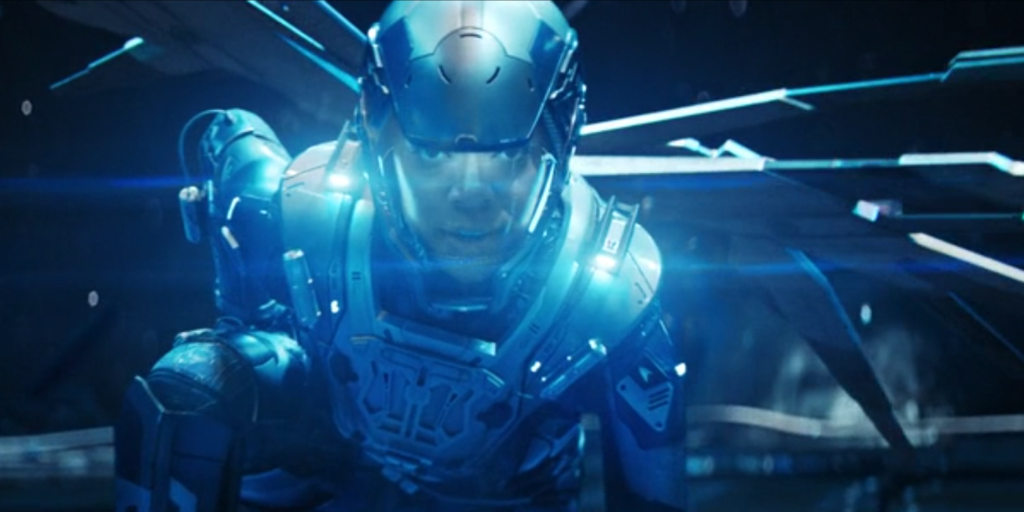 Before I begin blasting away at the season two finale of STAR TREK: DISCOVERY, I will give credit where credit is due. The entire production team obviously worked VERY hard to make "Such Sweet Sorrow, Part 2" a fast-paced, well-acted, and visually stunning hour of television. It wrapped up a very complex season-long story arc without leaving any loose ends (that I noticed), and it was certainly an ambitious undertaking.
But as a Trekkie and, more basically, as a viewer, I finished the episode feeling angry and, to be honest, betrayed. And I'd like to tell you why.
Writers and their audiences make an "agreement" going in, a pact of trust, if you will. The writers ask that we viewers buy into what the writers are setting up in the narrative, and in exchange, the writers will create a compelling, suspenseful, emotionally engaging story to entertain us.
But in this episode, I felt that the tail (or the tale) was wagging the dog. The writers had to include certain scenes in order to cover the necessary tropes of an exciting, explosive season finale: death of a major character, cavalry to the rescue scene, hand-to-hand fight with the bad guy, etc. Nothing wrong with that in theory. But in order to hit those beats, the writers way too often had to violate the trust of the viewer. And it's NOT simply that some scenes are inconsistent with "established" Star Trek canon. I've learned to expect that from this show, and I've mostly made my peace with it.
No, I am talking about violating the canon that the writers have already set up for themselves. And when I see these kinds of "sloppy" scenes (and there were a LOT of them this episode), I can only assume the writers simply don't care that they're writing something that makes no sense within their own narrative…either that or they think that their viewers don't care.
Well, I care. And that's why I'm sharing this longer-than-normal blog with you today…
SUDDENLY STRESSFUL!!!
Remember the end of Part 1? Yeah, I know it was a whole week ago, but on board the Discovery and the Enterprise, it was just a few seconds. Let's take a look at how things were just "seconds" ago…
Tense, but still kinda calm and quiet, right? Pike had said his good-byes, and the clock on the view screen displayed that Control's fleet would be arriving in 30 seconds. Burnham and Spock are standing stoically on the bridge, waiting patiently.
Now, let's look at what happens next…
Admittedly, I'm one to talk. Back in school, I used to leave my homework and studying until the last minute. But I would have expected more from Starfleet's finest. If the Time Suit was still being assembled, wouldn't it have been wiser for Burnham and Spock to be in engineering and NOT on the bridge saying a long good-bye to Pike and then standing around waiting for the countdown timer to reach zero.
I mean, I understand that, had Burnham and Spock already been in engineering helping to assemble this ultra-complicated piece of equipment that Burnham and Spock understand better than anyone else, then we wouldn't have seen them urgently RUNNING down corridors to kick off the episode. But still, I'm not stupid. And in my mind, it just didn't make sense that Burnham and Spock wouldn't have already been working non-stop in engineering on the most important part of the plan to get Discovery to the future.
CLOWN CAR!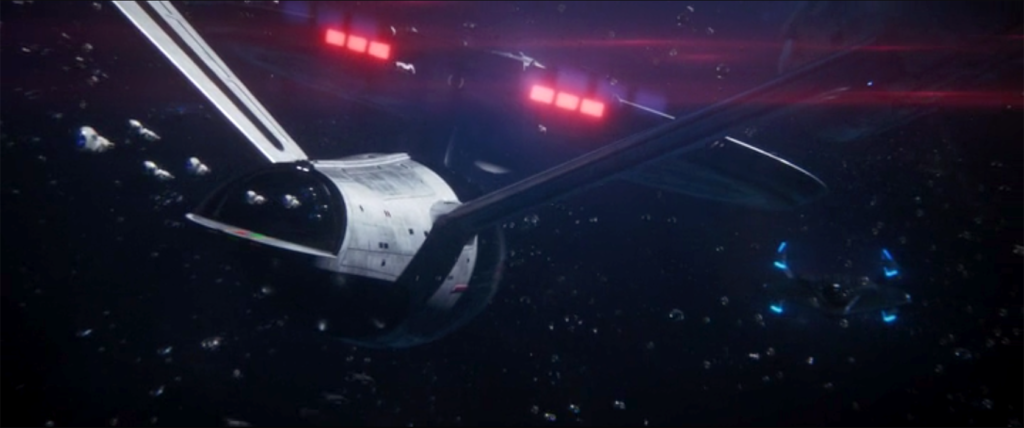 Early in this episode, Georgiou tells Leland that he is facing over 200 vessels. Do the writers have any idea how BIG a number 200 is? Where are all these spacecraft being stored???
I know that Discovery has a HUGE hangar bay, but remember that, heading into this episode, Discovery has been carrying only its standard complement of shuttles and fighters. Indeed, it was Enterprise that was bringing the extra experimental tactical flyers ("Assuming the sh*t would hit the fan," as Number One says).
Enterprise's hangar deck, however, is pretty small compared to Discovery's. Back in TOS, the Enterprise only carried four shuttles. Let's multiply that number by TEN (which is ridiculous!), and we're still only up to 40 shuttles. I can't believe that Discovery has more shuttles than that, can you? (I can't even believe they have forty!) So we're overcrowding both hangar bays and haven't accounted for even HALF of the 200 ships being launched!
Let's take a look at one of the last scenes from Part 1…
Already there are dozens and dozens of shuttles and fighters zipping around! Now, let's look at what happens at the beginning of Part 2…
That's a frickin' WHOLE LOT of spacecraft! Where did they all come from??? Either the USS Enterprise is part TARDIS or else the entire ship is hollow and I have touched the fly…ers. (Too much of a reach?) Again, the writers wanted hundreds of ships in those climactic space battles. After all, this is the age of eye-popping CGI effects! But in doing so, the writers once again insult our intelligence in hoping we don't notice that the USS Enterprise is now little more than a VW Beetle with an endless supply of clowns popping out of it.
THE COMPLETELY UNNECESSARY DEATH OF ADMIRAL CORNWELL…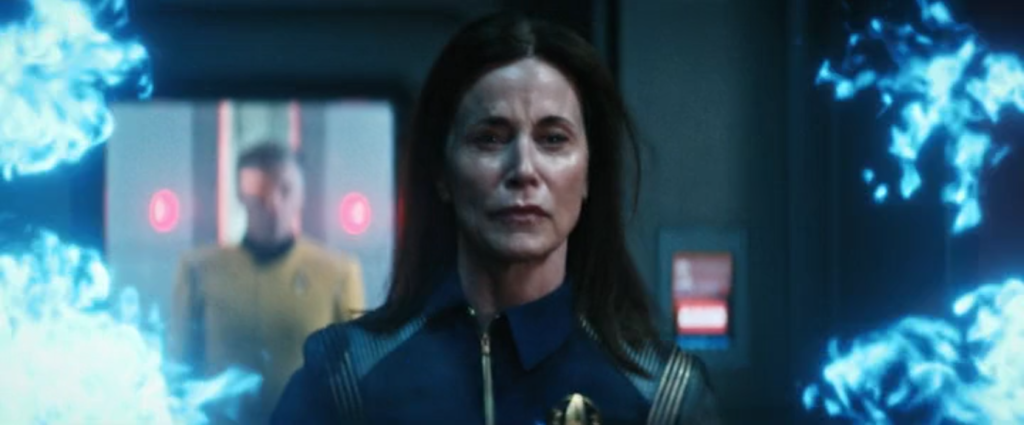 Okay, Cornwell had to die, right? After all, someone needed to to give this episode gravitas and high stakes. It couldn't be Pike or Spock because we know they make it into TOS. Anyone else on Enterprise (except maybe Number One) we don't really care about. Most people on Discovery we don't really care about either—unless they're the main players, in which case we need them for next season.
That obviously left Cornwell. Although it would have been nice to see a familiar admiral in the new Section 31 series, it's not required. And if Discovery is jumping into the future (never to return?), then Cornwell ain't comin' back to this series next season anyway. So sorry, Jayne Brook, you're gonna need to call your agent to find a new gig.
But here's the thing: she didn't have to die. I mean, the writers wanted to kill her off in grand fashion as she nobly sacrifices herself to close the blast door from inside the room. But again, the writers are hoping we viewers don't remember that the Enterprise has transporters! Let Cornwell close the hatch, then beam her out of the KABOOM! side of the door to the safe side. Simple. And if the writers didn't want that to be an option, then add in some throwaway line for exposition: "We can't beam her out—the interference from the antimatter in the torpedo will disrupt the beam!" But without that line, the transporter is very much still in play…and it isn't used. Sloppy, sloppy, sloppy!
THE KOMPLETELY KONTRIVED KLINGON AND KELPIEN KAVALRY!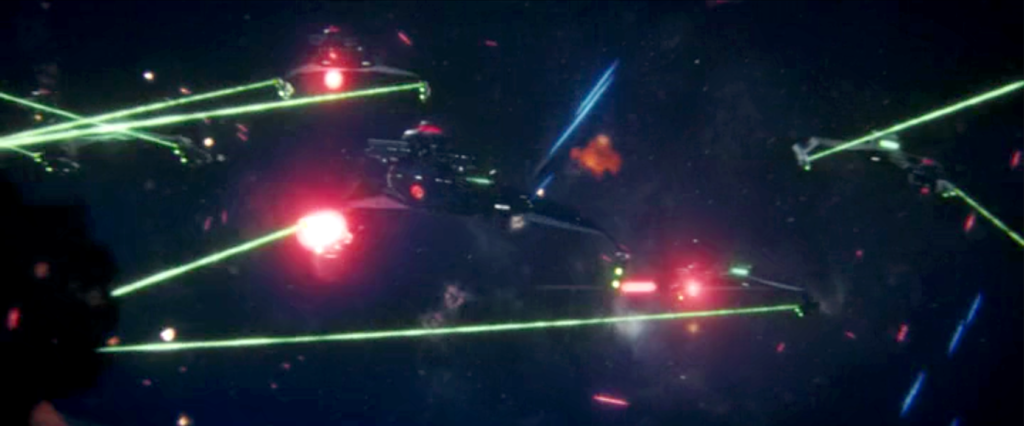 Okay, lots to unpack here. The first is time dilation. Just how long is that battle going on for? The reason I ask is because, as you saw from the first clip I included from part one, Tyler leaves just before Leland's fleet arrives (like seconds before). Tyler then travels all the way back to the Klingon homeworld, gets ahold of L'Rell, convinces L'Rell to help him, assembles the full Klingon fleet, calls Saru's people (who are already "on their way"), convinces them to join the Klingon konvoy, and gets all of those ships back to the battle in what seems to be less than an hour…maybe two. I mean, it can't be too much more than that, as a lot of things happen in real time (a minute for us viewers is a minute for them). Also, there are so many of Control's drones shooting at Discovery and Enterprise that I can't imagine those two lone starships lasting all that much longer than an hour or two.
But even if the battle lasted four or five hours—or ten or fifteen hours—the Klingons and Ba'ul don't have spore drives. They can't jump across dozens of light-years of space in the blink of an eye. And yet—PRESTO!—here they are. What was it Khan said in Star Trek II? "Do not insult my intelligence, Kirk." The Discovery writers seem to be doing just that to us viewers.
And don't even get me started on how quickly Saru's sister, an accomplished fisherwoman and possibly priestess, learned to fly an advance space fighter. Here on earth, we have training academies for that; they require years of study and practice to produce a single fighter pilot (I saw Top Gun!). On Saru's planet, well, they had huts. Up until recently, the only vehicle the Kelpiens "piloted" was a rowboat!
I suppose the Ba'ul were eager to train the Kelpiens, whom they already feared, to operate advanced machinery that could be used to destroy the Ba'ul even faster and more efficiently than simply using fishing spears. Am I remembering that episode correctly?
And finally, let's not forget what L'Rell said the last time we saw her, when Tyler/Voq wanted to go down to Boreth to visit their son. "Nuh-uh, baby-daddy!" The Klingons think Voq the Torchbearer is dead. Were they to find out he still lived, their child would never be safe and the Klingon people would no longer trust a "mother" who lied to them about important things.
So apparently, with the once-dead Tyler/Voq now leading a fleet of D7s into battle, that important plot element is no longer a "thing"? Again, writers, even if you don't follow the established Trek canon as religiously as many of us want you to, at least follow the damn rules you've set up for yourselves!
KNOCK, KNOCK! HUGH'S THERE?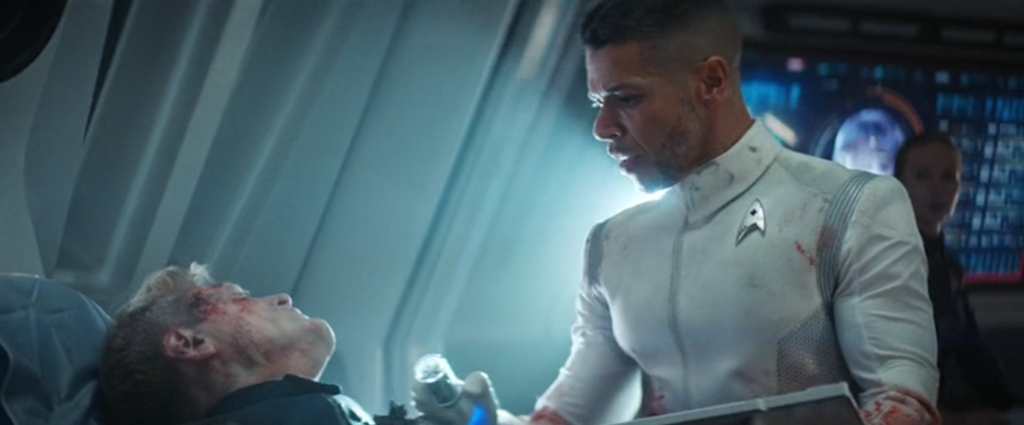 Sorry about that—I had one last "Hugh" pun left in the box.
So yeah, I admit this was a tender and beautiful scene when Dr. Culber finally realizes that he is still in love with his former pajama buddy Paul Stamets. The only problem: when did that happen? Off-camera? Well, writers, thanks for sparing us viewers from having to see that defining moment when the Hugh Culber we've been watching and sympathizing with for the last half-dozen episodes, the one who can't seem to smile or remember how to be happy around his former lover, the one who even sought counseling from a psychologist-turned-admiral because he no longer had feelings for Paul, the one who was going to leave Discovery and take the job of doctor/bartender on Enterprise…thanks for NOT boring us with the moment when that guy turned back into the previous incarnation of Dr. Hugh who didn't have any of that new baggage and simply wants to be with Stamets forever because Paul is Hugh's "home." (Man, that was a long sentence!)
I get it, though. This was one of many check-boxes for the episode: kill a major character, show the cavalry arriving, fix Culber and Stamets' relationship, etc. The writers needed to rush an unexplained resolution to a plot that had been slowing developing but now needed a fast wrap-up. So again—PRESTO!—the pajama buddies are back together again. Hooray?
TIME AFTER TIME…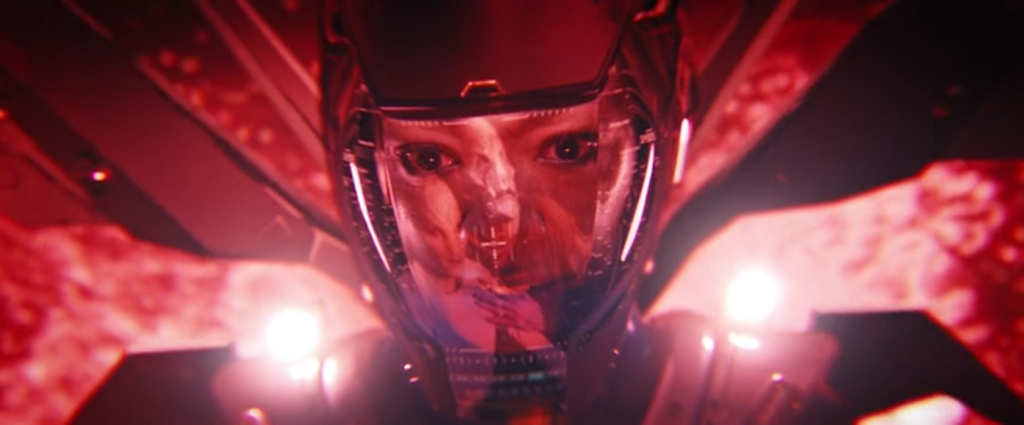 Does anyone understand exactly why the time-suit was forcing Burnham to send the five signals before she could use it to jump to the future? If so, please explain it to me. On second thought, don't. I'm just gonna go with it. After all, it gave us the payoff of the scenes most fans knew we were going to see ever since the beginning of the season: the Red Angel is revealed to be Michael Burnham herself. And oh, that facial expression! You just knew she was going to be smiling down on those she visited with the loving, almost-maternal gaze of an actual angel. And lucky us…we got to see it FIVE TIMES! Five times, folks. Five times.
But let me ask another, more basic question: how did we learn there were SEVEN signals again? Oh, I know we were told in the first episode of season two that Starfleet had detected seven signals that flashed and were gone, but six of them hadn't happened yet! Heck, one of the the signals doesn't appear until five months after Discovery jumps forward in time…and it appears 51,000 light-years away. (Which means, for anyone who paid attention in college astronomy, that the signal first appeared in the beta quadrant 51,000 years ago and has only just reached the alpha quadrant and the USS Enterprise.)
But think about it: how were there seven signals detected when six of them hadn't appeared yet? I'm not angry about that so much as confused…and I don't think the writers ever bothered to explain that mystery during this episode…unless it was lost in all the technobabble.
WAIT…WHY ARE WE DOING THIS AGAIN?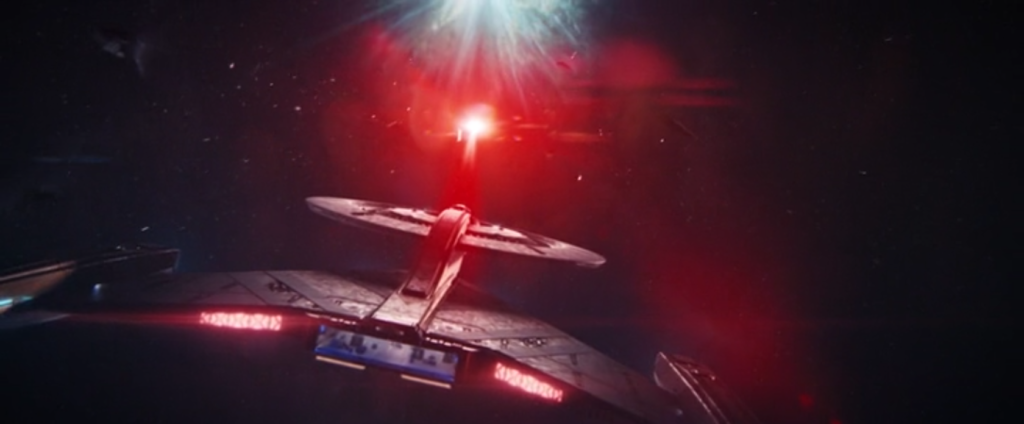 So here was the plan: we jump Discovery 1,000 years into the future to put it far beyond Control's grasp. So unless Control is very patient and can wait ten centuries, and/or Starfleet can't figure out a way to defeat it now in the present before Control becomes even more sentient (as opposed to the "less sentient" version we've got now?), the good guys win. We just have to get Discovery somewhere that Control can't reach the Sphere archive data.
Yep, that was the plan. It was explained over and over again last episode. I was totally on board with that. I accepted the above plan as laid out in Part 1. But then the writers completely forgot about the reason for the plan…twice!
The first brain fart came when Leland beamed aboard the Discovery. Now, I understand that we needed to see a physical fight between the heroes and the villain. In today's angry world, the good guys and bad guy have to verbally threaten each other and fight hand-to-hand…just like Picard did with the villains in each of the four TNG movies and Chris Pine did in the three reboot movies. It's necessary action. If you don't have that hand-to-hand combat, you wind up with weak stories like The Wrath of Khan. (Oh, wait…that argument totally doesn't work.) Well, anyway, today's audiences demand the trope of hand-to-hand combat with the bad guy. So be it.
Unfortunately, that means that Control is literally inches away from the Sphere archive! If Discovery jumps through time, Control comes along for the ride. Sure, you save the Federation of today (unless Control figures out how to build another time-suit from the blueprints in Discovery's computer), but the future is now toast. All sentient life in the galaxy will still get wiped out; it'll just happen 1,000 years later! So we cancel the plan, yes?
No, they don't cancel it…but that's okay because Georgiou still defeats Control/Leland with some magnet technobabble. As long as they never turn off the magnets, Control is no longer a threat. GREAT!!! So cancel the plan, kids! I mean, why does everyone still need to abandon their loved ones and jump to the future (with Control/Leland stuck in pieces in engineering and still along for the ride)? Instead, let's all go back to Starfleet HQ and figure out what happened to create Control and how we can stop it from ever happening again. Let's keep Discovery in the present so Starfleet can now travel to any point in space and time and Earth becomes Gallifrey.
Anyway, with Control defeated, there is no reason left to jump into the future, right? Well, there is one reason, and that leads me to my last complaint…
YOU SAW NOTHING—AND WE WILL NEVER SPEAK OF THIS AGAIN!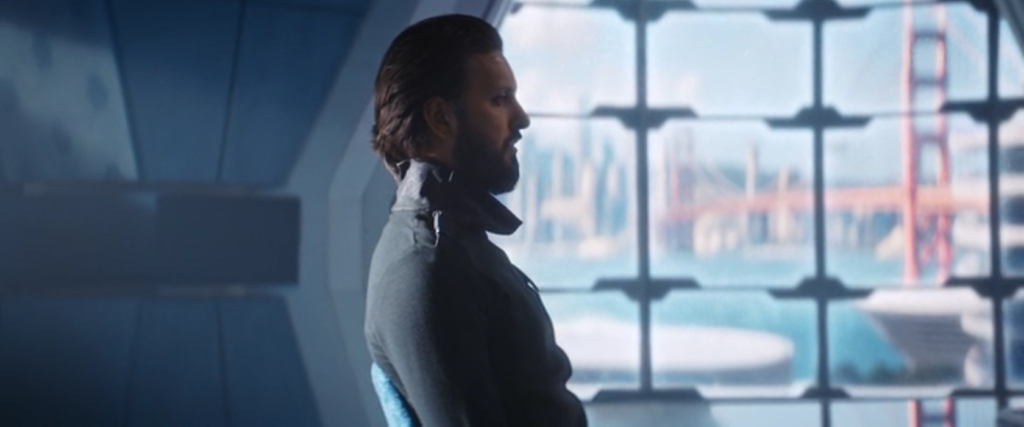 In my opinion, in the history of television, there have been two moments of EPIC FAIL when the writers realized they had written themselves into such a corner that they had to hit the "reset" button in such a way that they completely betrayed the trust of their viewers.
The first such "betrayal" happened back in 1986 when Bobby Ewing unexpectedly appeared in the shower at the end of season nine of the show Dallas. In the finale of the previous season, Patrick Duffy's good-guy character had been killed off, followed by an entire season worth of episodes under a new show-runner that tanked in the ratings. The show needed Bobby back, and so he appeared in the shower in the final scene of the following season as if nothing had happened. Was it a forgotten twin? A clone? Had Bobby miraculously healed? Was the death faked? Nope. Season nine was simply "just a bad dream" that happened while Bobby's wife Pam was sleeping. The show never recovered.
The second "betrayal" happened a quarter century later in the series finale of Lost. That amazing show threw so many mind-blowing mysteries at its viewers: dozens of people surviving a horrible plane crash, polar bears on a tropical island, a smoke monster, a paralyzed man who could suddenly walk, a doomsday clock that reset every 108 minutes, six numbers that contained immense power, a giant statues of a foot, god-like beings, and a complete reboot of reality itself. All the while, the writers promised us that every question would be answered, and not by trickery. This was really happening. This wasn't some imaginary story or dream sequence. And no, they didn't all die in that plane crash and this was just some strange purgatory (one of the earliest fan theories).
In the end, though, the writers were completely stuck. They had simply thrown in too much crazy crap that didn't make sense. So they opted to tell the audience at the very end that yes, the "survivors" has indeed all died in that plane crash, and this entire show was just a strange purgatory to figure out who is going to heaven and who is going…elsewhere. In other words, yes, it was all a dream. None of the things you just watched over the past six years ever happened. These people have all been dead, and the world wasn't affected by these events in any way. Thanks a lot, Lost!
Now I'm going to add a third audience "betrayal" to the EPIC FAIL list: Star Trek: Discovery.
We were told from episode one that this was the "prime" universe…despite all of the seemingly huge divergences from established canon: the Klingons (their appearance and their ships), the Starfleet uniforms, the technology and visual look/feel of the series, and a host of other little discontinuities.
Many of these were "fixed" (or at least the writers tried to) in season two. The Klingons grew hair and built a real D7. The more familiar, colorful Starfleet uniforms from TOS were introduced (kinda) as the "new" uniforms worn on the Enterprise. We got to meet Christopher Pike and Number One (whom, we learned this episode, is REALLY named "Number One"—and her little sister, "Number Two," spends most of her time in the Enterprise bathroom?). We were shown the Talosians and Vina and heard the familiar background sounds of the Enterprise bridge and the classic Star Trek theme music. It was a valiant, if not clumsy and somewhat inadequate, effort. I still choose to see this series as happening in an alternate universe…even if the writers don't.
But that still left the two most egregious "violations" of Star Trek canon (aside from Section 31 being some kind of recognized "division" of Starfleet). The first was the Discovery's spore drive. Why didn't Starfleet have this incredible technology going forward into the later series? Heck, it would have made rescuing Voyager's crew a five-minute non-event. The Borg threatening Earth? No worries! Just jump into the heart of Unimatrix Zero, drop off a few matter-antimatter warp cores, turn off magnetic containment, and jump away before the big, Borg-shattering KABOOM! Who needs transwarp conduits or stable wormholes when you're powered by mushrooms, am I right???
And the other problem was this major person in Spock's life: Michael Burnham. As much as his mother Amanda, Spcok's adopted sister taught him how to be human and Vulcan at the same time. She told him to go find his Kirk (not in so many words). And yet, in all of the Treks in all of the series in all of the eras…Spock has never once mentioned her…not even to James Kirk. In the TNG episode "Sarek," when Picard mind-melds to give the ambassador one final moment of lucidity before he descends into full dementia, Picard-as-Sarek lists all of the people in Sarek's life whom he believes he failed: Perrin, Amanda, Spock. But not Michael. (Not Sybok either, but one had to assume that Sarek didn't fail him; Sybok was just a loon.) But why forget such an important person on the list as Michael Burnham?
Well, now we know…and it's as lame as Bobby Ewing appearing in the shower after a season-long "bad dream" or the survivors of Oceanic Flight 815 all being in purgatory.
In a disturbing sequence of debriefings at the end of the season finale, Pike, Number One, Spock, and Tyler all LIE to a Starfleet admiral about what happened to the Discovery and her crew. Since the first duty of every Starfleet officer is to the truth, and Vulcans are supposed to be incapable of lying, there goes yet another strong moral pillar of what made me such a fan of Star Trek in the first place. Now even our greatest "heroes" can lie to their superiors with completely straight poker faces. Lovely.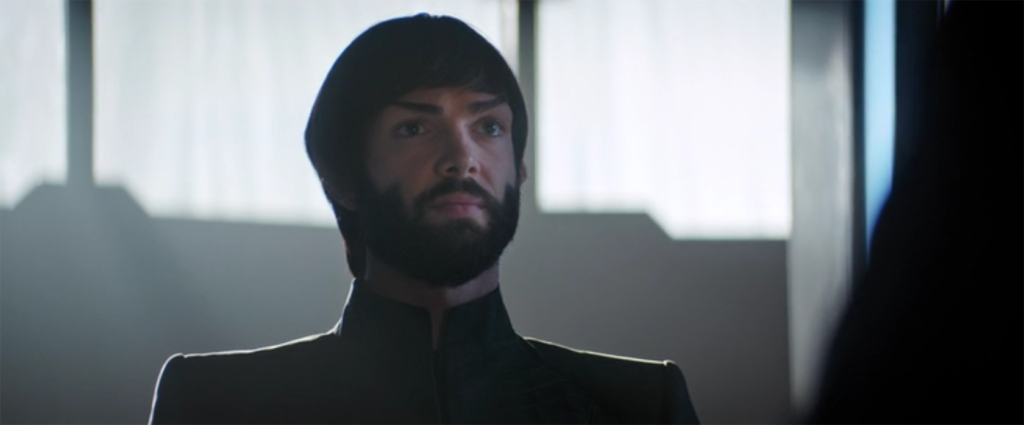 But what's worse, Spock suggests a solution involving an even bigger lie: Discovery never existed. The spore drive never existed. Michael Burnham never existed. All of that news footage of the end of the Klingon War, of Discovery's triumphant return to Earth, of Burnham's heroic speech at the end of season one…just tell FNN to delete it all and never mention it again. "How did Starfleet win the war with the Klingons, daddy?" "Oh, they suddenly surrendered, honey." "But why did they surrender?" "Um…"
And of course, everyone who knew someone on Discovery has to…what? Say they never knew them? Say they were assigned to another ship this whole time? ("My daughter Sylvia? Oh, you must have misheard me. I said she was serving on the USS Drudgery. Oh, it was VERY boring there!") All of the ship designers, the research, the construction at Utopia Planitia, the mission logs for Discovery and her sister ship…everything has to be whitewashed, swept under the rug, hidden, locked away never to be seen again. The largest conspiracy in galactic history literally requires tens of thousands, possibly millions of people to agree to keep a secret…and that's before we even get to the Klingons or Spock's tell-all personal log at the end!
All because the writers screwed up and wrote themselves into a corner they couldn't get out of.
The reason this makes me feel betrayed is that I BELIEVED IN Star Trek when I was growing up! It provided me with a moral compass. No matter how mean to deceitful the world got, no matter how much the government and politicians lied to us, there was always the hope that we as a civilization would eventually be better, become that ideal.
And when an episode like DS9's "In the Pale Moonlight" happened and Sisko used deception to trick the Romulans into joining the Alpha Quadrant alliance, the episode became all the more powerful simply because such a thing does NOT happen on Star Trek. But this was how desperate Benjamin Sisko had become to win this war. He sacrificed a part of his morality, a part of his soul…but he could live with that. Twenty years later, it's still one of the most most powerful moments in Star Trek history because Starfleet is so noble, a paragon of virtues we can all strive for.
But not anymore!
In this age of casual lying and misdirection by our leaders, Star Trek is now reflecting that same culture of deception and cover-up by the very organization we had all come to admire and idolize over these last 50 years. Starfleet was moral and incorruptible…or so we had been told. Section 31 was an aberration, a "necessary" but ugly evil, a clandestine cabal getting its hands dirty in order to allow Starfleet to remain noble and pure. Now Starfleet itself has become little better than the "aberration" we saw on Deep Space Nine.
Is that what Star Trek is now? Is this what today's world has turned our dream into? If so, I wish it were just a dream, and that Captain Bobby Ewing would just step out of the sonic shower with a smile and say, "Good morning."
Will I come back for season three? I'm not sure yet. By moving the USS Discovery and her crew 1,000 years into the future, the producers create an entirely new show with no more inconvenient continuity to trip over and "violate." On other hand, without the familiar Star Trek elements like the Federation, Klingons, Andorians, and other familiar faces and places—even if they were inconsistent with previous canon—am I simply watching an A.S.S. (Another Sci-fi Series)? If so, then it's a show with few characters I care about (those I did are still in the 23rd century waiting for their own series) and writing that's often darker and more cynical than what I'd come to enjoy and appreciate from Star Trek. Do I want to roll those dice again with this show? Will others?
We'll just have to see. The writers have taken a big risk in jumping Discovery forward in time. Will fans jump with them…or simply jump?