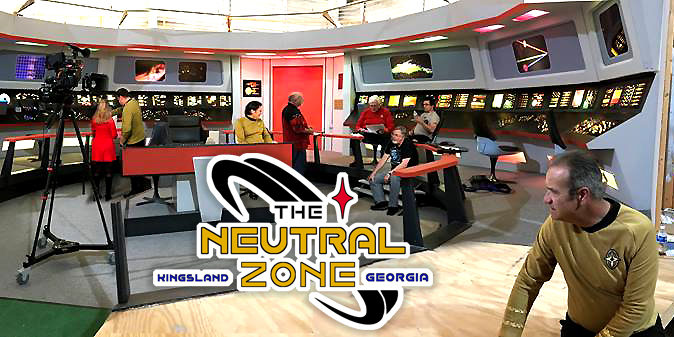 I need to clear the air regarding myself and NEUTRAL ZONE STUDIOS, the TOS sets in Kingsland, GA that were originally used for STARSHIP FARRAGUT, later used for STAR TREK CONTINUES, and were recently purchased by RAY TESI and opened up to any fan filmmaker who wanted to use them, was able to pay $300/day, and was willing to follow the fan film guidelines.
I want to state for the record that I wholeheartedly SUPPORT Neutral Zone Studios and encourage anyone who is a fan of Star Trek fan films to support them, as well, through their Patreon campaign:
https://www.patreon.com/neutralzonestudios
As many of you know, I was originally scheduled to film two of my scenes for my fan film INTERLUDE there. Ray Tesi was 100% on board. In fact, when I was considering bringing my son Jayden to Georgia watch the shoots, Ray told me that he'd make sure the entire studio was lit up (all the lights and buttons) before we arrived so that when Jayden walked in, the first thing he'd see would be the USS Enterprise in all of its glory. Ray was even going to see if he could manage to drive up for the day from Florida to finally meet me in person and watch the shoot.
But over Memorial Day weekend at Neutral Zone Studios' Fan Appreciation Weekend 2, Ray informed my directors, JOSHUA IRWIN and VICTORIA FOX (who were there shooting interviews with VIC MIGNOGNA, MICHELLE SPECHT, and CHRIS DOOHAN to help promote the studio's Patreon campaign) that Interlude was no longer welcome to use the sets.
Although ALEC PETERS, who was similarly banned, accused Vic of being the reason for Ray's sudden change of heart, Star Trek Continues make-up artist, LISA HANSELL, posted this comment on Facebook the Monday after the event…

Now, all things considered, I should probably feel angry, hurt, insulted, frustrated…and to be honest, I did feel those emotions quite deeply for a short time. But I moved past it.
However, something happened this past weekend that has left me wondering if others haven't let this go as I have. And I now feel that it's important to state publicly that I have forgiven Ray and Lisa and (if he was involved in the decision) Vic…and anyone else who pressured Ray Tesi into changing his mind about letting my production film at NZS.
So what happened this past weekend?
To answer, I first need to share the following chart with you of the Neutral Zone Studios Patreon campaign over the past six months…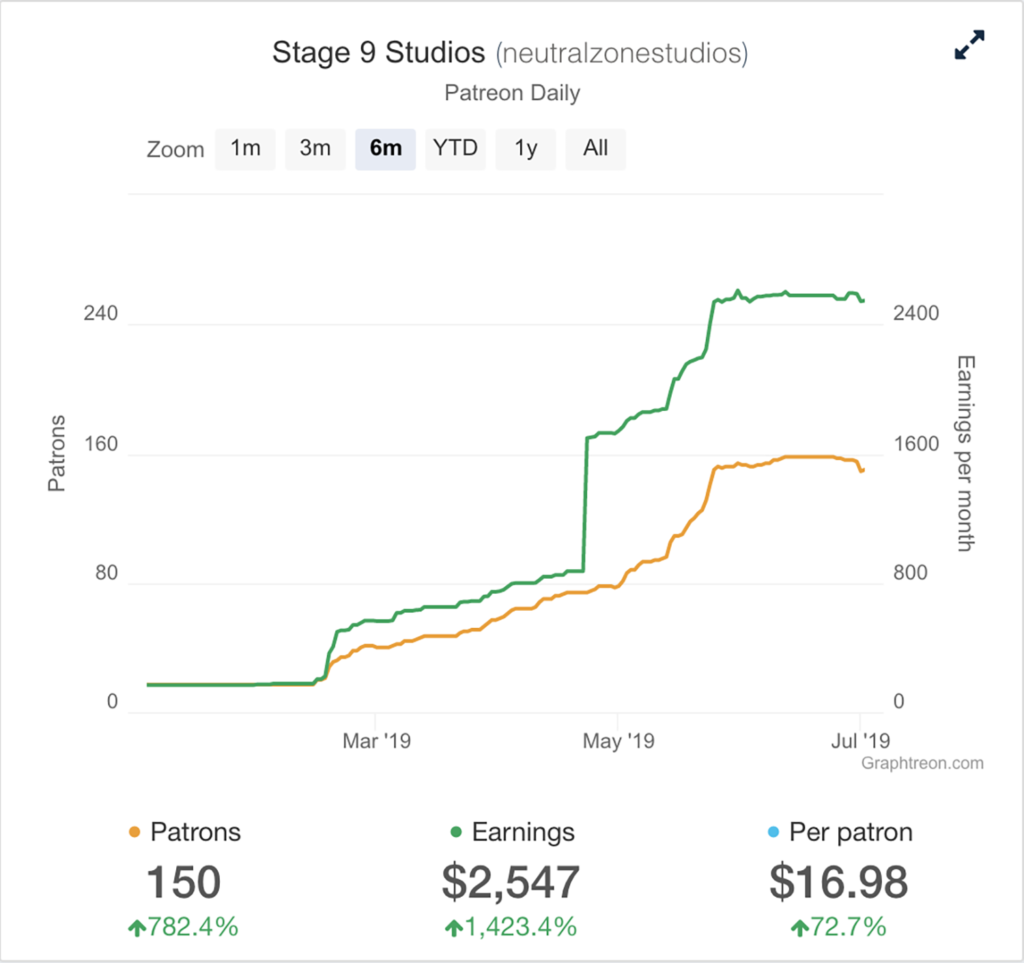 Starting in February of this year, I began regularly posting blogs like this one and this one and this one to raise the excitement level about NZS and encourage donations to their campaign. I do that for many fan film crowd-funders, and I like to think it helps. It certainly didn't hurt because, as you can see, the number of patrons and the monthly amount being raised climbed steadily and increased 500% over the following three months!
But since Memorial Day, I've only mentioned NZS on this blog once, and that was on May 29 to inform folks that I wouldn't be shooting Interlude there. After that, the Patreon flatlined and hasn't recovered. In fact, it had a 4% drop in total Patreon subscriptions at the beginning of July as backers were auto-emailed their monthly donation receipts.
So what suddenly took the air out of the NZS Patreon? Did I have something to do with it? Hard to know for sure. It might also just be coincidence. After all, the other major Trek-related Patreon, ARES STUDIOS, has also stalled recently. And of course, there have been a plethora of other fan films crowd-funding lately, including SPACE COMMAND, DREADNOUGHT DOMINION, TO HAVE BOLDLY GONE, and of course, my campaign for INTERLUDE. There's only so much money out there that fans have available to donate!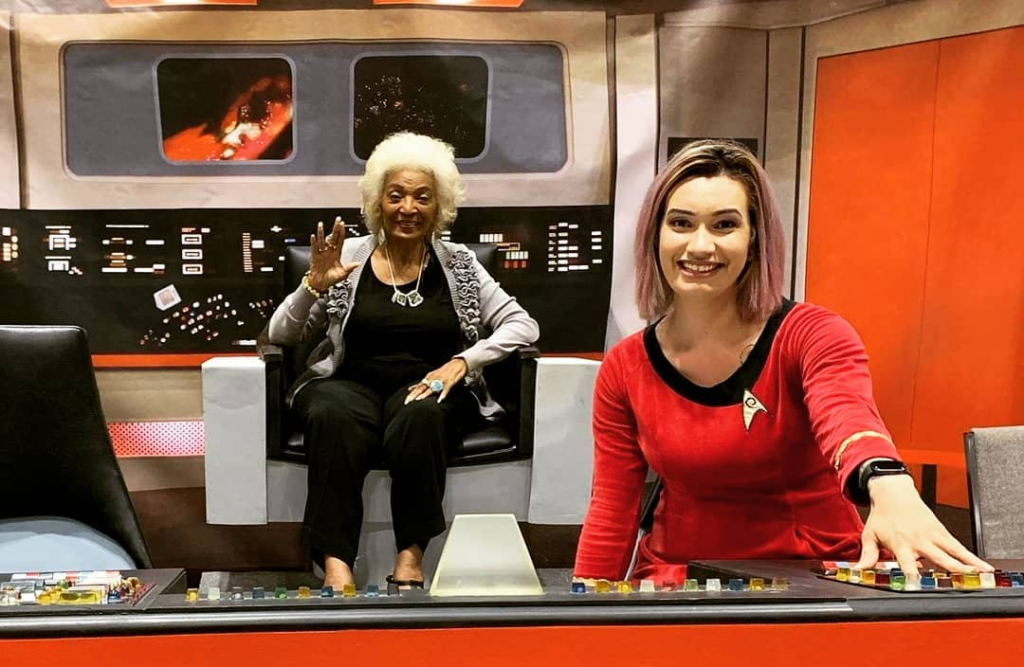 But it's not as if Ray hasn't been trying to promote the studio and the Patreon during the past several weeks. In addition to the big Fan Appreciation Weekend 2, there have ve been multiple convention appearances where Ray brings along pieces of the bridge set for fans to take free photos, and even a recent visit by NICHELLE NICHOLS, Uhura herself!
And on June 11, Ray released the debut 2-part fan film in the new TALES FROM THE NEUTRAL ZONE series: "The Looking Glass"…
Ray had hoped that seeing this new content from NZS would drum up excitement and increase the number of Patreon backers. It's obvious that a lot of hard work and dedication went into this production, but even though they've had a couple thousand views on YouTube over the last three weeks, it hasn't moved the Patreon needle at all.
Then this past weekend, Ray sent out this e-mail—notable for what was at the top…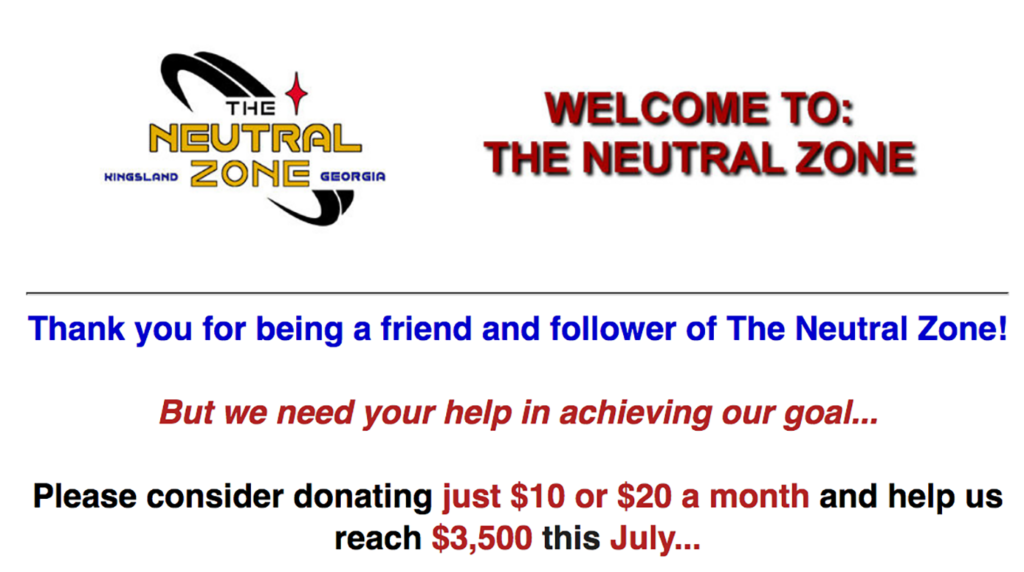 Keep in mind that this e-mail was sent exclusively to existing Patreon backers, politely asking them to please consider increasing their donations to what could total $120-$240 per year…quite a significant amount!
Before the weekend was over, I had received no less than SIX different IMs and e-mails about NZS from different donors. Some of these folks told me that they had reached out to Ray Tesi, as well. Here's a sampling of quotes from some of those messages…
I know you took the higher road on this studio banning deal, but sometimes these things leave a bad taste in my mouth and I have to say so.
I'm just not getting the bang for my buck anymore. And I'm not talking perks. I'm talking about fun, pride of contributing, feeling like I'm not being judged by what and who I like, and not having to keep the aforementioned scorecard. 
It really pissed me off that Ray kicked you out. He's obviously not as "neutral" as he pretends to be. There's no way I'm giving him any more of my money. You get it. He doesn't.
Did you see that email from Ray Tesi? After what he pulled, what makes him think I want to give him more! I'm not even sure I want to give him anything. What do you think I should do?
It was that last IM that convinced me to write this blog because here's what I said back to most of them (or some variation on the following)…
If you're thinking of no longer supporting Neutral Zone Studios because of me, I urge you to reconsider. These sets are too important to Star Trek fan films, and they deserve to be maintained and made available to fan filmmakers who want to use them (even if I'm not one of them).
While it pains me that there are people out there trying their darnedest to create strife and turn this fun hobby into an "us versus them" environment, remember that there are also GOOD people out there trying to make Star Trek fan films—folks like my directors (Josh and Victoria), Gary Davis and Randy Wrenn (and they film at Neutral Zone), Gary O'Brien, Glen Wolfe and Dan Reynolds, Leo Tierney, Aaron Vanderkey, Larry Fleming, and many, many others. These are good people, kind people, helpful people, positive people. Don't let the bad guys ruin things for the good ones.
And that's the message I want to share today. While I can't unring any bells and neither can Ray, I can make it clear that I feel INCREDIBLY strongly that Neutral Zone Studios' Patreon deserves your support! If you're holding back donations because of me, then you're not really doing it for me because I WANT YOU TO DONATE! Taking into account this text, it should still be noted that it is possible to improve what is described by introducing game techniques, a striking example of which is the experience of Friv. But in this case, all this will become more reminiscent of the plot of popular football games games, and not what is described initially here.
These sets are too important. Period. So if you haven't signed up (even at the $1/month level), go do it now. If you are signed up, consider possibly increasing your donation level. And if you don't have enough money to do either, then please at least pass around the following link and let folks know that this Patreon has the official and whole-hearted support of JONATHAN LANE and Fan Film Factor…