For the next 24 hours, every donation to the INTERLUDE GoFundMe will be tripled! The starting point is $11,701. (Yeah, I noticed NCC number hiding in there.) Let's see if we can reach $12,901 by Thursday at midnight!
Click here to donate: https://www.gofundme.com/interlude
I'll be updating this total throughout the day.
---
I went to sleep 6 hours ago and woke up to discover we're nearly halfway to our $1200 ceiling already! Take a look…
This means that, with matching funds, we are now just about to cross the minimum for our "point of no return" of $13.5K (once the matching donations are added). So from this point onward, every dollar donated will so toward less belt-tightening and an even BETTER fan production!
---
Wow, we're starting to run out of room! I thought this might take all day to happen, but it's only 8:30 am and we're more than 2/3 of the way to $1,200.
---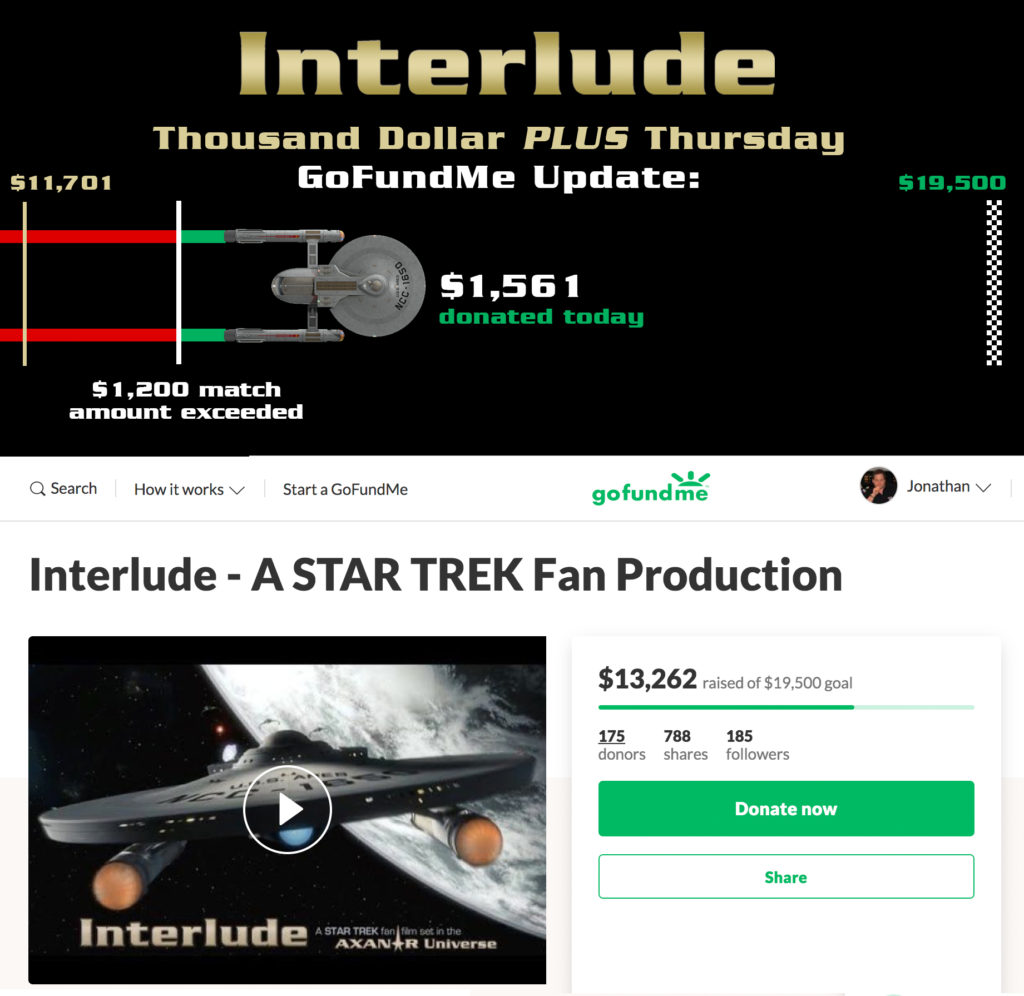 Holy exceeded expectations, Batman! I head out to drop off my son at day camp and put gas in my car…and I come back to discover that we PASSED our $1,200 matching funds mark in less than 10 hours! Adding in the $2,400 in donations from our two matching backers (not yet posted), and we've already had a $4,000 day…YAY!!!!
The only problem now is that I was all ready to update this tote board graphic all day long. Maybe I still can! Let's add in the full goal of $19.5K and see how close we can come!! And thank you to everyone who's been donating today.
---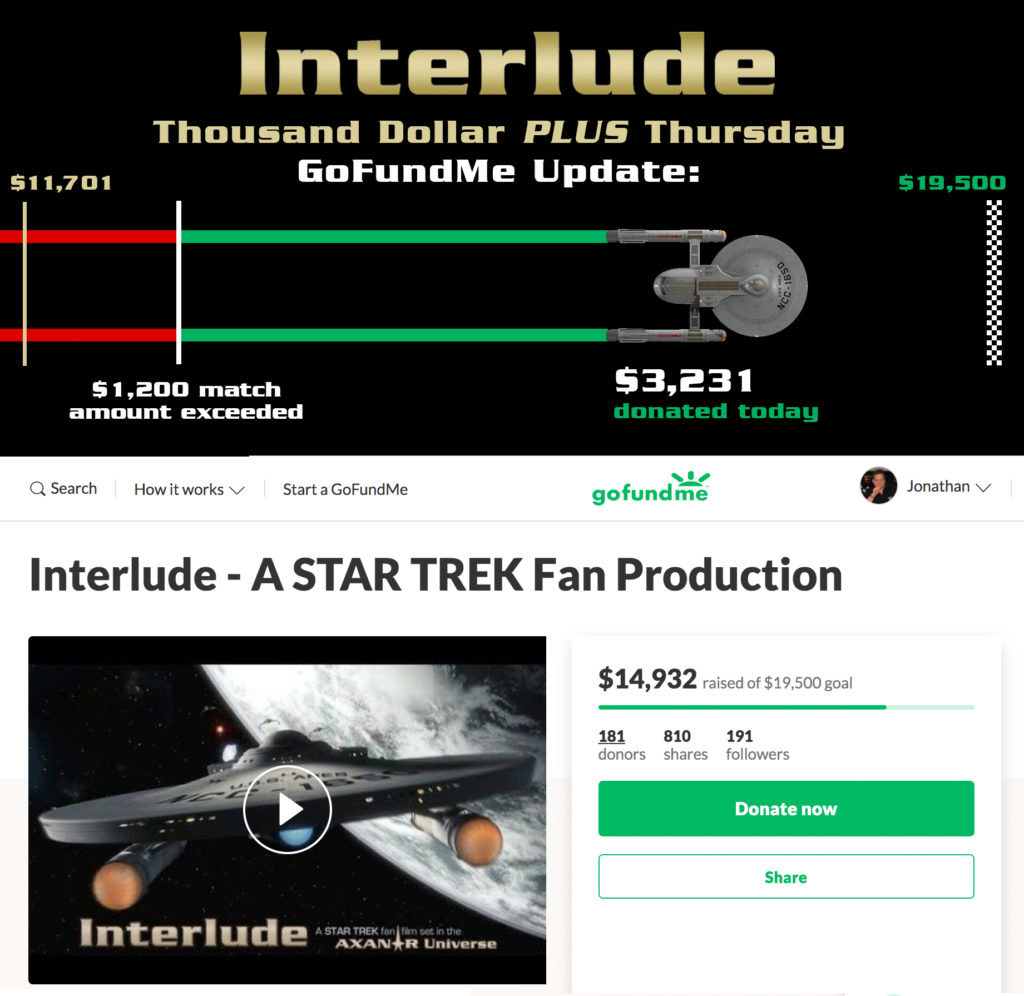 One of my two match-backers has just added his $1,200 to the GoFundMe total, passing our $13.5K "point of no return" minimum required for filming in November. SO THIS FAN FILM IS HAPPENING, PEOPLE!!! Also, a shout-out to my brother David who finally tossed in a hundred bucks to help out his big bro. As soon as the other matching $1,200 comes in, we'll be well over $16K!!!
---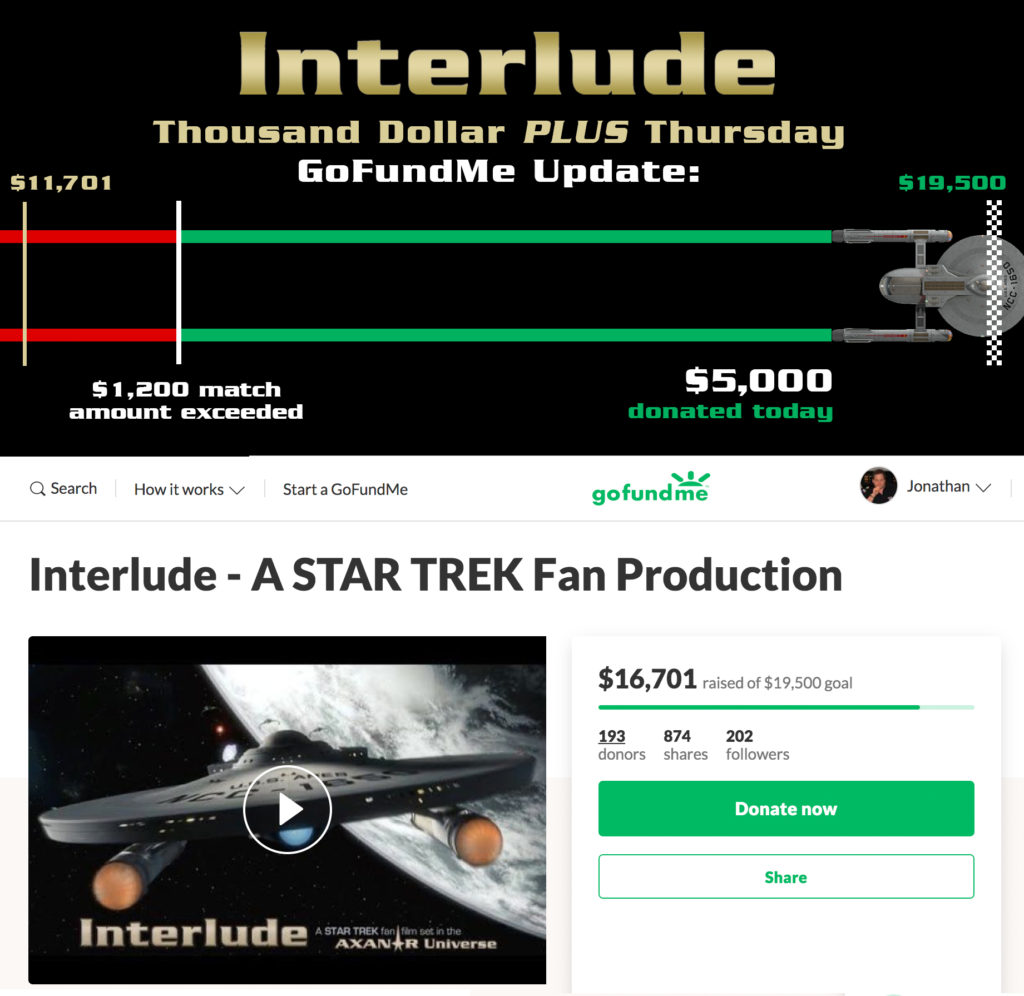 Just about 19 hours ago, I marked the starting point of THOUSAND DOLLAR THURSDAY at $11,701 in donations. Well, folks, it is now officially a FIVE THOUSAND DOLLAR THURSDAY, as we just hit $16,701…WOW!
---
And so it ends (at least for today). Donations have slowed down as the folks in the western hemisphere have begun to go to sleep. But as Thursday comes to a close in the Pacific Time Zone, the final tally is an incredible $5,140 donated in a single day. Thank you to everyone who has and continues to support INTERLUDE!