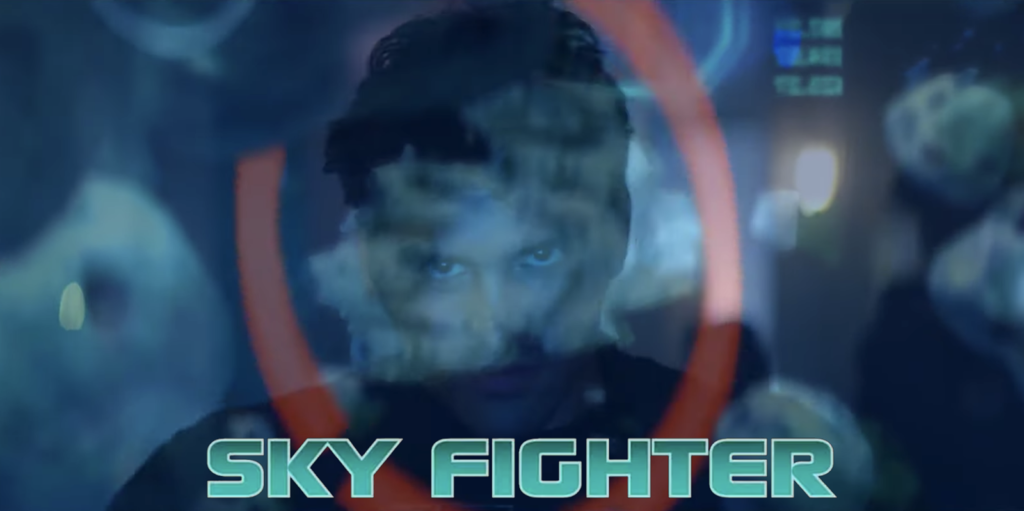 SKY FIGHTER isn't technically a fan film, but it is a fan-funded, fan-made film. Although writer/director LUKAS KENDALL has a listing on IMDB, his credits were fairly limited…at least until now, that is! With the completion of the Sky Fighter independent sci-fi themed film, Lukas is officially a writer and—more importantly—a director.
At times, the most cynical voices voices in our fan community deride fan filmmakers for simply "copying" someone else's intellectual property (ViacomCBS, Lucasfilm, Marvel, Warners) rather than just coming up with an original story and setting and characters that they can own outright. And while it's true that the vast majority of Star Trek fan films are made by hard-core Trekkers who just want to play in that existing sandbox/universe and don't care about launching full Hollywood careers, Lukas—although a Trekker himself—was the rare exception. He wanted more.
Lukas had written a full feature-length movie script that he also wanted to direct. But such things cost mega-bucks (even the cheap ones!), and those who supply financial backing and investment for such projects are typically uncomfortable putting their money behind a first-time director. In other words, Lukas knew he was heading down a path where he'd likely hear that an investor loved his script and knew the perfect person to direct it…and that person would not be the writer.
But this script was Lukas' vision, and he didn't want to share or (more likely) hand over creative control to someone else. But without showing what he could accomplish as a director himself, his chances of selling the script AND also being allowed to direct it were slim at best.
So Lukas came up with a plan…
He transformed a small 12-page segment from the two-hour script into a short, 16-minute short film that he could crowd-fund and then direct himself. This would end up being the "proof of concept" to show to investors to prove that, yes, Lukas was the right guy to direct the full-length feature. He'd have one chance to get this right, and the first step was convincing fan donors to give him $25,000.
Lukas' Indiegogo campaign in early 2018 was a little unorthodox, to say the least. In addition to using a very tongue-in-cheek tone that was as much a comedy routine as a sales pitch, Lukas also did something almost unheard of in crowd-funding campaigns for film projects: he included a link to his entire 12-page script for anyone who wanted to read it. He didn't share his full feature-length script (some things should remain surprises!), but the short film was there in black and white for anyone who wanted to see it.
The strategy worked. Combined with a targeted offering of Star Trek and other collectible music CDs and books to Lukas' existing customer base (a business he's been in for many years), Lukas surged past his goal to bring in more than $31,000 from 390 backers. Now he just needed to make the most kick-ass sci-fi short film he possibly could.
Coming on board to help were two names familiar to many in the Star Trek fan film community. ROBERT MEYER BURNETT would edit the film, and TOBIAS RICHTER and The Light Works would do the visual effects. Lukas also assembled the rest of the team—actors, production crew, composer, make-up, etc.—rented a studio, got costumes and props…the whole megillah.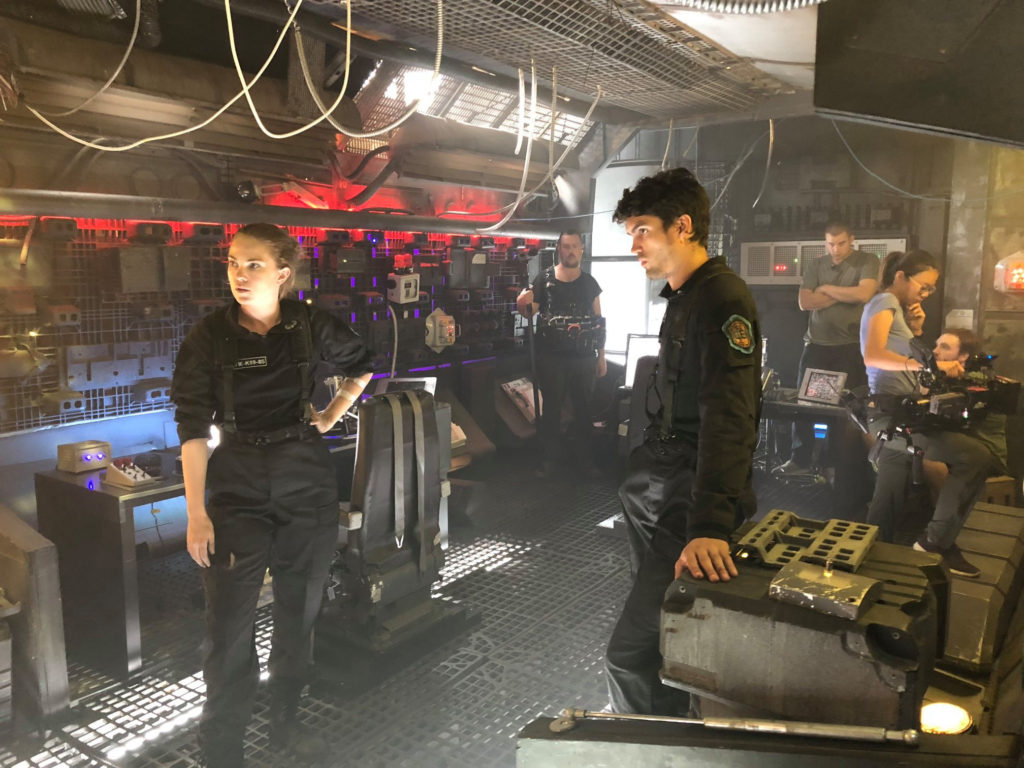 The result was, indeed, a kick-ass sci-fi short film. And in March of 2019, barely nine months after successfully crowd-funding the project, Lukas debuted Sky Fighter...but only to his donors. Being one, I had the chance to watch it and be amazed and extremely impressed…especially by Tobias's effects and Rob's topnotch editing. And I so wanted to share it with all of you! But I wasn't allowed to.
Initially, the reason was that, in order to enter Sky Fighter into major film festival competitions, it had to be unreleased publicly on the Internet. But by last summer, something even better happened…although it delayed the public release even further.
One of the biggest challenges for any independent film is distribution—how do you get the film seen by an audience? This isn't usually an issue for fan films, as we just release on YouTube and hope to get a few hundred or perhaps a few thousand views (maybe more, if we're lucky). But for Lukas, the stakes were different…and higher. So in the summer of 2019, Lukas signed a deal with DUST, a relatively new aggregator of unique sci-fi content available (or soon to be available) across multiple platforms including Roku, DirecTV, Comcast, Vudu, Sling, Vizio, Samsung, NBC Watchback, Sinclair, and more. They currently have a viewership of 4 million people.
So yeah, signing with DUST was a big deal. But it meant holding back the public YouTube premiere of Sky Fighter until DUST could first debut the film exclusively for two weeks on their channel…and the agreed-upon launch date was January 23. But that's TODAY, and now Sky Fighter is FINALLY publicly available on DUST (for free) so you can at last see for yourself what all the excitement has been about…