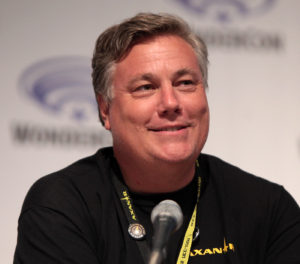 Almost from the very beginning, ROBERT MEYER BURNETT, who directed and co-wrote the film Free Enterprise with William Shatner and Eric McCormack, has been almost as synonymous with the AXANAR project as Alec Peters himself.  He edited Prelude to Axanar and is credited by many as being a major reason that this mockumentary-style fan film came out as well as it did.
For the past three years, Rob has been listed as the director of the upcoming Axanar fan film, originally intended as a 90-minute feature film.  In fact, Rob directed the impressive 3-minute "Vulcan scene" vignette, planned to be a part of that final feature.  After a legal settlement with CBS and Paramount, the Axanar production has now been shortened to two 15-minute mockumentary-style sequels to Prelude.
Rob has been one of the staunchest supporters and cheerleaders for the project (probably even more than me!) and has been involved in pre-production efforts, podcasts, convention appearances, and social media outreach for Axanar over the past two and a half years.  But with the move of Alec Peters and the Axanar sets across the country from Los Angeles to Atlanta, GA, the logistics of a bi-coastal collaboration became more of a challenge.
Yesterday, Rob announced that he was moving on from the production…
Continue reading "ROBERT MEYER BURNETT resigns as director on AXANAR!"