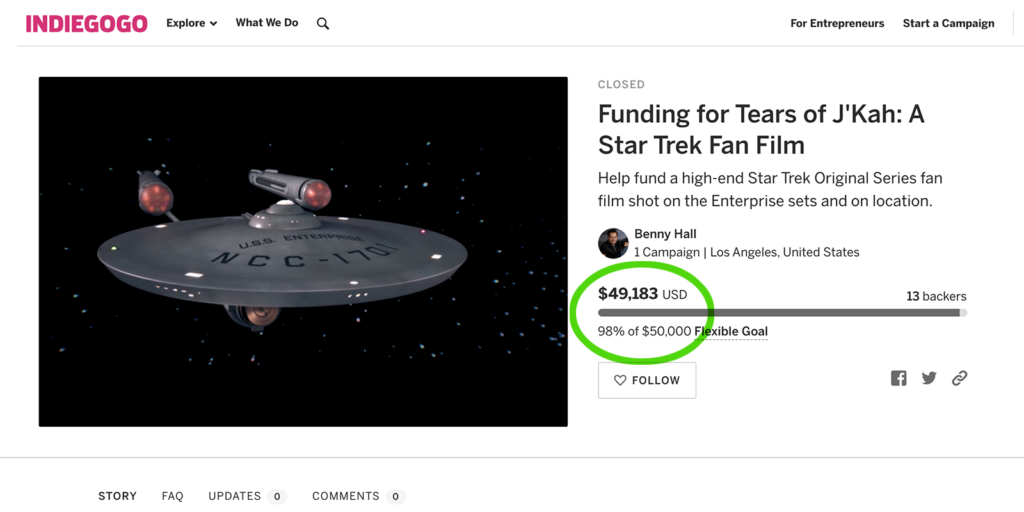 When I first interviewed BENNY HALL about his first Star Trek TOS fan production, LET OLD WRINKLES COME, and discovered he had set a goal of $50K for his second fan project TEARS OF J'KAH, I was quite dubious. In fact, I figured he had a snowball's chance on Venus of even getting close.
I realize that the fan film guidelines allow projects to publicly crowd-fund up to $50K, but since those guidelines were announced, no Trek fan film has been able to raise even half that much in a public campaign. (I don't count AXANAR because that campaign is private, and I don't count the Deep Space Nine documentary because that wasn't a typical fan film following the guidelines.) Since the guidelines came out, only a small handful have successfully cracked $10,000, and the majority have set and reached only goals in the four-digit range.
And not only that, it seemed to me as though poor Benny was making a bunch of rookie mistakes with his Indiegogo campaign. He'd launched close to Christmas time when most people's money is going into buying presents and traveling. His launch was done with little fanfare, and there were no updates or postings on Facebook groups reminding folks to please donate. Benny wasn't doing interviews (except one with me), and most Trek fans probably had little to no idea this project was even actively crowd-funding!
I felt bad for Benny, and I tried to help him by listing him at the top of my CROWDFUNDING NOW page here on Fan Film Factor. But it turned out Benny knew something I didn't know—or rather, someone…several someones, in fact. Benny is the CFO at a production company located in Burbank, and it seems he's friends with some very generous people. I noted that his first donation was $5,000. Then another $5K donation came in…and another. Every week or two, after seeing the campaign stagnate for a while, I'd refresh the browser tab, and the total would suddenly be $5K higher. In the final week of the campaign, which closed on Sunday night, the last two donations were $10K each. I wanna have friends like that!
Anyway, my congratulations to Benny on bringing in nearly $50K from just 13 backers in two months. He spent $50K of his own money on his first fan project, so he's certainly paid his dues. And I'm confident the folks who supported Benny were impressed when they saw Let Old Wrinkles Come that he would show such dedication to his dream and making it happen. And now we get to see another $50K fan film!
---
And as long as I have your attention, and since Benny doesn't need any more money, there's still two active crowd-funders that are very near their goals and could use your donations to get there (click either graphic to go to their campaign pages)…
CONSTAR CONTINUES (just $185 more gets them to their goal!)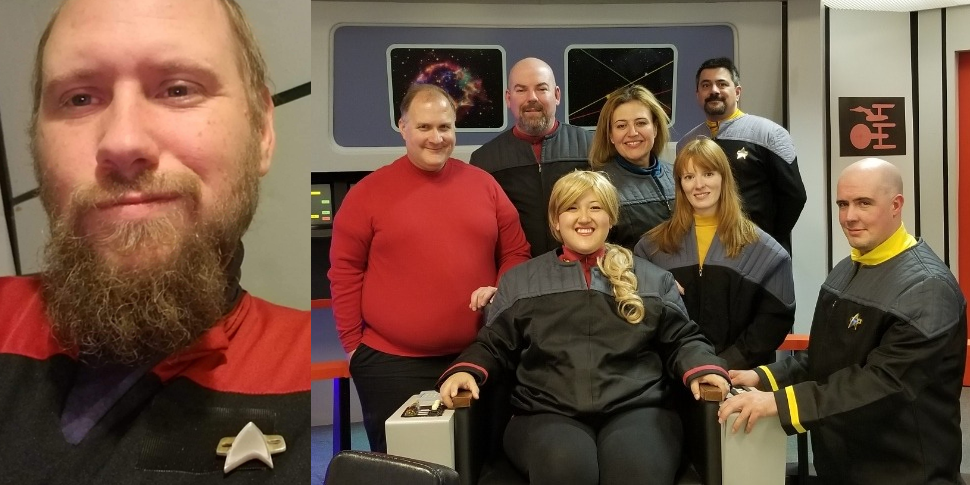 ---
STARSHIP INTREPID: "ECHOES" (just $802 gets them to their goal!)