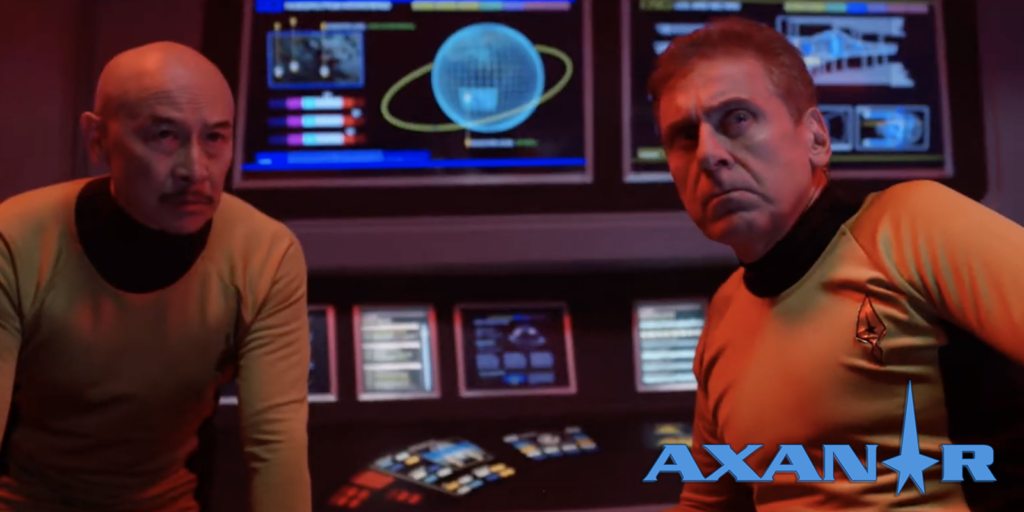 The full trailer for AXANAR is finally here! Four months ago, after the first October shoot at Ares Studios, a brief teaser was released with about 30 seconds of actual footage—a combination of a couple of brief VFX sequences and a bunch of quick-cut live-action shots filmed on the USS Ares bridge set. Since then, however, fans and donors have been patiently (and not-so-patiently) waiting to see more.
And now that time has come. Over a thousand people watched the live premiere of the trailer live on Sunday evening. So many people wanted to donate to the Axanar fundraiser that it temporarily crashed Ares Digital and the Axanar.com websites! Both problems were fixed within the hour, but in the meantime, over $1,000 was donated to Ares Studios through superchats during the live podcast.
Here's the new Axanar trailer…
Pretty impressive huh?
The just-launched fundraiser is attempting to raise $30K to pay the costs for a fourth and final shoot in a green screen studio in Los Angeles, travel and lodging, equipment rental, and most of all for the make-up and prosthetics for two Vulcans (including GARY GRAHAM as Soval), two Andorians, one Klingon plus two humans. (Will one of them be KATE VERNON as Sonya Alexander? No confirmation yet!)
The trailer does have a few visual glitches, so the plan is to re-edit it, possibly adding in some additional footage, and then re-release a new version in a week or so. And when that happens, I'll be sure to let you all know.
---
Of course, the question on many people's minds is why did it take until now (March 15) for the trailer to be released? After all, the first shoot was back in October and the second shoot in December. It's now the middle of March. I spoke to ALEC PETERS and asked about the apparent delay. Here was his answer…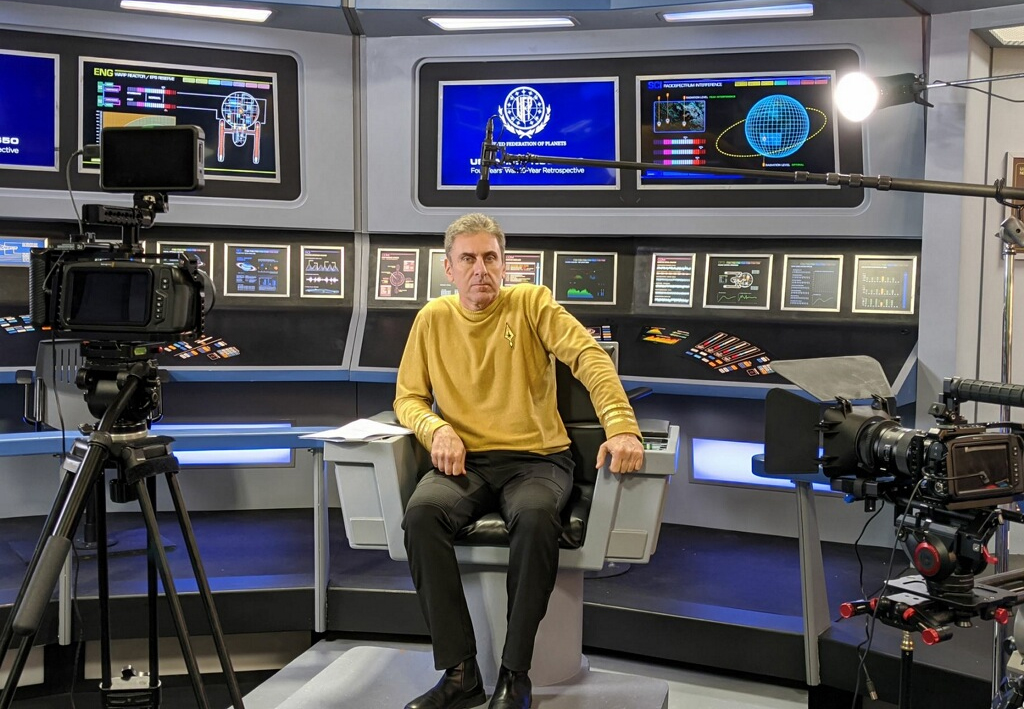 It might not seem like it, but a lot of time and effort goes into making a trailer. First of all, you've got literally hours and hours of raw footage. The director [PAUL JENKINS -Jonathan] and the editor [MARK EDWARD LEWIS -Jonathan] have to review it all and decide first which takes are potentially going into the final edit and which will be left on the cutting room floor. That's a huge task in and of itself.
Also remember that the second shoot was in early December, just before the holidays. Then there's the fact that Paul and Mark aren't just working on the trailer itself. They're also working on all of Axanar. Plus, they're both busy professionals with other business commitments. It's not like Paul and Mark can spend 40-50 hours a week working exclusively on Axanar…as much as we'd all like them to.
That said, most of the trailer was actually ready to be shown a few weeks ago. However, we knew from experience that January and February are slow months for fundraising. Many people are still paying off bills from Christmas presents and holiday vacations. So we were always figuring it'd be March when we launched our new campaign. We were initially going to launch it a week earlier, but we had a minor issue with the audio quality of the voice-over for the trailer. It was a small glitch, but it was noticeable enough that we wanted to try to re-do it.
In the end, everything worked out perfectly. A bunch of crowd-funding campaigns for other Trek fan films have just reached their goals in the last few weeks, so the field is pretty clear at the moment. Also, wrapping up Shoot #3 seems a natural time to kick off the new campaign to fund Shoot #4.
---
Alec made certain to remind me that he is prevented by the settlement with CBS and Paramount from publicly soliciting donations to Axanar's crowd-funder. However, I'm not a party to that agreement, so I can tell you that donations can be made through the Ares Digital website, which you can go to by clicking here…
https://aresdigital.axanar.com
You first need to create an account (if you don't have one already), and then there is a second firewall for submitting a secured transaction directly to an independent card processor (no one at Axanar Productions ever sees your financial information).
Coming up soon, I'll be featuring an interview with Alec and Paul together to discuss what's coming up next for Axanar.