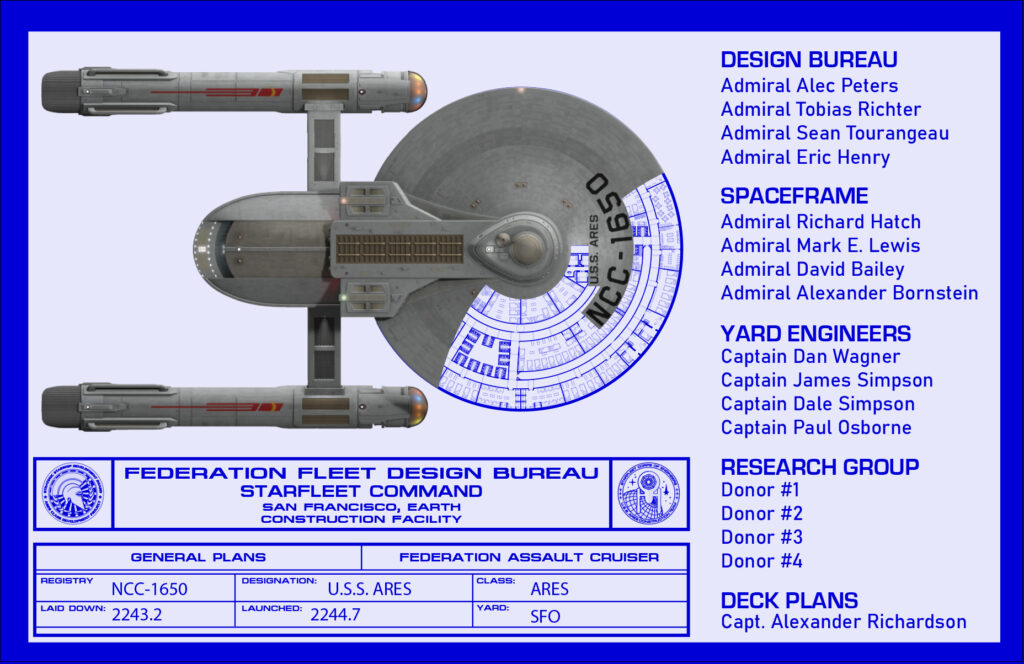 Yesterday, with less than 5 hours to go in the 16-day Kickstarter for deck plans of the USS Ares-class assault cruiser, the total raised was still about a thousand dollars below the $10K needed to reach their stretch goal. The campaign had already surpassed its initial $3K goal in the first few hours, but if it passed $10K, each donor would ALSO get a free 11″ x 17″ version of the USS Ares Master Display Poster along with the blueprints.
Then, with four hours to go, an e-mail went out to the Ares Studios mailing list reminding supporters that the blueprints were still available, but not for long! An hour later, the Kickstarter total crossed $10K…and when the dust settled at 9pm Eastern Time, 217 backers had pledged $10,887 to the campaign.
The money (after the cost of printing and packing materials) will go toward funding the ongoing expenses for Ares Studios in Lawrenceville, GA, home to the extraordinary USS Ares bridge and captains quarters sets plus the Pike-era sets that were used on the upcoming FIRST FRONTIER fan film. Additional donations are coming in monthly to Ares Studios through an ongoing Patreon campaign.
Note that Ares Studios is a separate legal entity from Axanar Productions, which fundraises privately to finance the completion if the two AXANAR sequel fan films. That campaign is currently at $23,305 out of $35,000 needed for the final filming weekend plus the beginning of post-production. To donate to Axanar, click the link below and follow the instructions provided…