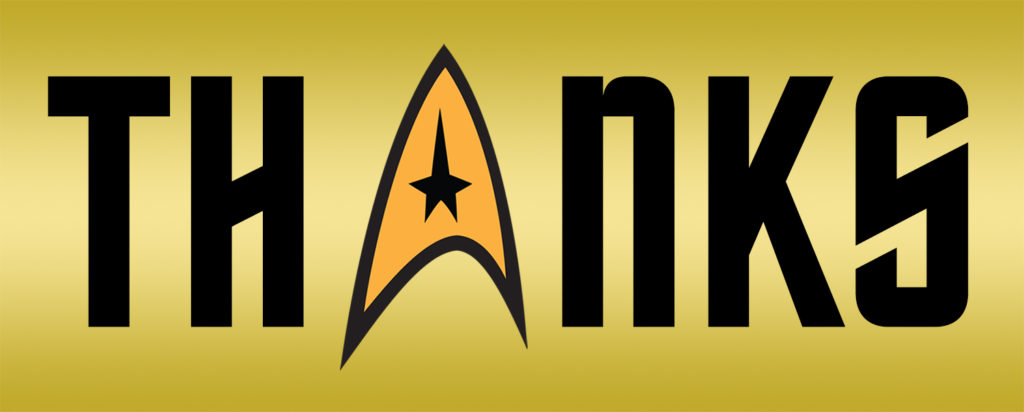 Early last month, I published my one-thousandth blog and announced a new Patreon campaign to help pay the bills for Fan Film Factor and (potentially) provide a little extra support for me personally. (I typically spend between 10 and 30 hours each week covering Star Trek fan films.) Twelve generous fans have since signed up to donate a combined $60/month to help me out, and I can't thank them enough for that!
But my gratitude extends far beyond those dozen people to the hundreds (possibly thousands?) of regular readers of my blog posts and to the Star Trek fan filmmakers who make this blog site possible in the first place. Many of these wonderful folks have become friends (some of them very close friends), and I would like to take a few moments to thank certain of these fan filmmakers by name…
JOSHUA IRWIN and VICTORIA FOX – my first shout-outs have to be to the two filmmakers who have worked diligently to turn INTERLUDE from a short script and comic book story into a nearly-complete fan film. Their AVALON UNIVERSE fan productions are always amazing, but getting to not only watch these two incredibly talented people in action but to actually be able to work alongside them has been, for me, the gift of a lifetime.
---
GLEN WOLFE – When RAY TESI unexpectedly rescinded his offer to let me film one of the Interlude scenes at NEUTRAL ZONE STUDIOS in KIngsland, GA (I've since forgiven him for that), we found ourselves suddenly in dire need of a TOS-era sickbay set. Glen Wolfe quickly stepped up and offered us his sickbay set at WARP 66 Studios in Arkansas. Not only that, but Glen spent his own time, money, and resources to partially "retrofit" the set to look pre-TOS…more like the sickbay that appeared in "Where No Man Has Gone Before" to better match the time period of Interlude.
---
KEVIN CROXTON – I can't say enough about the geniality, talent, and professionalism of this fan filmmaker from Arkansas (this makes four Arkansas residents I've just listed!) who is composing the music for Interlude. Kevin has gone through a ton of personal challenges these past few months, but throughout everything, he's stuck with my fan project and has delivered an awesome score. Kevin is a treasure.
---
GARY O'BRIEN – The British creator of such must-see fan films as CHANCE ENCOUNTER and THE HOLY CORE, Gary is what the Brits call "a right decent bloke." A few months ago, he came to my rescue with a quick favor for Interlude. I needed a short animation for the end of my fan film showing the "Fan Film Features" logo that I'd created. I had a decent still image, but I needed it animated and didn't have the personal know-how. A quick e-mail to Gary, and I had a very nice animation less than 24 hours later…complete with fun TOS sound effects. Knowing that there's talented people in this community that I can reach out to in a pinch for help is one of the things I'm the most thankful for.
---
GARY DAVIS – Gary designed those awesome landing party jackets that were used in the latest episode of DREADNOUGHT DOMINION, "We Are Many." When I mentioned how nice I thought the jackets were and how much I'd like to have one, Gary immediately offered to make one for me. Obviously, I'd pay for the jacket and iron on materials, as well as the shipping from Ohio to California, but when I offered to throw in something extra for Gary's labor, he wouldn't hear of it. Just a favor for a friend…a friend who is very thankful.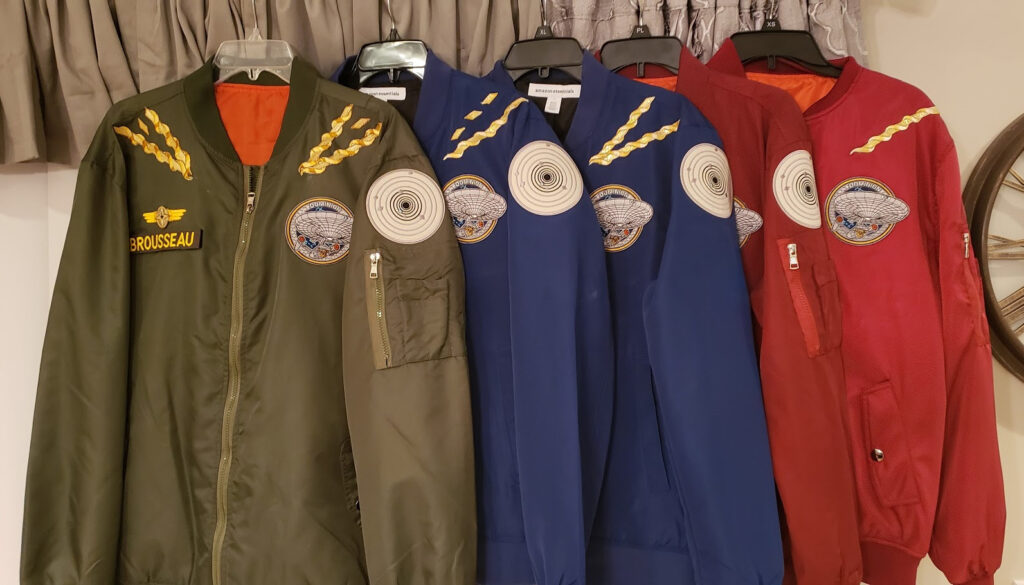 ALEC PETERS – Alec and I have done a lot of favors for each other over the years, and we always remember to say thanks. My latest request to Alec was for a few patches to put onto the aforementioned landing party jacket…including a couple that were only available in limited quantities. Alec has already sent these patches to Gary, gratis, and all I had to do was ask. Thankful.
---
---
JEN DOMBEK – "The German Spock" came out of nowhere in my life and is now a guter Freund of mine—occasionally surprising me with unexpected messages from Spock like this one…
---
JAKUB HOLÝ – Another European fan filmmaker who has become a good friend in recent months, Jakub is completing work on the upcoming fan film SQUADRON in the Czech Republic. I've been doing him a few favors, and he's promised me a very nice prop replica (he makes them) in exchange for my kindness. He's also made it quite clear that, once the pandemic is over, any trip I and my family ever make to Prague will have him as a personal tour guide. (My wife's parents, who have traveled to Europe a fair amount in their retirement years, say that Prague is their favorite of all the cities they've visited there.)
---
JOHN ADKIN, MATTHEW BLACKBURN, DAVID CHENG, SAMUEL COCKINGS, NICK COOK, CURT DANHAUSER, BENNY HALL, ERIC HENRY, GEORGE KAYAIAN, RANDY LANDERS, MIKE LONGO, VANCE MAJOR, MARK NACCARATO, DAN AND KELLY REYNOLDS, KENNY SMITH, STAN WOO, and many, many others – without Star Trek fan films, this blog site wouldn't exist. But Fan Film Factor isn't just about the fan films themselves; it's about the people who create them and how these projects got from there to here.
So without the participation of the folks on the above list (as well as others whom I'm sure I've forgotten…sorry!), all I would be able to do would be to write about the finished films themselves, not get to know (and letting my readers get to know) the people behind them. And so I want to say "thank you" to the many fan filmmakers who take the time to do interviews with me.
Now, I'm sure many of these folks would say that there's no need to thank them, and that they appreciate me taking the time to cover their projects. But I do tend to ask a LOT of questions! My audio interviews can take 60-90 minutes to record, and written interviews can include a dozen or even as many as two dozen primary and follow-up questions…some of them very complex and time-consuming to answer. But these fine filmmakers are always willing to give me their valuable time, and I don't ever want to take that generosity for granted.
---
Anyway, that's what I'm thankful for today. Of course, I'm also thankful for my amazing wife and son, a wonderful extended family, good friends, our health and safety, our nation and planet surviving the year 2020 (barely!), and the imminent arrival of multiple vaccines for COVID-19.
But I am also grateful to have found this fun, friendly, and engaging community of fan filmmakers and supporters. And while not every experience I've had has been 100% positive, the good far, far outweighs the bad. And so, once again, I thank YOU for being here, for reading and supporting Fan Film Factor, and for loving fan films as much as I do.
And once again, if you'd like to help support me and my blogging efforts, I would sure be thankful if you could either become a patron yourself or (if you can't afford to) at least help me spread around the following link:
https://www.patreon.com/fan_film_factor
HAPPY THANKSGIVING!