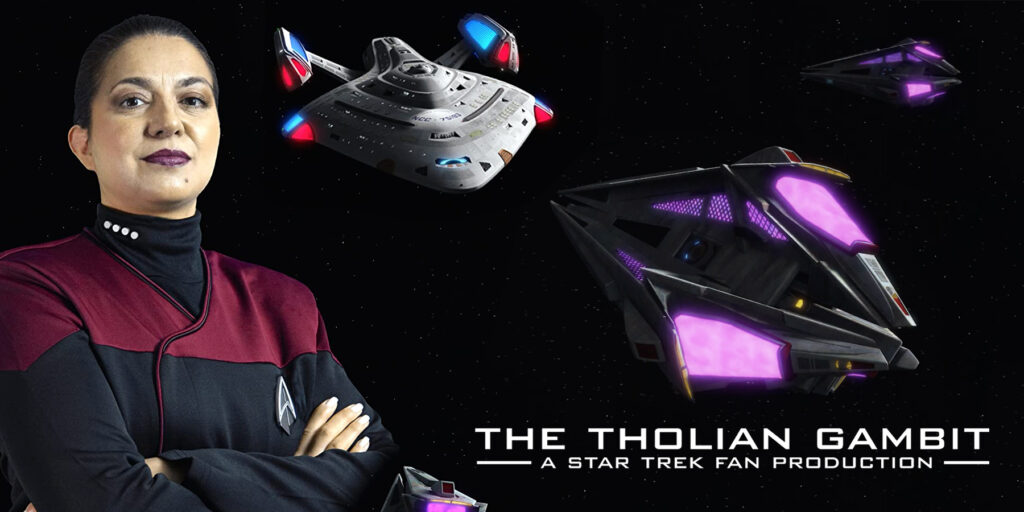 Even though the awesome fan film THE THOLIAN GAMBIT from the British Minister of Visual Effects, SAMUEL COCKINGS, came out nearly six months ago, I've been saving it in my back pocket in order to combine today's interview into a series of three interviews, each with one of what I was originally going to collectively call "Sam's Women." Instead, I've decided to use the monicker "The Women of TREK SHORTS." Either way, the three actresses have all proven themselves to be very impressive performers, certainly some of the highest caliber among Star Trek fan films.
But perhaps even more notable than their obvious talent is the fact that Star Trek fan films don't typically present women as the leads. There have certainly been plenty of female actors who appear in a wide range of Trek fan films, but seldom do they sit in the center seat and/or become the main/sole focus of the story. There are, of course, some notable exceptions, dating all the way back to Captain Elizabeth Shelby in STAR TREK: HIDDEN FRONTIER, Lexxa Singh in STAR TREK: RENEGADES, Captain Sian Gabriel of STARSHIP DEIMOS, Captain Castille of STAR TREK: DECEPTION II, Captain Kara Carpenter of STAR TREK: AURORA, three of the four captains of the Czech fan film SQUADRON and Captain Shelby of the Czech fan film MYSTERIOUS ODYSSEY, Ensign Williams of THE RED SHIRT DIARIES, the two PROJECT: RUNABOUT fan films, Commander Alisa Vandre of PACIFIC 201, Captain Keller in THE HOLY CORE, and Aaron Vanderkley's main character in LINE OF DUTY plus his captain in BEYOND THE SUN and OUTBREAK.
(And yeah, I might be missing a few female fan film leads, but trust me, that list is waaaaay shorter than the list of male captains and lead actors…kinda like Star Trek itself, to be honest.)
So let's give Sam Cockings credit for casting three very talented female actors as leads and captains in his various fan films, including his recent parade of Trek Shorts releases. Speaking of which(!), just a friendly reminder that Sam is trying to raise $35,000 for a series of even MORE awesome Trek Shorts (plus the final release of CONVERGENCE), and he's 11% of the way there as I type this. I encourage everyone reading this to click on the link below and donate at least a little something. There's some very nice perks, but mainly, Sam and this team just make incredible fan films, and we'd really like to see more…!
https://www.indiegogo.com/projects/trek-shorts-2022-by-fans-for-fans
Today's Part 1 blog turns the spotlight on NIMRAN SAUND, or "Nim" for short. Her first Trek fan film dates back to 2013 when she filmed scenes for Sam's excellent TEMPORAL ANOMALY, which was eventually released in 2019. Since then, she's reprised her character of Keeley (or rather, Keeley's 24th century descendent) in A LONG WAY FROM HOME, ONE SMALL STEP, and a cameo in the INTREPID episode "PURSUIT OF A DREAM." And most recently, Lt. Anna Keeley got a promotion to Captain in one of the first Picard season two fan films, The Tholian Gambit…
Continue reading

"The women of TREK SHORTS, Part 1: THE THOLIAN GAMBIT (interview with NIMRAN SAUND)"