Your mission: find an actress—young, positive attitude, who lives in Oklahoma—willing to appear in a volunteer Star Trek fan film. Oh, and she needs to be of Native American ethnicity.
You have two days.
When you donate to the AVALON UNIVERSE Star Trek fan production, you're paying for a get-it-done attitude and a proven track record. Over the past few weeks, I've provided three solid reasons to lend your financial support to this hard-working fan production crew: Jakande Lives, Do It for Pixi, and The Team. This week, I've saved the best for last—the most compelling reason to donate to their GoFundMe campaign, which just happens to be located at this link:
https://www.gofundme.com/f/zdn4p-AvalonUniverse2021
These folks never give up…ever! No matter what obstacles God, the gods, fate, the Universe, and/or or the Flying Spaghetti Monster throw their way, showrunner JOSHUA IRWIN and his team will always find a way to get their fan film(s) finished.
Avalon Universe has already released SEVEN high-quality fan films (two of which were two-parters of 30-plus minute length) in less than three years. And even as they try to crowd-fund another three productions, they're already hard at work on a fourth fan film: AGENT OF NEW WORLDS.
And therein lies a tale…
---
Early this year, Josh found out that he would be traveling from his home in Fayetteville, Arkansas for a professional shoot in Phoenix, Arizona in late May. Although the shoot wasn't related to Avalon, Josh had an idea to film an episode set mainly on an alien planet with a desert landscape—a terrain that he doesn't usually get to shoot in his heavily-wooded home state.
Two local actresses were scheduled to be part of the professional shoot in Two local actresses were scheduled to be part of the professional shoot in Phoenix—one of whom was PEXI NEREID, who was going to be joining the recurring cast of Avalon. Josh asked the other actress going to the shoot if she'd like to be in the episode, as well, and she agreed. So Josh penned a script about a crashed shuttle and a rescue mission, and the plan was to finish the professional shoot and then stay in Arizona another day or two to film the on-location scenes for this Avalon story.  Location scout JOSH DEENER found the perfect spot to shoot: White Tank Mountain Regional Park. 
Gorgeous footage was shot both during the daylight hours as well as amazing nighttime scenes filmed with special high-end equipment under the eerily beautiful light of a full moon. All that remained was to shoot some final ship interior scenes at WARP 66 STUDIOS back in Arkansas, plus some sequences inside a new "cave" set that Associate Producer GLEN WOLFE was constructing just for Avalon, and this fan film would be "in the can," as they say, and ready for post production.
Then bad things happened.
Without going into the overly-dramatic details, one of the two actresses had to drop out of the production completely, meaning she wouldn't be available for the remaining shoots, and any footage shot in Arizona that included her would need to be scrapped. Only Pixi's scenes searching the desert planet alone could be salvaged.
The expense in both time and money for another 1,200-mile/18-hour trip (each way!) from Fayetteville to Phoenix could not be justified. But Josh wasn't giving up. Although Arkansas is very lush, there is some desolate, rocky terrain right next door in neighboring Oklahoma. Unfortunately, the "desert" part of Oklahoma (what little there is of it) doesn't start until you get into the western part of the state. But Josh found Gloss Mountain State Park only about four and a half hours (270 miles) drive away. It looked perfect!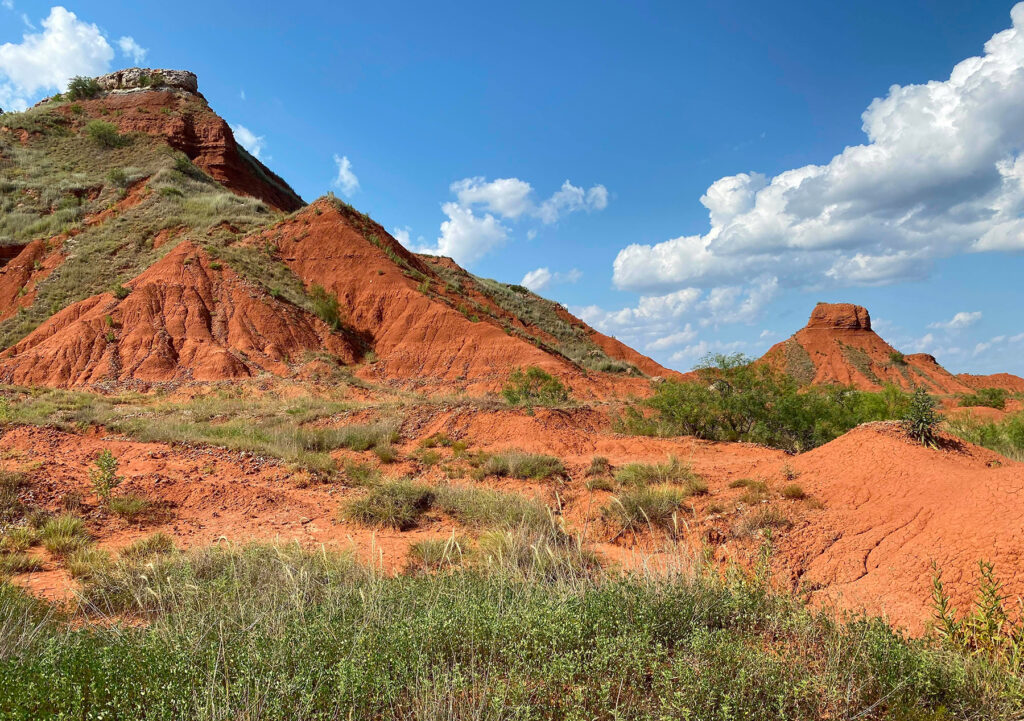 Josh immediately reached out to the park to ask about filming there both during the day and night, and they referred him to the Oklahoma Film Commission to get a permit to shoot there, which he was able to obtain. (Betcha didn't think a fan film would need to get a filming permit, didya?)
The next item of business was finding an actress to replace the one who left. Because the fresh-out-of-Starfleet-Academy character was of Native American descent (like Chakotay), Josh decided this time to see if he could find an actual Native American actress for the role, reaching out to a local producer in Oklahoma who is of Cherokee descent and deals with many Native American actors and actresses. This fellow connected Josh with an actress/model who, even though she wasn't necessarily a Star Trek fan, was still happy to appear in the film. Josh didn't plan for the character to become a series regular—this actress lived in Tulsa, Oklahoma, which isn't convenient to northern Arkansas where WARP 66 is located—so it wasn't necessary for her to fall in love with Star Trek fan films. Just a positive attitude and learning her lines was all that Josh required.
This time, they filmed the interior scenes at the studio first, in late June. Part of the reason was because of the current GoFundMe campaign, which launched in early July. By getting the team to the studio beforehand, Josh was able to not only shoot scenes for Agent of New Worlds but also grab footage of interviews with the cast and crew with TOS sets in the background for the "ask" video and other special features…
By mid-July, everything was in place for the "BIG" shoot in western Oklahoma. The filming permit was taken care of, park rangers informed of plans, lodging arranged at the home of a local producer, COURTNEY NIHISER, who lives only an hour's drive from the filming location (saving on motel room costs), and the cast and crew all cleared their schedules.
And this wasn't going to be a small shoot by any means! Nearly a dozen people would be there. In addition to Josh, Pixi, this new actress, and the producer, there was also NEAL BILBE (director of photography), EARL and BECK HALE (for audio), DAVID BUTLER AGRINSONSIS (a martial artist stuntman who would be playing a Klingon), TYLER DUNIVAN and REILLY PRINCIPE (who were production assistants/helpers), and the producer's son JUDE was a grip (the person who moves lights and tripods…and who also would play another Klingon).
Even nature itself seemed to be cooperating. The moon that was needed for filming would be full on Friday night, meaning the group could make the long drive there on Friday, set up for shooting that evening, come back and shoot the daytime scenes on Saturday, grab more full moon footage the following night if necessary, and get everyone home by Sunday…essentially just a long weekend. Even the weather looked like it would cooperate, as there were no afternoon thunderstorms predicted (they often hit that area in summertime), and the evening temps were in the comfortable mid-70 degree range…although it would still be hot during the day.
All the the pieces were in place…what could possibly go wrong?
Last Tuesday night, Producer Pixi received a call from their Native American actress. She'd gotten a modeling gig for the weekend in Los Angeles that would be paying her decent money. So…um…good luck with your Star Trek thingy.
The next full moon wouldn't be for another month (and it will fall on a Sunday night). And who knows how hot it'll be in western Oklahoma by then. Delaying instead to September or October would just make the ultimate fan film release date slip even farther into the future. Everyone had already cleared their schedules—David the Klingon stuntman had actually booked a flight from Cleveland, and of course, the permit was for that coming weekend.
For many fan filmmakers, such a last-minute setback would be almost insurmountable…especially if you were committed to casting a young Oklahoma actress of Native American descent, as they don't exactly grow on trees. But Josh still had two and a half days left to fix this!
He immediately called the same producer who had put him in touch with the first actress. Did Josh find a replacement in time? Ladies and gentlemen, meet JENNIFER RADER…
Jennifer is an Oklahoma native and lives only about an hour and a half away from the shooting location. She is a Native American member of the Sokaogon Chippewa tribe of Wisconsin. Jennifer has previously done both film and television and even a Little Caesar's TV commercial.
Whew…crisis solved!
Josh says it was a great shoot. They got started Friday afternoon, scouting some locations while there was still daylight and then starting to shoot after the sun went down and the moon rose. They got back to "base camp"—Courtney's house—a little after midnight, and everyone was still pumped. Amusingly, Josh was the only one who got anything close to some decent shut-eye (usually, he's the one operating on almost no sleep). While Josh woke up early, the rest of the team slept until mid-morning on Saturday, so they didn't get back to the park until close to noon, when the temperature was over a hundred degrees. Nevertheless, they got some amazing footage, including an awesome bat'leth fight scene with Pixi performing some pretty demanding stunts! Take a look at this rehearsal…
After Tyler shared the above clip to the team's Facebook chat group, Josh commented for those of us who weren't there: "We had so much fun! We did clean up quite a bit before we got the take we wanted. And it got so intense on the final take, that we broke two of the swords!" Everything was finished by late afternoon Saturday, so the Arkansans headed back eastward, arriving home late Saturday night…a job well done!
Up next will be reshooting scenes in the shuttlecraft and transporter at WARP 66 Studios at some point very soon. And as long as everyone is there and Jennifer is coming all the way Oklahoma City, they'll be shooting the cave scenes, as well. To save money they aren't bringing WARREN HAWK back from Atlanta for that 2-day shoot, even though he is part of the scenes in the transporter room and corridor. But Josh says simply, "We'll shoot around it with close-ups. It'll be a pain to frame the other shots without Warren there, but we don't have the budget to fly him back here. So I'll just have to make it work." When Agent of New Worlds premieres in a few months, watch those scenes on the ship and see if you can tell where Josh did his editing magic.
There's an old saying: "We love what we suffer for." If that's true for fan films, then Team Avalon and especially Josh Irwin are going to cherish Agent of New Worlds with all of their hearts! And hopefully, so will you. But that's what dedication is all about, and this is certainly a group of dedicated fan filmmakers!
So as I finish up the last of my four reasons to support this GoFundMe campaign, I invite you to become a part of Team Avalon yourself as they never give up and never surrender. Your donation dollars will go to a top-quality fan production that will get completed on schedule—no matter what it takes!