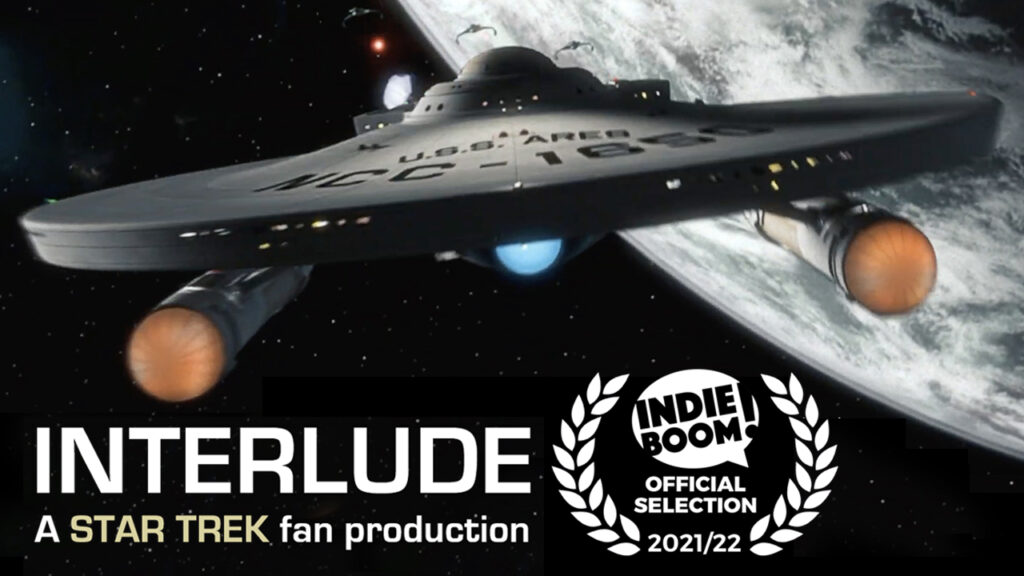 It was late 2017 when the IndieBOOM! Film Festival debuted with a category exclusively for "FAN FILMS"—one of the first major film competitions to do so. Created by the team at the award-winning Art of Brooklyn Film Festival, IndieBOOM! offers categories for filmmakers, musicians, and screenwriters working in all short-form formats and genres. In addition to Fan Films, their other categories include Comedy, Drama, Documentary, Horror/Sci-Fi, Experimental, Eusic Videos and Musicals, Animation, Series, Commercials, Dance, and Songs.
In 2019, the winner in the Fan Film category (and also the Sci-Fi category) was "Walking Bear, Running Wolf" from THE FEDERATION FILES. In 2020, the winning fan film was BATMAN: THE SCHEME IS SOUND, which (even though it wasn't Star Trek) was written, directed, and produced by the man who composed the music for my fan film INTERLUDE: KEVIN CROXTON. And at the beginning of 2021, the announced winner in the category was a Star Wars fan film from Mexico titled JUNDLAND: NO MAN'S LAND.
Now, that we're in 2022, I think it might be time for a Star Trek fan film to win again. What do you think?
This year's official selections in the IndieBOOM! Fan Film category include two live-action Star Wars films (one from Australia and one from the USA), an animated Ghostbusters short from the USA, a live-action Jurassic Park fan film from the UK, a James Bond fan film from the USA with kids playing all the role, and two live-action Star Trek fan films from the USA. One of those is my fan film Interlude, and the other is an amalgamation of two fan films from The Federation Files (USA) released over the past two years.
Obviously, I'd like you to please vote for Interlude, although the choice is certainly up to you!
Voting is done by watching on Vimeo, and every view counts as one vote. So watch early, watch often! (Actually, if Vimeo works like YouTube, then each computer browser can log only one vote…so no cheating, I guess!)
Voting runs continuously from today through January 16. Here is the link to view and vote for Interlude…
https://www.indieboomff.com/interlude-star-trek.html
And maybe give it a like while you're there, just so I know there's someone out there watching Interlude.
The first prize for the most viewed film over all of the various categories wins $500. If Interlude wins (fingers crossed!), I intend to donate the prize money to the AVALON UNIVERSE GoFundMe so my DP and Film Editor on Interlude, JOSHUA IRWIN, can produce even more awesome Star Trek fan films. I fully expect to see him winning IndieBOOM! next year!
I encourage you all to check out each of the wonderful films selected as finalists. And if you do choose to vote for Interlude, I thank you.