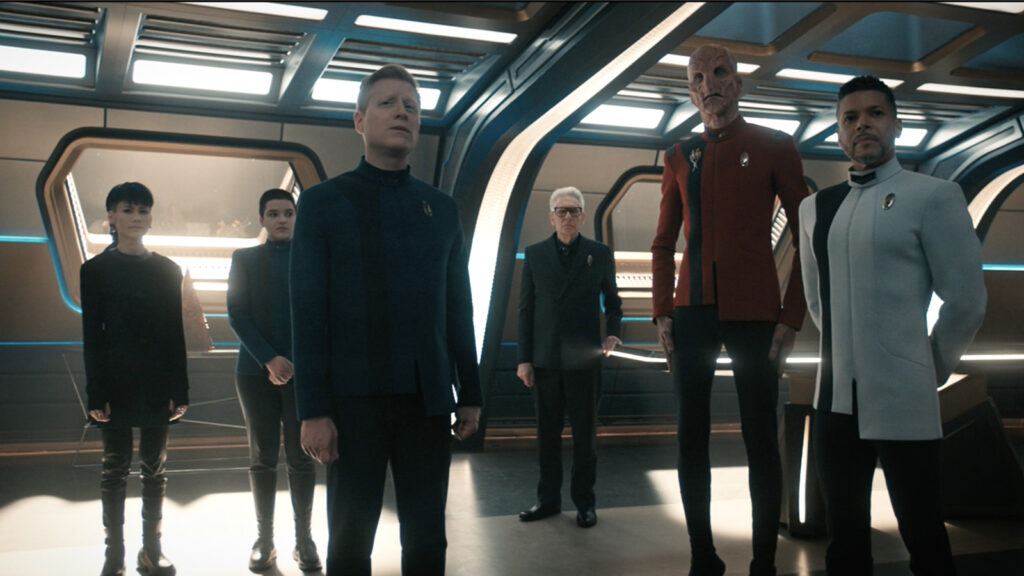 I've gotta hand it to the folks at STAR TREK: DISCOVERY…this episode took chutzpah!
We're going into the mid-season hiatus—six weeks without new episodes of Star Trek: Discovery—and one might have expected a "big" episode with lots of action sequences and suspense and drama building to a huge cliffhanger ending that would leave the viewers shouting for "more!" And while we did get that aforementioned cliffhanger, the rest of episode—I'd estimate 90% or more—was just people literally standing around and talking. Just…talking. Okay, a few were sitting. But just talking, talking, and talking some more.
Heck, they didn't even leave the room! Nearly the whole episode took place entirely on just two sets…and neither was even the bridge! If last week's "Stormy Weather" was a bottle episode, then this week's "…But To Connect" was a thimble episode.
And yet, as God is my witness…
It somehow worked!
It would have been easy to simply dismiss this episode as a misfire. After all, "all talk, no action" is a valid criticism for most shows. And don't even get me started on the amount of heavy exposition in this episode! At times, the dialogue bordered on science lecture—or maybe law lecture…or both—and at other times felt a little like watching CSPAN. (For those readers outside of the U.S., we have TV channels that air nothing other than proceedings in our Senate and House of Representatives. Most times, watching CSPAN and CSPAN2 is orders of magnitude LESS interesting than watching paint dry.)
So why did this quiet, no-action, potentially even "boring" episode work for me? What left me wanting to write a positive review rather than tearing it apart? Let's dive in…
REALLY, REALLY GOOD ACTING
Let's face it: this episode could have totally sucked. Relying almost exclusively on talking in both the A-story and B-story is a HUGE risk…especially when there's no C-story in sight until the final 5 minutes of the episode!
But the actors made the many, many words work. Literally no one gave anything other than a standout performance in this episode…even BLU DEL BARRIO (Adira Tal), whom I still feel suffers from a lack of acting experience that will, hopefully, fade in time. But really, everyone made the most of a dialog-heavy script with little physical movement or actions. For an actor, such scenes provide unique challenges but also opportunities. And I have to assume that veteran director LEE ROSE, whose career in film and television stretches out across nearly three decades and who has directed a total of four episodes of Discovery (including this one) played a significant role in drawing out such strong performances.
Granted, some people are just really solid actors. DAVID CRONENBERG is a accomplished thespian and filmmaker (whose career began the same year that Star Trek TOS premiered: 1966!) and pretty much knocks it out of the park each time he appears as the understated Dr. Kovich. The man is simply mesmerizing.
Likewise, DAVID AJALA plays Cleveland Booker to perfection, which is not easy considering that he could so easily come across as a one-note character obsessed with loss and revenge, if not handled with proper deft by the actor. Instead, I watch Book and feel his pain and uncertainty and desperation…along with his obvious love for Michael tarnished with a growing resentment that the two of them can't seem to find common ground when it comes to the DMA and Unknown Species 10C. He is obviously tortured this episode by what he knows (thanks to the writers creating a bit of a contrived "either/or" plot choice) is an inevitable conclusion of complete separation from Michael.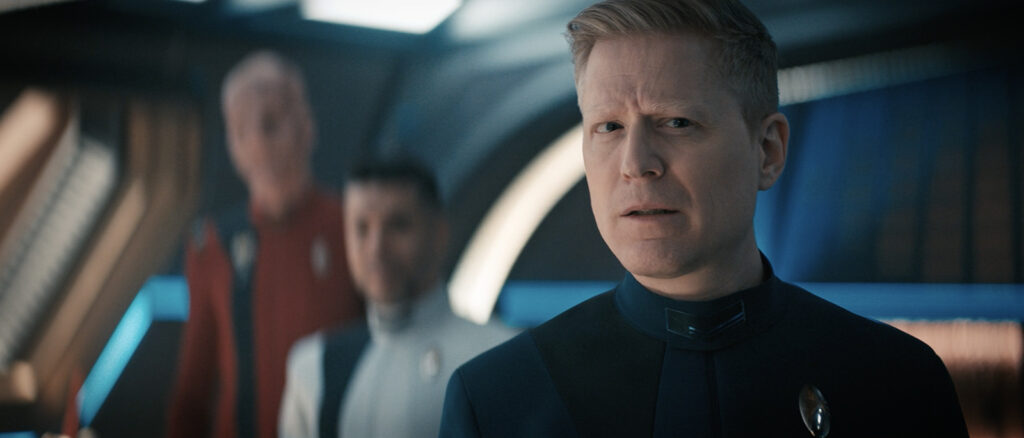 Another breakout performance this episode was from ANTHONY RAPP. It's been both fascinating and frustrating watching Rapp find the character of Paul Stamets. Remember him from season one? First, Stamets was a total asshole. Then he linked into the mycelial network and became almost a 1960's flower child. Eventually, he was heartbroken over the loss of Hugh, hurting even more after his love returned from the dead with different and more complicated feelings, and just kinda doing the insecure-but-compensating-with-overconfidence whiz-kid thing for much of the past two seasons. Paul Stamets is, essentially, a writer's tool when an episode calls for a "really smart character." But Stamets could be so much more.
And this episode, he was.
Stamets was the perfect "doubting Thomas," the voice of audience members (like me) asking the most obvious questions about Zora: "What if she gets mad at us and opens an airlock? Or scared and fires off some photon torpedoes? We'd have no way of stopping her!" All through the proceedings with Zora, Stamets is necessary to keep the conversation and debate moving forward. If everyone simply agreed that Zora was a cool new life form and no more dangerous than anyone else on the ship with emotions and free will, then we wouldn't have much of an episode. Instead, Stamets is there at every turning point in the discussion, supplying the counter-argument. That's not easy to do on an acting level while still remaining sympathetic. Rapp never breaks character and still manages to keep audience members at least somewhat on his side. It's a tough question they're addressing, as well it should be! After all, I shouldn't need to talk SIRI into playing Billy Joel on my iPhone…let alone trust my life and safety to a computer with, um, issues.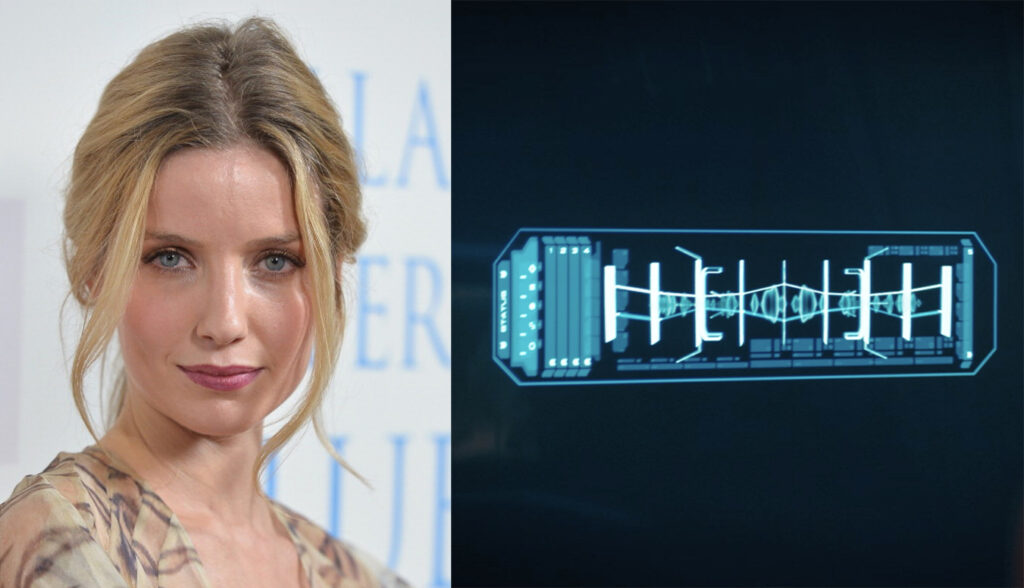 Of course, Rapp's performance is only half of the equation. Without ANNABELLE WILLIS as Zora to play against, viewers would likely only side with Stamets and want her gone ASAP. After all, eerily sentient A.I.s have been a staple of Star Trek going back to Landru, Nomad, and M-5…and none of those worked out too well. Most recently (like season two), Discovery fought Control for the survival of…well…everything. And let's not forget Terminator's Skynet and 2001's HAL 9000. The table has been well set for fans to distrust computers who get too big for their databanks.
So Willis faced the challenge of making Zora sound computer-y without sounding threatening. She had to be both emotional (because she'd just developed emotions) but also emotionless because, well, she isn't Red Dwarf's charmingly sardonic Holly or Hitchhiker's not-so-charmingly morose Marvin (to name two other well-known A.I.s with British accents). Now, imagine that you are the actor given this direction to be both emotional and emotionless, unsure but reassuring, and you have to do this all while not even appearing on screen and unable to use your facial expressions or body movements to assist your performance. NOW what do you think of Willis' acting?
One final tip of the hat to two fine performances must go the frustratingly brief interaction between Saru and Ni'Var President T'Rina. Actor TARA ROSLING needs to give classes on how to properly play a Vulcan! All too often, people playing Vulcan overshoot "emotionless" into stilted, wooden performances. That's not what this alien culture is all about. Vulcans (and Romulans) DO have emotions…strong, powerful ones. Vulcans simply choose to calm those emotions and control them under a veneer of logic and even-temperedness. LEONARD NIMOY understood this, as did GARY GRAHAM. TIM RUSS kinda understood this. But so many other actors (both in studio Star Trek and fan films) don't.
Tara Rosling gets it completely, and her hesitant and hopeful flirtations with Saru—and his in return—are adorable to watch. That scene emerged as just what it was intended to be. Not some over-the-top "Sam and Diane…will they or won't they?" tease or some clumsy CW Network teenage foreplay. These are two mature adults from very different cultures with some intriguing and unexpected similarities tentatively reaching out and slowly connecting with a universe of possibilities opening up before them. But embracing those possibilities—as with any budding relationship—brings with it risks as well as anticipations. The two actors are playing their roles perfectly, and I very much look forward to seeing this plot line evolve.
AND DID YOU NOTICE THE MUSIC…OR LACK THEREOF?
It's okay to admit that you didn't notice the music in this episode. In fact, it's a very, VERY good thing if you didn't! That means the composer (and director) did their jobs right!
I used to complain that Discovery had a never-pausing background music sound track. Even as recently as last season, I wrote a blog kvetching about the amount of background music in a typical Discovery episode. Too much background music can make watching an episode emotionally and even physically draining.
Throughout the seven episodes of this fourth season, the background music has been consistently diminishing in presence. Oh, it's still there in abundance during the action sequences, as it should be. But during the quieter scenes, the music has become ever more subtle, sometimes a barely audible single note or imperceptibly slow percussion. And increasingly often, there is no background music at all! This is a HUGE step forward for Discovery, showing a growing confidence from the creators in the intrinsic strength and impact of their show. More music, more camera spins, lens flares, etc…all of these are little more than gimmicks. Removing the the music from a scene lets its bare essence play out, meaning the creative team has faith in that bare essence to carry the moment.
Indeed, having less or even no music allows for a rhythmic wave effect of impact. If you want to see, or rather hear, what I'm talking about, watch this episode again, paying close attention to where the music is and where it isn't. Those two types of scenes (accompanied and unaccompanied by music) act together to draw attention to certain moments. A series of scenes without music might allow our viewer brains to "phase out" a bit as things move along on autopilot. Then, we hear the fast violins or the heavier percussion, and we "wake up," being clued in that something important and worthy of our attention is now happening. A constant stream of background music would not have allowed for that kind of impactful transition.
And such a transition goes the other way, as well. As the music grows in intensity, a sudden "stop" as we shift into a quiet scene can also grab our attention and attune our senses for a salient moment. Indeed, it is that very transition from something to nothing that provides our ears no choice but to listen to the words being spoken (since there is noting else). Granted, that effect doesn't last as long, and too much time spent without background music will allow our minds to slip back into a comfort zone of passively watching. But that's when a new musical cue wakes us up again.
And that is why I called it a wave effect. Like surfing (assuming one surfs), it's a constant cycle of intensity followed by calm followed by intensity as the ocean rises and falls. And while one's senses are always focused in some ways, they get cyclic breaks and respites before snapping back into full attention. This episode could easily have been either overwhelming (too much music) or tedious (too little). The back-and-forth/on-an-off, however, made a slow episode much more dynamic.
A "THINKING FAN'S" EPISODE
The Zora B-story (although both stories this episode, I felt, were worthy of A-story status) has been compared—and rightly so!—to two fan favorite episodes of Next Gen: "The Measure of a Man" and "I, Borg." Both of those TNG episodes was primarily a single A-story with occasional branches (for example, there were Picard's interactions with old flame Captain Phillipa Louvois, Data's interactions with Commander Bruce Maddox, Picard's interactions with Data, and of course, Riker's struggles with having to do his best to prove something he himself did not believe in: that Data was not a sentient being.).
Additionally, those two fan-favorite episodes of TNG were likewise mainly made up of characters talking to each other with very little (almost no) "action." So what made them all work (including "…But To Connect")? In "The Measure of a Man," we cared about Data and rooted against Maddox and Riker. But in the case of "I, Borg," fans had a longer road to travel. At the beginning of the episode, of course we all would have sent the "rescued" Borg back to the collective with a hidden, destructive computer virus. No question! But slowly, through a carefully crafted narrative, we began to develop sympathetic feelings for "Hugh" and even like him. We watched as Guinan, whose race was very nearly wiped out by the Borg, make the journey from antipathy to sympathy. And finally, Picard arrived in the same place, and Hugh was sent back to the Collective without the fatal virus. That episode took viewers on a journey of enlightenment that not everyone would agree with (since the Borg remain an existential threat to sentient life throughout the galaxy).
"…But To Connect" tried to do the same thing. The arguments were all laid out before us. No tricks. No manipulations. Zora isn't Data (she's more like Gomtuu from the TNG episode "Tin Man"—a living, sentient space ship caring for its pilot). And Zora isn't Hugh either. Zora is something completely new for fans to contemplate and ponder. And so anytime someone out there calls the Zora character and plot line "stupid" or "unoriginal" or "derivative" of what's come before, I cannot agree. This episode established Zora as a fresh idea in Star Trek (well, aside from Gomtuu): a living, thinking, feeling starship and now, even more interestingly, a member of the crew. And now she is going to go to Starfleet Academy? Not sure how Tilly plans to teach her, but hey…it's a totally new concept for Star Trek. And for a show that's been criticized again and again for just getting water from the same old wells—and not doing it as effectively as the source material that it's "copying" from—having something totally fresh and new for fans to enjoy is worthy of praise.
THE ONLY THING NOT WORTHY OF PRAISE
The other story of "how do we solve a problem like the DMA and 10C"? was, for me, not nearly as compelling and much more contrived. It was obvious from early on that the plot was driving toward an inevitable schism between Michael and Book that would lead to a much-anticipated confrontation and betrayal. The whole set-up with Ruon Tarka's "forbidden" weapon to neutralize the anomaly was only a tool to get Book and Michael to each stand up and make counter speeches to the masses. Everything else was window-dressing.
That said, it was occasionally interesting window dressing. It was oddly fascinating, for example, seeing the representative from Earth (and the Titan colony) playing the role of aggressive member of the delegation. Usually, that trope is reserved for the Klingons or maybe the Romulans. The Romulans, of course, are now part of Ni'Var and certainly not what they used to be. And considering how Discovery the series has handled the Klingons thus far, I'm kinda glad that we haven't yet seen them in the 32nd century.
Meanwhile, the "choice"—approach 10C first in peace or come out guns a'blazing—was made as stark as it could possibly be thanks to a weapon that could devastate significant portions of the galaxy…a cure that's possibly worse than the disease itself. Michael's way was, of course, the more moral Starfleet way, and obviously, it was the one we were most likely rooting for. But the arguments for both sides were laid out in an intelligent way, and as I said above, this was certainly a "thinking fan's" episode. Is was just an interesting (and some might say brave, some might say foolhardy) choice to do two such talk-in-out moral dilemma stories in the same episode. It worked for me, but mainly because of the acting and directing (and cinematography, which I don't have time to get into) and not the compelling nature of the decision of how the united races should proceed.
AND NOW, MY PREDICTION OF WHAT WILL HAPPEN NEXT…
If you don't want a potential proto-spoiler, don't read this last part. But for me, the revelation that Tarka's "lost love" (assuming it's romantic; that wasn't made completely clear) is separated from him in a parallel universe leads to one fairly obvious direction for the resolution of this DMA mystery to go. See if you can figure it out while I take a one-paragraph diversion…
Last season's reveal that "The Burn" was not some sinister plot but rather the anguished cry of a Kelpien child on a dilithium planet who had just lost his mother came as a bit of a disappointment to many fans. Granted, after the pure evil of Control in season two, maybe it was nicer to have a "kinder, gentler" threat.
But I fear we might be headed for two-for-two in that department, as I suspect that the DMA is simply Tarka's dimensionally-displaced "love-of-his-life" trying to bring his significant other across the threshold between realities into whatever parallel paradise reality he's gone to. If so, we're probably going to take a trip into this alternate reality, and I for one would love to see it be the "prime" universe…although that might be a little too much to pray for. Either way, though, if it turns out that Unknown Species 10C isn't an alien race after all and just a mad scientist trying clumsily to reunite with his buddy, well, I might be a teensy bit disappointed.
I guess we'll find out in February (or maybe March). See you then…