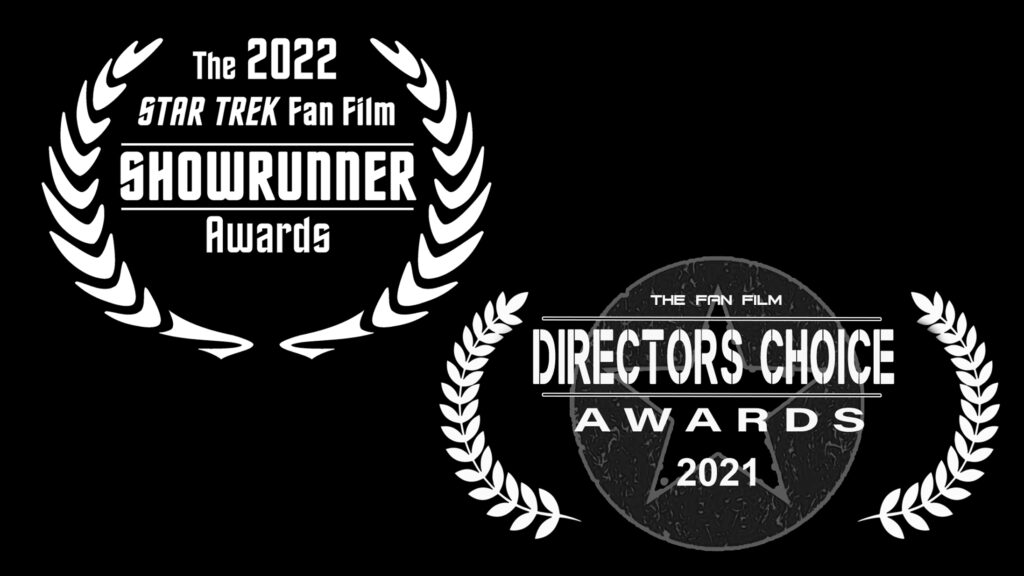 File this under: "Great minds think alike…" or perhaps under, "This is what you get for missing staff meetings, Doctor." Either way, GLEN WOLFE and DAN REYNOLDS of THE FEDERATION FILES and I had the same idea at the same time, and now there are going to be TWO new fan film awards shows coming your way in 2022!
In my case, the idea of hosting an annual awards show for Star Trek fan films has been percolating in the back of my mind for a few years…not as a way of competing with the annual BJO AWARDS but as simply an additional opportunity for Star Trek fan filmmakers and their productions to shine.
As the new year dawned a few days ago, I was able to finally enjoy a break from the blogging "sprint" that took up much of my December. And I decided that, if I was really serious about creating some Fan Film Factor awards show, now might be a good time to do some thinkin'…
At first, I tried to come up with a name—and you know how much I like things that abbreviate to "FFF." The Fan Film Festival Awards? Nah. Fan Film Faves? Cheesy. Fan Film Friends? Family? Flamingos? Jeez, I had nothing decent!
Okay, time to try a different approach vector…
So I shifted to thinking about judging. I mean, I suppose it could just be me deciding the winners and losers, but no one fan should possess such power! And, sheesh, what a way to completely piss off almost all of my friends, right? Nope, I needed a panel, but whom? When I finally answered that question, the name for the awards show fell easily into place: THE SHOWRUNNER AWARDS.
I've always felt there should be a fan film awards competition where members of the community judge each other's work…and who knows more about what it takes to make a fan film than a showrunner? But I didn't want too many judges, so I decided to limit my invitations to showrunners who had successfully released at least four or five completed Star Trek fan films.
Of course, the next concern was making sure there weren't too many entries. Goodness knows that VANCE MAJOR alone (one of the judges) could enter dozens—maybe hundreds!—of fan films all by himself! So I decided that, unlike the Bjo Awards, the Showrunner Awards will feature a nominal entry fee (maybe $10) plus an additional $1 for each special category like Best VFX, Best Music, Best Film Editing, etc. As I'm learning from entering my fan film INTERLUDE in various film festivals, this is how most of them work with application fees.
Speaking of Vance, or any of the judges, how do we make certain that all of them don't simply vote for their own fan film, and we wind up with a 6-way or 10-way tie each year? Glad you asked…
The Showrunner Awards will have ranked-voting (top five selections) with the greatest number of points for top pick and the least for fifth selection. A judge cannot vote for their own fan film in their top three choices. I feel this is better than "you can't vote for your own fan film at all," which seems unfair to me.
Another thing I want to do is have THREE awards in each category instead of just one winner. So for Best Cinematography or Best Lead Actress or even Best Fan Film, there will be an ADMIRAL Award, a CAPTAIN Award, and a COMMANDER award (or something like that), hopefully resulting in more than just a small few fan films winning everything….

With nervous excitement, I started a Facebook chat group with about two dozen Star Trek fan film showrunners from around the world, sharing my idea. A bunch of them immediately signed to be judges. Yay! Ideas quickly started flying left and right for categories and logistics. The enthusiasm was more than I could have hoped for!
And then someone mentioned that Glen Wolfe and Dan Reynolds (who were among the folks I'd invited to be judges) had just the previous day announced The Fan Film DIRECTORS CHOICE AWARDS! They even posted this webpage on their Federation Files website.
Their logistics were slightly different than mine. They were opening their competition up to any fan film, not just Star Trek, and their judges would be the directors who submitted the films. In order to keep your film in contention, if you submitted, you would have to vote for a winner in each category…and you would not be allowed to vote for yourself. Also, they would just have a single winner in each category, not three tiers of awards.
Even so, I suddenly felt hesitant about doing the Showrunner Awards if Glen and Dan would be doing the Directors Choice Awards. We'd be going from one annual fan film awards show to three, and I didn't want to steal their thunder.
It was then that something wonderful happened. The members of the group all started to chime in…
Gary Davis – If your program is different in concept and practice, then I say go for it. There are TONS of film festivals out there, why not two more fan film award programs?
Glen Wolfe – I'm all for as many awards for fan films as we can handle. It looks like there's going to be enough subtle differences between these two different new awards they both will have their own merit.
Dan Reynolds – I'd say 2 different film awards entities would mean 2 different chances for your film to possibly win one or more categories.
Josh Irwin – I think the most important thing about where we are at now is that we are being supportive of each other. I really hope that sentiment grows and becomes stronger.
Gary Davis – Agreed! THANKS to both Warp 66 and Fan Film Factor to sponsor these award programs. Glen, Dan, and JL …applause!
Samuel Cockings – Given that I've worked for/with basically everyone here…I really feel the community and love, and this is the golden age of fan films. Even if its just a niche thing, we're the crazy ones, and it's in our core and y'know…always good to promote and let fans see the work we put our heart and souls into!
Josh Irwin – Art should bring us together.
Vance Major – I have to admit I enjoy discussing what all is going into these awards. This is a great community, and it's great to see something like this being discussed.
There were other showrunners on board, too, like NICK COOK, DAVID CHENG, MIKE LONGO, RANDY WRENN, PAUL JASQUES, MARK LARGENT, and FRANK PARKER, JR….showing just as much positivity and enthusiasm. A few respectfully declined, feeling they would be too busy, and I still haven't heard back from a couple of others. But this is happening, folks.
Dan and Glen have set a date of April 5th (First Contact Day) for the announcement of their winners. So I decided to grab September 8 (Star Trek's anniversary) for the Showrunner results. They'll start accepting submissions in February. I'll probably open mine up for submissions in May.
Lots of details are still being worked out…especially categories. While the Directors Awards categories are locked in—and the Showrunner Awards will probably have most of the same ones—the judges and I are spitballing additional categories like "Most Impactful Scene" and the special "Heart" Award for a fan film that does a lot with a little, as it were. In this way, there's a chance for the low-budget "little guys" to get some recognition, too.
I'm also thinking of opening up the Showrunner Awards to any fan film released in the last four years…although once a film wins in a specific category, it is no longer eligible to be entered again. But in this way, if your fan film happens to come out during a year when there were "giants," it won't necessarily suffer from having overly stiff competition.
Anyway, all of this brainstorming is still less than a week old, so give us a few weeks/months to finalize things. This first year is bound teach us all what works and what doesn't (with both new competitions), and things will likely be even better and smoother in future years.
But for now, fan films now have THREE annual awards shows! How cool is that???