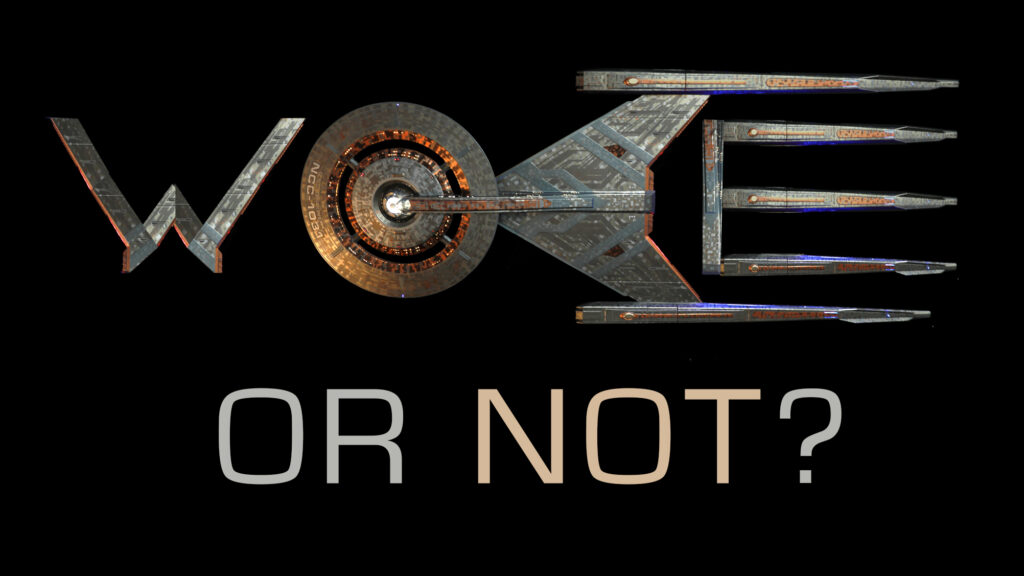 How many times have you seen someone on social media complaining that STAR TREK: DISCOVERY is too "woke"? People seem to use "woke" as though it were some kind of four-letter word!
But what does "woke" actually mean, and more importantly, is Discovery truly "woke"…or do certain people just think that it is?
The word "woke" first came to prominence within the Black community in the 1940s, an African-American slang term that initially meant being informed about systemic racism in America. It was a positive word, indicating awareness of things that tended to be "off the radar" for many Americans at the time.
By 2016, the newly-formed Black Lives Matter movement began to use the phrase and hashtag #StayWoke as a way calling attention to what they maintained was widespread mistreatment of Black suspects by law enforcement. By 2017, the word "woke" was added to the Oxford English Dictionary, defined as "being 'aware' or 'well-informed' in a political or cultural sense."
So far, so good. Nothing wrong with being "woke"…yet.
However, like other terms that started out as positive—such as "politically correct" and "social justice warrior"—the word "woke" was eventually corrupted and turned into something derogatory and toxic…specifically by the alt-right and other conservative groups. It became a crass insult directed primarily at liberals and progressives who were ridiculed for everything from "cancel culture" to "critical race theory" in their desire to stand up for what they believed were marginalized and persecuted groups and minorities both within America and beyond.
Gradually, those on the left stopped using "woke" as a positive. Today, even liberals and progressives employ "woke" to call out actions that are mocked for overcompensating in trying to provide fairness and equal representation beyond what seems reasonable and appropriate. One example is the recent trend by the left to introduce the plural word "Latinx" into common usage because because the plural "Latinos" leaves out women (even though Spanish speakers actually prefer the original plural since that's the way the Spanish language works).
WHAT SPECIFICALLY IS "WOKE" ABOUT ST: DISCOVERY?
Back in May of 2018, as CBS was pushing for Emmy consideration for the premiere season of Star Trek: Discovery, Entertainment Weekly called the new prequel show the "…boldest and most woke series yet." CBS quickly plastered that pull quote as a headline on Discovery's media press kit. Obviously, the word "woke" hadn't yet fallen from grace.
That was then…
At the time, Entertainment Weekly was calling Discovery "woke" for daring to feature an African-American female lead actress, somewhere Star Trek had not gone before. Now, with LOWER DECKS, we've got TWO series with lead actresses who are both Black and female.
But 2018 seems like such a long time ago now, don't it? Four or five years ago, the casting of Sonequa Martin-Green was still seen as cutting edge and (in an ostensibly good way) "woke." And of course, there was also the committed homosexual relationship between two central male characters (Paul Stamets and Hugh Culber.) Previous Star Trek series had featured romances and even marriages between various main characters But now Discovery had the first-ever same-sex couple on a Star Trek TV series. Proud to be "woke"—in 2018.
But this is now…
"Woke" has turned into a criticism, even an insult, used by many detractors of the series. But what are they REALLY complaining about? Obviously, the show still features a very diverse cast in terms of race, ethnicity, sexual preference, and gender identity (although not as much as you might think…more on that later). But is that all there is?
Perhaps these viewers feel as though there is overly preachy (liberal?) storytelling that is "woke." Of course, Star Trek has never shied away from heavy-handed, moralistic scripts with liberal bents. Just look at social commentary episodes of like TOS' "Let That Be Your Last Battlefield," TNG's "The Outcast," or DS9's "Past Tense"…to name but a few. Each of those episodes tackled a controversial cultural or societal problem directly and without much subtlety. And heck, I've seen some people complain about too much hugging makes the series. Is that "woke"? (If so, go binge-watch This Is Us…because you might be wound up a little too tight.)
But seriously, I wanted to understand more specifically what the people complaining about "wokeness" in Star Trek: Discovery were actually having a problem with. So I went to four different Star Trek fan groups on Facebook (this group, this group, this group, and this group) and posted the following…
I'm working on a blog about "WOKE" complaints regarding STAR TREK: DISCOVERY.

Without just blindly bashing the series, can you provide any example(s) of how you think the show is "woke" that does NOT (I repeat: NOT!!!) include the races, ethnicities, sexual orientations, and/or gender identities of certain members of the cast?

In other words, do "woke" complaints only involve the characters, or are the plots on the show "woke," as well...and if so, how?

Also, for extra credit: define "woke."
Perhaps not surprisingly, the discussions quickly turned tribal, with fans either defending or attacking the series and, just as rapidly, attacking each other. Many who defended the show called out those who use the word "woke" as simply trolls and not worthy of attention or response. Even many of those who didn't like the show said their opinion had nothing to do with "wokeness" and everything to do with bad writing, bad acting, yada-yada-yada. (This isn't a blog about whether Discovery is good or not, so I won't dwell on the non-"woke" criticisms.)
Unfortunately, those who did criticize Discovery for "wokeness" tended to be vague about specific examples…

"Every single episode" doesn't help me zoom in on any specific example(s). Was it "woke" when the crew rescued people on a damaged space station, where they tracked down a rogue Romulan ninja nun, when Tilly leads survivors of a shuttle crash to safety, or when the officers debated whether or not Zora is a sentient A.I.?
Sadly, the only specific examples I received regarding "woke" aspects of the series were somewhat disturbing, like this fellow…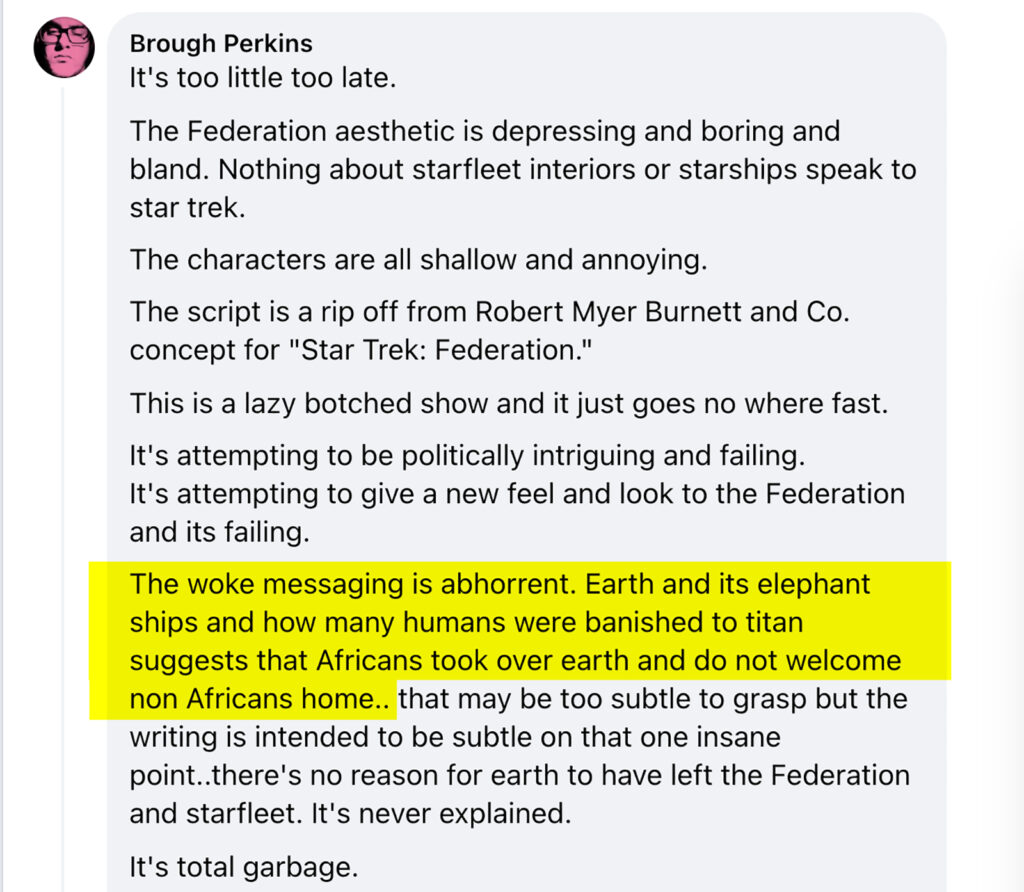 Yep, somebody actually posted that. It was obviously a reference to the early third season Discovery episode "People of Earth." The leader from Earth who beams aboard in that episode, Captain Ndoye, is Black and likely from Africa (with a name like Ndoye), but the other two Earthers who beam over are both white (including Adira). And of course, in the end, the people of Earth DO welcome the Titan colonists home. However, I will admit that the Earth ships do look strangely like elephants…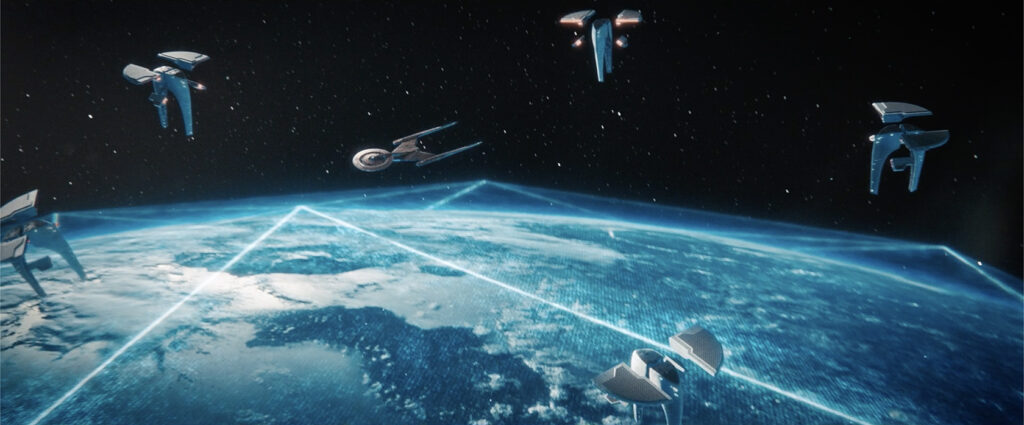 Another person who provided specifics apparently felt that showing kissing on screen was too "woke" (and apparently too liberal, as well). Take a look…
Hmmm, if Michael Rose has a problem with showing people kissing on television, I'm not sure how he got through TOS…
…nor how he got through TNG, DS9, Voyager, and Enterprise…
Even though he doesn't come right out and say it, I don't think it's the kissing in general that is bothering Michael as much as Paul Stamets and Dr. Hugh Culber (two males) kissing. But more on that in Part 2 of this blog editorial. First, we need to ask…
DOES "WOKE" = DIVERSITY?
Without any other specifics out of many, many dozens of responses and comments, I can only assume that it's not plot lines like the Klingon War, going to the Mirror universe, the Red Angel, evil computer intelligences, the Emerald Chain, or a galaxy-wide explosion of all dilithium that are considered "woke" elements of the show. So that leaves just one thing it can be (other than too much kissing and/or hugging): certain characters' races, ethnicities, sexual preferences, and gender identities.
And hey, it's not as though that's unexpected. The whole origin and evolution of the word "woke" centered around sensitivity to the the often-unfair treatment of marginalized groups…be they Blacks, women, LGBTQIA+, or members of any number of minority races or ethnicities. And of course, Entertainment Weekly called Discovery woke specifically BECAUSE of the diversity of actors and characters.
So it seems as though it's safe to assume that many of the people complaining these days about Discovery being "woke" are referring primarily to all the racial, ethnic, sexual, and gender diversity on the show. Now, I'm NOT suggesting those detractors are all a bunch of homophobic, racist bigots. While that might be true for some (sadly), others may simply feel as though the diverse characters in Discovery are being featured only for the sake of ticking the boxes of inclusion. Granted, why that would be necessarily be a bad thing still escapes me, but here's a person whose comment represents that line of thought…
Of course, this brings up a whole other question: is the cast of Discovery REALLY that diverse? You might be surprised when we take a closer look at the racial and ethnic make-up of the actors who have appeared on the series…
DISCOVERY DIVERSITY BY THE NUMBERS
Right now, the eight "main" characters of Discovery are Michael Burnham (Black actor), Cleveland Booker (Black actor), Saru (white actor), Paul Stamets (white actor), Hugh Culber (Puerto Rican actor from New York City), Adira Tal (white actor-Argentine British), Gray (half-Vietnamese/half-white American actor), and I'm still including Sylvia Tilly (white actor). That's 50% white actors among the main cast, plus two Blacks, one Hispanic, and one half-Asian.
And if you expand the cast to actors who have appeared with speaking roles in at least two episodes, the majority whiteness becomes even more apparent:
Characters played by white actors
Saru
Stamets
Tilly
Adira
Lorca
Detmer
Ariam
Nilsson
Admiral Cornwell
Harry Mudd
Ash Tyler/VoQ (actor is of mixed British/Scottish/Pakistani descent)
L'Rell
Kol
Pike
Spock
Una (Number One)
Sarek
Amanda
Linus (the actor under all that make-up is a white guy)
Leland
Nhan (half Scottish/half Indian, born in Toronto)
Siranna (Saru's sister)
Jett Reno
Admiral Vance (Israeli actor)
Dr. Kovich
Zareh (the first "bad guy" from season three)
Osyraa (the Orion head of the Emerald Chain)
Tolor (Osyraa's nephew)
Ryn (the Andorian played by Mary Wiseman's real-life boyfriend Noah Averbach-Katz)
Aurellio (human scientist for the Emerald Chain confined to a wheelchair)
Su'Kal
Eli the E.M.H.
Federation President Laira Rillak
President T'Rina of Ni'Var
Trill Guardian Xi (Greek Canadian)
Ruon Tarka
That's 35 white/mostly-white actors cast with either main or at least recurring speaking roles in Discovery so far..21 of whom are male, 13 female, and 1 non-binary. Now, how about other ethnicities…?
Characters played by Black actors
Michael Burnham
Book
Owosekun
Bryce
May "the talking mushroom/Tilly's imaginary friend" Ahearn (maybe Black?)
Doctor Tracy Pollard
Gabrielle Burnham (Michael's mother)
Earth Captain/General Ndoye
That's only 8…a quarter of the number of white actors. Here, though, only 2 males and 8 females. Interesting! What about Latino, Asian, and "other"?
Characters played by Latino, Asian and "other" ethnicity actors:
Dr. Culber
Gray
Georgiou (both universes)
Rhys
Security Chief Landry (actress Rekha Sharma is of Indian/Fijian descent)
Aditya Sahil (Federation liaison)
Kyheem (Book's brother, Latino actor)
Lt. Willa (the security chief at Starfleet HQ – unknown ethnicity)
That's 8…with only 3 Asians, 2 Latinos, 1 Indian, and 1 with parents from India and Fiji. The split here is 5 males and 3 females.
So that's a total of 35 white actors and 16 non-white actors (or a 2-to-1 margin of whiteness to all other races and ethnicities combined). There's also 25 males and 22 females…an almost even split with slightly more males.
Still think Discovery is "woke" when it comes to casting ethnically diverse actors and mostly women? The numbers don't lie, my friends!
---
Next time, we're going to look at what makes some people THINK there's more diversity in the Discovery cast than there really is. Then we'll move beyond race and ethnicity to what seems to be an even bigger hot button issue: the LGBTQIA+ characters. And finally, we'll look at swapping out "woke" with an entirely different word that describes the exact same thing but without all the negative connotations. Which word is that? Come back tomorrow to find out…!