Last time, we began by taking a brief look at the history of the word "woke." (You can read the full history here.) Although "woke" began as a positive word connoting being aware of racial injustice, in the last half-decade, "woke" has been co-opted into a toxic, negative insult, implying (from conservatives) an overly liberal and progressive view of race relations and inequality and (from liberals) an overcompensation to try to mitigate implied social injustice.
Whatever the meaning, some detractors of STAR TREK: DISCOVERY have begun to deploy the word "woke" in criticizing the show. But what exactly are they talking about? Is it the diversity of characters of different races, ethnicities, sexual orientations, and gender identities? Or is there something about the plots or the storytelling that is supposedly "woke"?
In order to get a better understanding of what the critics mean when they call Discovery "woke," I reached out to fans on four different large-size Star Trek Facebook groups(this group, this group, this group, and this group) and asked for examples of what they consider "woke" beyond just the characters themselves.
Unfortunately, almost no one offered specific examples—only broad brush strokes which didn't help define (for me, at least) what it was about Discovery (beyond the characters) that was "woke." Indeed, the only specific complaints I received were a bit absurd: one person who thought there was way too much kissing and another who assumed, from watching the third season Discovery episode "People of Earth," that "Africans took over Earth and do not welcome non-Africans home." And among his proof was that Earth ships resembled elephants. (Seriously, I screen capped the comment!)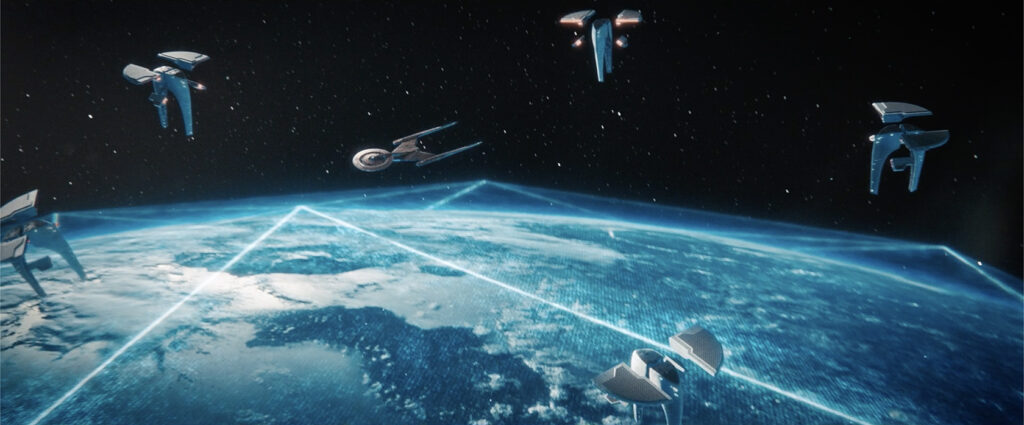 Anyway, with nothing else that I could take seriously as an example of what made Discovery "woke," I could only assume it was indeed some combination of the races/ethnicities of the actors and/or the sexual orientations/gender identities of the characters.
So I took a closer look at the actors themselves. There is a general perception out there among certain fans that Discovery portrays an overly diverse cast in terms of race and ethnicity. The bridge crew is certainly "colorful," and the current main cast features two Blacks, one Hispanic, and one half-Asian. Of course, it also features four white actors (I still consider Tilly part of the main cast). That's 50% white.
But I took it a step further and looked at the casting of ALL actors who've appeared with significant speaking roles in at least two episodes dating back to the start of the series. The results were staggeringly skewed toward white actors and actresses (35 total) versus Black actors (8 total) and those of Latino, Asian and other/unknown ethnicities (also 8 total).
So with 2/3 of the total actors on the show being white, why it is that so many viewers mistakenly believe that the Discovery cast is so much more diverse than it actually is…?
SALIENCE
In psychology, there is a phenomenon known as salience. It evolved in humans as a way of dealing with the massive amounts of information coming into our brains simultaneously from our eyes, ears, nose, etc. Anything that seems "normal" can typically be ignored or given low importance. But something that stands out as unexpected or out of context gets our focus and attention. For example, a person wearing a Starfleet uniform at a sci-fi convention or on Halloween isn't really noticed as unusual. Someone wearing a Starfleet uniform to jury duty or as a candidate on stage at a political debate would absolutely find themselves on the news…and likely be defined by that moment for the rest of their lives.
So with salience, sometimes "perception becomes reality," even when it's just plain wrong. For example, a particular brand of car might have the highest quality and reliability ratings from every automotive and consumer magazine. But if your friend bought one of these cars and had to trade it back in a few months later because he'd gotten a lemon, that is salient. And even if his replacement car worked just fine, you'd likely think twice about buying that brand of car, even though your friend's experience was only one example and literally EVERYTHING else says this brand of car is reliable. Your brain just can't ignore something so salient.
And so it is for Discovery. In my previous blog, I proved numerically (with an actual list) that this show features an overwhelming majority of white actors. And yet, a surprising number of people who have since commented on on Facebook that this series is mostly non-white actors. One went so far as to suggest I count the number of lines given to to the minority actors and I'd see they get much more to say. Considering that one of the white actors was Tilly (who talks a LOT) and two others were the first two white, male captains Lorca and Pike, Saru was quite prominent, and Paul Stamets gets about as many lines as Hugh Culber, it seems that this suggestion of counting lines was a bit of a desperation play hoping to "massage" reality in order to fit this person's perception.
So yeah, it's hard to ignore salience. The main character on the series is Black. That's hard to ignore. The show started out showing two other Black characters as background regulars on the bridge (Ososekun and Bryce) and one Asian (Rhys). Burnham's first captain on the Shenzou was Asian. That stood out to many viewers despite the fact that there were more WHITE actors on Discovery in the beginning: a white captain (Lorca), two white background regulars on the bridge (Detmer and Ariam), plus there was Saru, Stamets, and Tilly.
MAYBE IT'S A GAY THING…?
Ah, the kiss heard 'round the Trek world—talk about SALIENT! When Paul Stamets kissed Hugh Culber during the ninth episode of Discovery's first season, "Into the Forest I Go," there was an outcry of both support and resistance. It was so controversial, in fact, that actor WILSON "Dr. Culber" CRUZ (who is gay in real life), posted this message to social media…
I'm not here for your comfort. That's not why we are here. We're here to grow. Star Trek is and has always been here to challenge you to look outside of yourself and to see other people and other experiences in yourself. There is no division between you and me. I am just another human giving and receiving love, just like you. That is all.
The kiss received quite a bit of coverage in the media, as this was the first time any Star Trek series had included two regular characters in a committed same-sex relationship. Trek had already featured a ton of ongoing heterosexual romances between regular characters on the various series: Worf and Troi, Riker and Troi, Miles and Keiko O'Brien, Ben Sisko and Kassidy Yates, Rom and Leeta, Worf and Jadzia, Bashir and Ezri, Kira and Odo, Neelix and Kes, Tom and B'Elanna, Chakotay and Seven (cringe!), and Trip and T'Pol.
But this was different. This was salient.
And here's where salience creates a rather striking double-standard. In the four seasons of Star Trek: Discovery, the main character (Michael Burnham) has shared two heterosexual relationships: the first with Ash Tyler and now one with Cleveland Booker. We've also seen many other heterosexual couples on the show: Spock's parents Sarek and Amanda, Michael's parents, the Klingons VoQ and L'Rell, Christopher Pike and Vina, Captain Lorca and Admiral Cornwell, Ariam had a male fiancé, and if you want to be thorough, Harry Mudd and Stella. Heck, there's even some serious flirting going on between Saru and Ni'Var President T'Rina in season four.
That's a fair amount of straight couples on the show. And yet, no one has ever jumped up and accused Discovery of trying to openly promote a heterosexual lifestyle. But add in ONE gay couple and there's suddenly some kind of liberal/pro-homosexual "woke" agenda? Fascinating!
"But they don't have to throw it in our faces every episode!" I'm sure some people will say (and many have on Facebook). But again, salience is creating a false perception. Just out of curiosity, I fast-forwarded through the most recent 20 episodes of Discovery (all of seasons three and four so far). Do you know how many times over the past two seasons that Paul and Hugh have kissed on the lips? Take a guess before reading on.
>>> guessing break <<<
The answer is three (season 3, episodes 2, 8 and 11). Yep, just three. In that same span of episodes, if you're curious, Michael and Book have kissed on the lips twice (season 3, episodes 6 and 7). Interestingly, NO COUPLE has kissed on the lips at all in season four so far…although Paul and Hugh have had two scenes (in season four) that included small pecks on the cheek. And if we want to extend things out to any kind of outward shows of affection (including hand-holding, gentle caresses, supportive touching, hugs, and scenes in bed together, the season four total is Michael/Book: 9 and Paul/Hugh: 5.
And so, just for the record: no, Discovery is NOT throwing homosexuality in our faces any more than it is throwing heterosexuality in our faces. Paul and Hugh have been involved in some plots involving their relationship and some plots highlighting other aspects of their characters like engineer and doctor, genius and compassionate, spore drive pilot and haunted back-from-the-dead guy, etc…just as Miles and Keiko O'Brien had storylines involving their marriage and role as parents along with plots featuring them as an engineer and teacher.
And yet, certain viewers still gripe that a lone gay couple feels like it's been "forced" into the show as a way of filling some liberal quota and only exists in order to tell "gay" stories. It's an interesting complaint, and in my opinion, far from accurate since Paul and Hugh had SO much more to do than just kiss and brush their teeth together in their pajamas.
But salience keeps some people from noticing all the times that Paul and Hugh are on screen separately, not kissing, and playing important roles in the stories that DON'T involve their relationship.
MAYBE IT'S A GENDER IDENTITY THING…?
Let's move on to the "other" LGBTQIA+ space couple: Adira and Gray. (And if anyone is curious, they've only kissed once—season 3, episode 4—in a flashback to just before Gray Tal died.) Now, it should be understood that gender identity is a totally different phenomenon than sexual preference. So I am treating Adira and Gray completely separately from Paul and Hugh except for grouping them together under the general category of LGBTQIA+.
Actor BLU DEL BARRIO identifies as non-binary (doesn't feel male or female), and their character is the same way. This fact was dealt with quickly during a single scene in a third season episode called "Sanctuary" when Adira asks Paul to use the pronoun "they/their/them," and Paul says, "Okay."
That was that. One scene.
And while the episodes since have featured a couple of times when Adira was referred to as "they" or "them," no one on the show has ever made a big deal out of it, just as no one on the show makes a big deal out of Paul and Hugh being gay…and no one on TOS ever made a big deal about Uhura being Black or female.
In fact, the only folks involved with Discovery who ever made a big deal out of having a non-binary actor and a transgender actor (IAN ALEXANDER as Gray) were the folks in marketing who did a minor publicity blitz before introducing the two new characters in season three. There wasn't an incredible amount of coverage, but it was enough to get fans' attention…and that means (say it with me) salience! And suddenly, Star Trek: Discovery was all about including gay characters and trans characters and non-binary characters…
Except that it wasn't.
Sure, it's hard not to notice that four of the main characters are part of the LGBTQIA+ community, and that's nearly half of the main characters on the show. On the other hand, if you look at my character list from the previous blog, out of more than 50 characters who have appeared in at least two episodes, only two other characters are gay: Jett Reno and Ruon Tarka, the super-genius looking to cross into a parallel universe (note: Tarka isn't "officially" gay yet; it's only been implied).
No one else is officially "outed" yet. And amusingly, if you pay close attention, at no point has Gray ever been officially revealed as trans as a character…not in the same way that Adira has been. Obviously, the Tal symbiont has lived as both male and female, but so have Dax and most other Trill. So even though the actor is tans, the character of Gray might not be.
So again, our brains tend to ignore a plethora of straight characters and pay attention primarily to just four LGBTQIA+ plus characters, even though they are in a very small minority overrall. But for some, it's enough to cry "woke." After all, not only is there a gay couple, but there is ALSO a non-binary character and a trans actor. That's a lot of ticked boxes, right? So some are asking: does the show really need to represent so many "token" groups?
Of course, one could ask the same question about TOS: did it really need to include a Black AND an Asian on the bridge? Wouldn't one have been enough?
And that brings us to…
PERHAPS "WOKE" = RESPECTFUL?
In the end, I'm probably not going to change the minds of those who complain the Discovery is "woke." Whether it's psychological salience or just needing to air another grievance, "wokeness" will remain in the eye of the beholder for now. But in my opinion, Discovery is NOT "woke"…
It's RESPECTFUL.
And that, my friends, is why Discovery is such an important TV series—whether you like the writing or not. In the same way that TOS set a new television standard by having both a Black woman and an Asian in prominent positions on the bridge, in the same way that Deep Space Nine distinguished itself by casting a Black man as the star and Voyager by giving the center seat to a woman captain—Discovery is setting itself apart (in what I feel is a very good way) by letting these characters of color, of gender, and of sexual preference be seen simply as NORMAL PEOPLE who are part of a starship crew, doing their jobs and helping to tackle challenges.
Sure, there's still a long way to go (the casting is still 2/3 white), but what is most important is that, in the future that these Star Trek series are showing us, it's no big deal that Michael is Black, Georgiou is Chinese, Paul and Hugh are a same-sex couple, or that Adira wants to be referred to as "they"…just as it was no big deal on the original Enterprise that a Black woman like Lt. Uhura was chief of communications.
For anyone criticizing Discovery for being "woke," consider all of the people watching this series who are not straight and white and/or cisgendered. Think about what it means for them to see representatives of their race, ethnicity, sexual orientation, or gender identity featured regularly on a major television series with as long and honored a pedigree as Star Trek.
And these aren't simply one-note characters (the gay one, the non-binary one, the Black one). But at the same time, those aspects of the characters aren't "invisible" either. Paul and Hugh are gay, they show affection toward each other just like any other couple (like Michael and Book), but they also have much more to do on the show beyond that. The NORMALCY of all of these characters is what makes Discovery so important.
Back in the 1960s, a generation of Black women and Asians looked at NICHELLE NICHOLS and GEORGE TAKEI on their television screens with hope and optimism for a better world. Today, Star Trek: Discovery represents that same hope for so many people around the globe who aren't white or aren't straight or don't feel like they fit a binary label like "male" or "female."
Respect that. Please don't cheapen that optimism with a vague and dismissive insult like "woke."