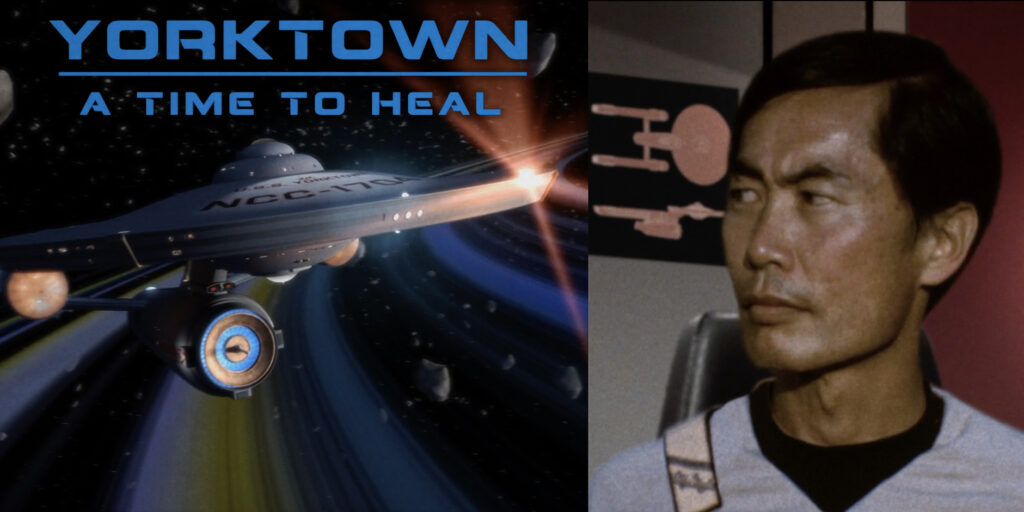 It's been a loooooooooooong road, getting from there to (almost) here. And when I say long (with all those o's), I mean from 1985 to 2022…THIRTTY-SEVEN YEARS! Seriously, if you think AXANAR is taking a long time to finish, that's just peanuts compared to YORKTOWN: A TIME TO HEAL…starring GEORGE TAKEI as Lt. Commander Hikaru Sulu (yep!) and the late JAMES SHIGETA as Admiral Nogura.
Every so often, like a dad taking his kids on a long road trip, I get a fan asking me the "Are we there yet?" question: Do you know when Yorktown is supposed to be coming out? And it's a totally reasonable question. There seem to have been countless announcements of premiere dates over the past several years that never seemed to pan out. Most recently, a trailer promised a release date of Christmas 2020, and then a slightly pushed-back release date of December was announced instead. Then early 2021. Then, well, nothing specific after that.
It's now a year later, and we FINALLY have a hard, locked-in, carved-in-stone, cross-my-heart-and-hope-kiss-a-salt-vampire date for the anticipated debut of this fan film that saw its first raw footage shot in the Angeles National Forest just three weeks after the introduction of New Coke!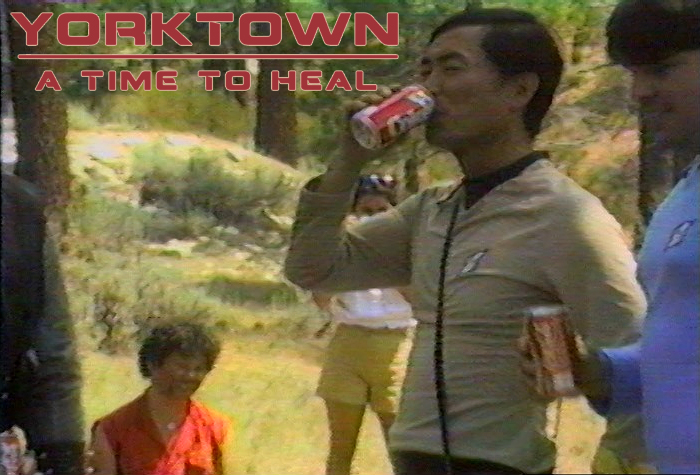 So what has taken so long to finish this fan film? For the answer explaining the first 35 years of production, I invite you read this 6-part (hey, it covers three and a half decades, people!) blog series filled with quotes from show-runners STAN WOO and JOHN AKTIN. As for the most recent year delay, that's another story that includes, sadly, a personal tragedy.
Initially, the delay from late 2020 into 2021 came because of continuing issues with sound-mixing for the film. There were still significant challenges to overcome, and they were simply taking longer to address and correct than John Atkin had originally anticipated.
But then, on October 2, 2021, MIRANDA GERMANI, John's wife and mother of their three-year-old son, passed away unexpectedly from complications caused by Crohn's disease. The impact on John was devastating, and it is totally understandable that John would step back from working on Yorktown for a bit.
Miranda Germani as Dr. Amanda Cruz in the upcoming YORKTOWN: A TIME TO HEAL
After that, I stopped checking in with John to ask about progress on Yorktown and instead simply offered him the hand of friendship and support (and tossed a few dollars into the GoFundMe to pay expenses for their son's post-secondary eduction).
But John has finally completed work on the film, and we now have a firm date for the premiere of Yorktown: A Time to Heal—APRIL 5, 2022…First Contact Day!
And how can I be so certain that this will, in fact, be the actual premiere date…after so many missed premieres over the past years? Because I've actually SEEN it! Yep, just finished watching the final version, and it looks and sounds spectacular. The credits, both in front and behind the camera, read like a who's who of Star Trek fan films past and present. This was truly a team labor of love by a very extended family of fan filmmakers from around the world.
You'll be able to see for yourselves in just six weeks. For now, however, take a look at the latest trailer…