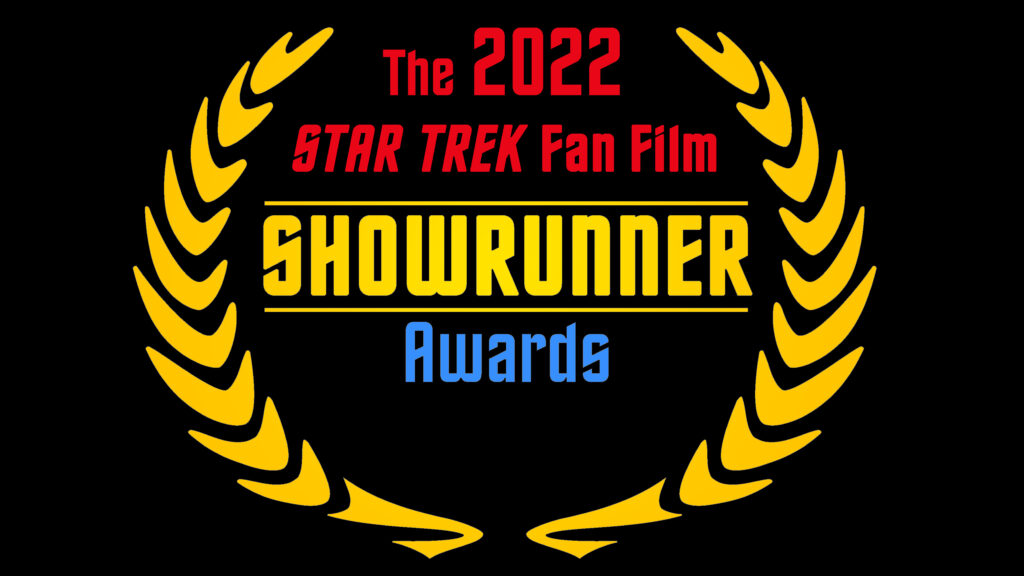 The 2022 Star Trek Fan Film SHOWRUNNER AWARDS are now accepting submissions! Entries can be submitted until the end of the day on May 31, 2022. Winners will be announced on September 8, 2022. Here is the entry form:
https://www.cognitoforms.com/JonathanLane1/2022StarTrekFanFilmSHOWRUNNERAWARDS
The Showrrunner Awards are the newest annual competition exclusively for Star Trek fan films and will be unique in a couple of very significant ways. The first is that the window of eligibility is not just a release within the previous calendar year but any Star Trek fan film released with in the last FIVE years (January 2017 – December 2021)! Once a fan film wins a Showrunner Award in a specific category, it is no longer eligible to win in that category again.
The other unique feature of the Showrunner Awards is that there will be THREE winners in each category: ADMIRAL, CAPTAIN, and COMMANDER level…each with a digital certificate (sorry, there's no way I can afford physical plaques).

Following the example of most industry film festivals, the Showrunner Awards will require a small entry fee ($10) for each fan film submission, which allows a qualifying entry to be considered in the main category of Best Star Trek Fan Film. Each additional category will cost an extra $1, plus there is a small processing fee. To keep operational costs down, payments will be accepted only by credit card only (no check, Paypal, Venmo, Zelle, or Crypto at the moment) and are processed by the third party service STRIPE.
The money raised will help me cover the annual expenses for FAN FILM FACTOR (domain hosting, support, site security, etc.). While I truly appreciate the monthly contributions from my 8 patrons, the money from my Patreon falls well short of my ongoing costs for keeping this blog site going.
Here is a list of categories for the Showrunner Awards:
Best Fan Film
Best Director
Best Writer
Best Lead Actor (submitter may enter up to three actors)
Best Lead Actress (submitter may enter up to three actresses)
Best Supporting Actor (submitter may enter up to three actors)
Best Supporting Actress (submitter may enter up to three actresses)
Best Cinematography
Best Film Editing
Best Sound Design/Mixing
Best Visual Effects (CGI)
Best Special Effects (non-CGI)
Best Musical Score
Best Costuming
Best Hair & Makeup

Best Original Character
Best Scene (up to 2 minutes)
Best Micro-Budget Fan Film (total production cost $1,000 or less, not including set construction)
The last three categories are really intriguing to me and were suggested by members of our twelve-member panel made up of Star Trek fan film showrunners…
The Best Original Character is just that. If you think your fan film features a really awesome completely original character, let us be the judges. There's been some amazing characters in fan films over the years—whether they're played by very good actors or they have a compelling backstory or they just do really exciting things in the film.
Best Scene allows a filmmaker to choose a single scene or sequence, up to two minutes in length, that they think knocks it out of the park all on its own. This scene needs to be posted separately on its own to YouTube or another free online viewing service with a link supplied when entering.
Best Micro-Budget Fan Film category gives "the little guys" a chance to compete on a level playing field. Fan films produced on a shoestring budget don't usually get recognized when competing agains the "Goliaths" with the high 4-figure to low 5-figure budgets. The entire cost for production and post-production of a micro-budget film must be less than $1,000 (and we're on the honor system, here, but trust me, our panel will know what is and isn't a Micro-Budget Fan Film and will judge appropriately). Note: we will not include the cost of set construction so as not to penalize those fan filmmakers who shoot on elaborate and expensive pre-existing sets like WARP 66 STUDIOS or NEUTRAL ZONE STUDIOS.
Here is the list of every showrunner who has agreed to be on our panel:
SAMUEL COCKINGS
GARY DAVIS
JOSHUA IRWIN
PAUL JACQUES
JONATHAN LANE
MARK LARGENT
MIKE LONGO
VANCE MAJOR
FRANK PARKER, JR.
DAN REYNOLDS
RANDY WRENN
GLEN L. WOLFE
An even dozen! And I know what you're gonna ask next: "Can a judge vote for their own fan film(s)?" Not entirely. Let me 'splain…
The judges will be asked to select their top 5 choices in descending order. A #1 vote will count for 10 points, #2 for 7 points, #3 for 5 points, #4 for 3 points, and #5 for 1 point (assuming there are at least five entries in a category). A judge cannot vote for a fan film they produced or were involved in as any of their top three choices. That allows for fairness to the submitters without completely penalizing the showrunners for volunteering to be judges.
As this is the first time we're doing the Showrunner Awards, it's likely we'll find that there's some things that work better than others, so expect a bump or two in the road if/when you apply. I won't be surprised if people find typos in the submission form or don't understand how they're supposed to fill something out. DON'T PANIC! Just shoot me an e-mail at jonathan (at) fanfilmfactor (dot) com, and I'll reply as soon as I can. With luck, what's a glitch this year will hopefully be a distant memory next year.
Once again, here is the link to submit your fan film to the Showrunner Awards…
https://www.cognitoforms.com/JonathanLane1/2022StarTrekFanFilmSHOWRUNNERAWARDS
GOOD LUCK, AND THANKS TO ANY FAN FILMMAKERS FOR ENTERING!