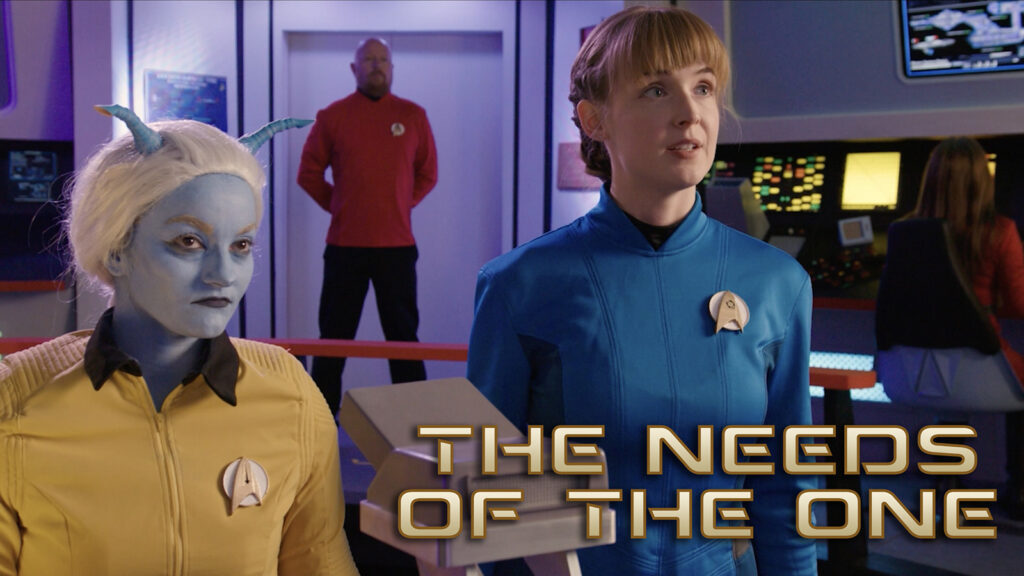 THE AVALON UNIVERSE first emerged onto the Star Trek fan film scene back in 2018 with the release of GHOST SHIP, one of the only fan films to ever infest a starship with zombies! This new fan series featured both TOS Prime and Kelvin-timeline uniforms shot on TOS sets (originally at NEUTRAL ZONE STUDIOS in Georgia and later at WARP 66 STUDIOS in Arkansas). Having their own alternate universe to "play" in allowed showrunner JOSHUA IRWIN and his team tell stories with a distinct Star Trek "feel" while not locking themselves into five decades of existing canon.
Since that premiere less than four years ago, Avalon Universe has been a veritable fan production machine, releasing what has now reached ten completed films (you can view them all on this play list)—seven major projects ranging from 15 to just over 30 minutes each plus three shorter vignettes. That's two and a half fan films per year, folks…with more on the way!
Speaking of which, this latest release includes a bumper at the beginning announcing the launch of a new Indiegogo campaign, attempting to raise $8K to crowd-fund their most ambitious production to date, CRISIS ON INFINITE EXCALIBURS. If you're able to donate, there's some really nice perks (some of which I designed for the team). Here's the link…
https://www.indiegogo.com/projects/crisis-on-infinite-excaliburs-a-star-trek-fan-film
One of the things that sets Avalon apart from many other fan series is the level of quality of the lighting, sound, music, overall cinematography, VFX, make-up, editing, and of course, the acting in each new release. Much of this can be traced back to Josh Irwin himself and the fans he manages to get on his team. Josh works professionally in the film industry in Arkansas, as do many of his cast and crew. This allows Avalon fan films to achieve a polished look and feel beyond what your typical Star Trek fan film.
Their latest release, THE NEEDS OF THE ONE, has a runtime of just under a half-hour and tells the story of a female Vulcan crew member undergoing pon farr while on board. And while we've certainly seen that before in both TOS and Enterprise, this tale tackles the concept in a new and unique way (not easy to do with nearly 1,000 hours of filmed Star Trek episodes and movies out there!). Along the way, The Needs of the One introduces fans to a bunch of fascinating and engaging new characters along with recasting the role of first officer Mikaela Allenby, played in the previous release, AGENT OF NEW WORLDS, by ILLIA "PIXI" NEREID and in this new film by ALEXANDRA REXFORD.
The Needs of the One had already generated over 1,100 views on YouTube in the first six hours. Check it out here…
Pretty impressive, huh?
This isn't the first time a fan series has needed to recast a major recurring role. STAR TREK: NEW VOYAGES/PHASE II had three different actors play Spock (JEFFERY QUINN, BEN TOLPIN, and BRANDON) and two actors play Kirk (JAMES CAWLEY and BRIAN GROSS)…plus multiple actors in the roles of McCoy, Uhura, Chekov and Sulu. STAR TREK CONTINUES recast LARRY NEMECEK as McCoy, replacing him with CHUCK HUBER. So having a new actor step into an established major role is nothing new in the world of Star Trek fan films.
But what is that like for the new actor or actress? How do they approach portraying a character that someone else has already played? In the first of what will be a series of video interviews with the cast and production crew, I chat with fan film newcomer Alexandra Rexford, who stepped into the role of Commander Allenby in a big way, as this script featured her character in a major way…