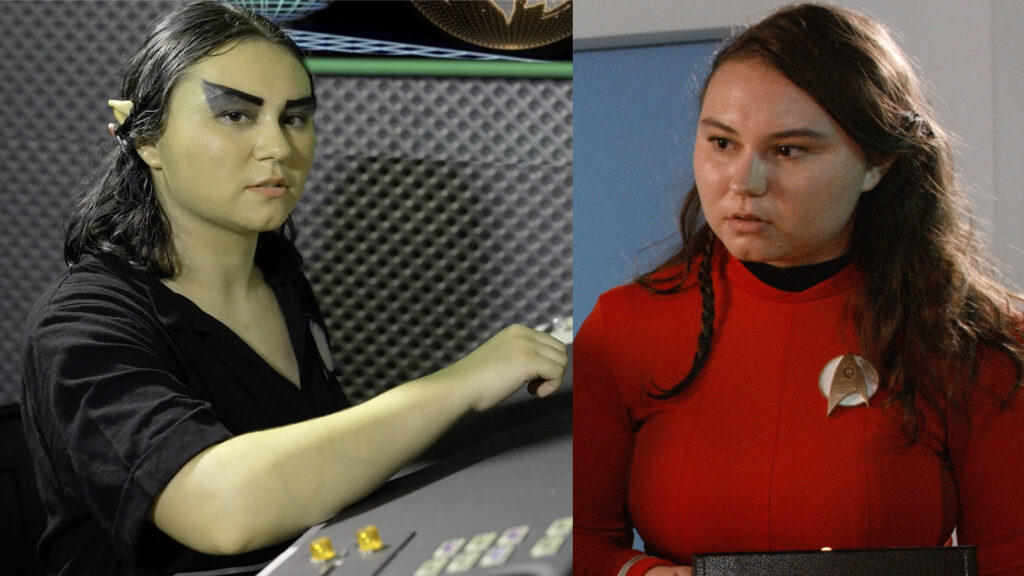 CHALEN (pronounced SHAY-len) EVERTS was taking community college classes at North Arkansas College in Harrison when she heard from one of her friends about someone nearby looking for people to help out on, of all things, a Star Trek fan film!
"I'd never seen Star Trek all the way through," says Chalen. "I still haven't. Actually I am a Star Wars fan…lol. But I was very interested in acting in film, and it was the closest opportunity to me." So she decided to take up the offer to help out. The only problem was that she had no idea how to get in touch with showrunner GLEN WOLFE!
"At the time, I didn't have Facebook," Chalen continues, "so I created an account just to get in contact with someone I didn't know. So now it's a running joke that I got on Facebook just to talk to Glen Wolfe."
Glen has nothing but praise for Chalen: "She's been with us since VOICES FROM THE PAST and fit in perfectly from day one. She volunteered to do 'anything we needed,' and we took her up on it. She has helped me in every facet of producing all of the subsequent episodes."
Even though it's over an hour's drive each way for her to get to the TOS sets at WARP 66 STUDIOS, Chalen has become an essential part of THE FEDERATION FILES fanthology series…on both sides of the camera! She played one of the three Vulcans on the moon base in NO GOOD DEED. And for their latest episode, MUDD'S MISSION (premiering next month), Chalen actually brought four of her friends (all the way from Wisconsin, where she's originally from) to be extras!
She also worked with JOSHUA IRWIN on the AVALON UNIVERSE fan film AGENT OF NEW WORLDS. According to Josh, Chalen came through for him in creating the cave interior set when Glen was sick and couldn't do the build. "She saved our shoot!" recalls Josh. "Normally, I call Glen the superhero of the fan film world. But Chalen was the superhero for us that day."
"From my point of view," says Glen's filmmaking partner DAN REYNOLDS, "Chalen has been a steady rock as a production assistant for several Federation Files episodes. She shirks at no menial tasks that we ask of her and is ready at a moment's notice to help with anything we need."
Bright and cheery, Chalen posted a video last week of footage she shot behind-the-scenes during two of the filming days for Mudd's Mission. I already reported on one of those shooting days, as a late June heat-wave turned one of the non-air-conditioned WARP 66 studio buildings into a veritable oven baking both cast and crew. Chalen was there, doing her usual production assistant tasks, but also shooting a bit of her own footage of what was going on both on set and off (and even in her car!).
Last week, Chalen edited together and posted a behind-the-scenes vlog to YouTube providing viewers a very fun and unique point-of-view of what it can be like on a fan film set. Take a look…
What's the most fun about this video—in addition to Chalen's wonderful attitude and priceless commentary during her quests for fast food restaurants that haven't closed yet—is her perspective. Usually, we see behind-the-scenes footage shot by the showrunners, or at least the "senior officers" of a production. But Chalen gives us a unique "lower decks" view of what was happening, and that's something we seldom get to see.
"Her video caught me by surprise," admits Glen. "What I love about it is that this video was totally unscripted and shot and edited without the knowledge of anyone on set. The genuine nature of this piece is typical of how we all feel about The Federation Files. It may be hot or cold or rainy, but whatever the challenge, in the end we all have a good time. I personally want to thank Chalen for this short glimpse into the BTS of the The Federation Files."
Meanwhile, Chalen remains totally committed to group. "I plan to continue being involved and maybe hopefully do more acting in the future (probably especially after college). It's all super fun, and even though I am not necessarily a Star Trek fan, I really enjoy being in the films and working with the people that make them."