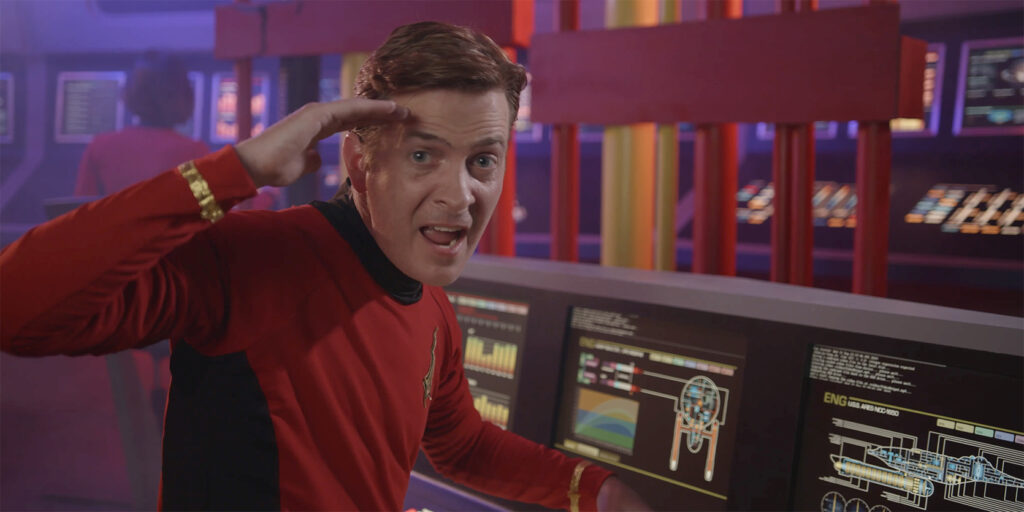 Ready for some fan film FUN???
The RE-launch of INTERLUDE last Friday with new cast member TYLER DUNIVAN went amazingly smoothly. Already, after just four and a half days, there's a total of nearly 48K views on YouTube (more than 40K on the AXANAR Channel and 7.5K on the AVALON UNIVERSE Channel—take your pick of which one you'd like to watch…again).
Fan reaction to Tyler's performance as the chief engineer of the ill-fated U.S.S. Artemis is getting rave reviews. Personally, I'm really happy with this new version, and 97.5% of viewers are giving it a thumbs up! Who are the other 2.5%? Well, remember how 4 out of 5 dentists recommended sugarless gum for their patients who chew gum? Ever wonder about the fifth dentist? Obviously, you can't please all the Trekkies all the time, but we sure are pleasing nearly all of 'em!
Anyway, I just wanted to share with you a quick video that will hopefully make you laugh. Y'see, Tyler Dunivan isn't simply a great actor who takes his craft very seriously. Tyler is also a professional MICHAEL J. FOX impersonator…especially playing the character of Marty McFly from the Back to the Future movies. In fact, Tyler had the starring role in the absolute BEST Back to the Future fan film ever! (Check in out here.)
So when Tyler and JOSHUA IRWIN drove down to ARES STUDIOS in Georgia a couple of weeks ago to reshoot the engineering scenes for Interlude, I asked the guys if Tyler could do a "Marty McFly" version of the take…just for fun (because fan films are FUN films!). I didn't know if we'd ever use it, but at least we'd have it, right?
Well, folks, it came out even better than I expected. There's not much, but I cut together this 30-second vignette for your viewing pleasure. Thank you, Tyler!
Prepare to party like it's 1985…