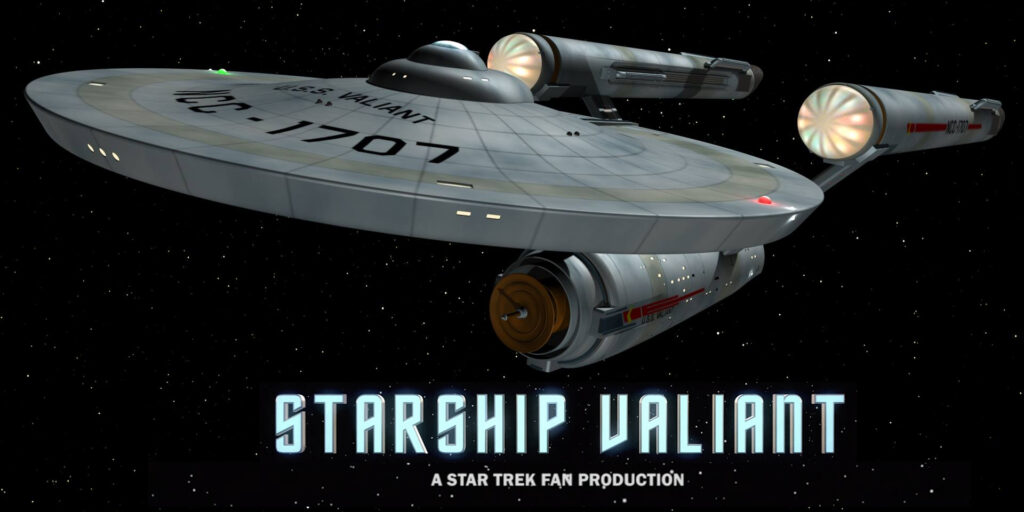 In Part 1, we met MICHAEL L. KING from Oklahoma, considered by many to be one of the nicest, most agreeable and helpful folks in the fan filmmaking community. Back in 2013, Michael got involved with a group of local fans planning to launch a new fan series called STARSHIP AJAX to be filmed at STARBASE STUDIOS. The folks who ran the facility, originally located in Oklahoma City, had moved the deteriorating remnants of the TOS bridge set that had been used for the second episode of STARSHIP EXETER and then worked to restore and expand them into Trek fandom's first and only 360-degree TOS bridge set.
Sadly, the Ajax team never really got themselves going, but Michael—who had initially signed up as a volunteer on that project—was able to launch a fan series of his own called STARSHIP VALIANT. His intention was to focus Valiant's stories more on the characters than the action. And although the initial script that Michael wrote, "LEGACY," began with a space battle, the fight quickly ends, leaving the rest of the episode to focus on the aftermath and how some of the main characters try to deal with it.
Joined by director and editor BRADY FOSTER, Michael and his team were able to film "Legacy" in late 2013 and complete the project by the summer of 2014, where it debuted at the central Oklahoma SoonerCon convention before being posted to YouTube just afterwards. This is what was released…
The new fan series was warmly welcomed into the Star Trek fan film community, and the following year in 2015, Michael was contacted by SoonerCon organizer AISLINN BURROWS asking if he'd like to show "Legacy" again during the convention at the end of June. Michael was more than happy to accept the invitation, but then he had a thought. In the almost-year since "Legacy" had debuted, it had gotten many YouTube views, and fans were pretty familiar with it. But imagine their surprise if the version they saw at the convention included brand new footage!
Continue reading

"The history of STARSHIP VALIANT! (Part 2)"