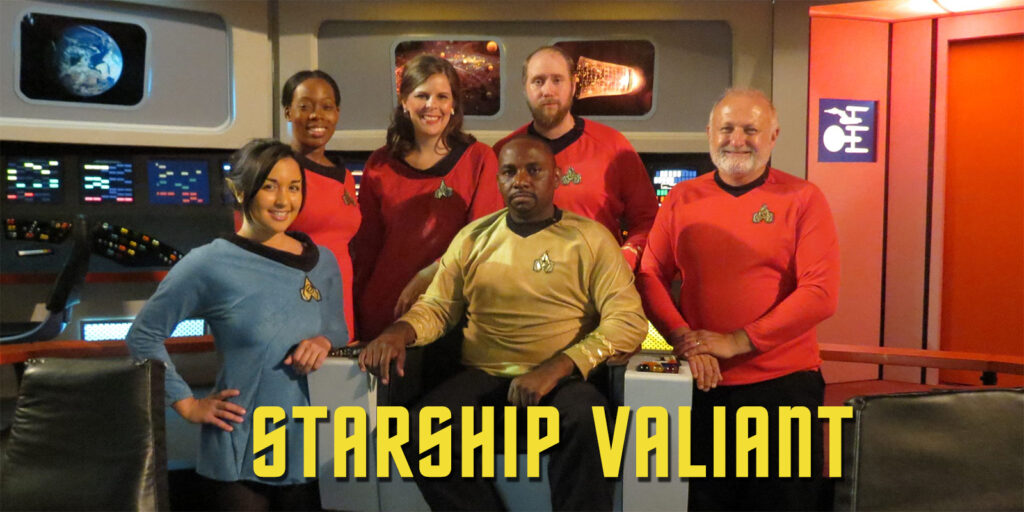 In Part 1, Part 2, and Part 3, we watched how the fan series STARSHIP VALIANT grew from the aborted STARSHIP AJAX fan project, utilizing the 360-degree TOS bridge set at STARBASE STUDIOS in Oklahoma City. The brainchild of local resident MICHAEL L. KING, who would play the main character of Jackson Bishop, Valiant was the first completed fan production to film at Starbase Studios back in late 2013. They released their debut fan film, "LEGACY," the following summer at SoonerCon 2014. Then in 2015, they released a special edition of "Legacy" with a freshly-added scene that introduced new characters on screen that hadn't been seen in the original version, including VANCE MAJOR as Chief Engineer Erick Minard and DAVID COX as Chief Medical Officer Dr. Roger Floyd.
The Starship Valiant team headed into 2016 with plans to produce a much more ambitious second project, a 90-minute fan film titled "THE TIES THAT BIND," and they were able to shoot the first ten minutes during the summer of that year. (You can view that segment here.) But just as they were filming those scenes, CBS announced new fan film guidelines that effectively killed any possibility for a single episode longer than 30 minutes. For a few months, plans for further work on "Ties" were put on hold.
However, at the same time, Vance Major decided to expand upon his character of Erick Minard in a new series of fan films, and some of these projects also featured Michael King as Captain Bishop. This included MINARD, THE VALHALLA STONE, a new fan series called MELBOURNE: "Storm Front", and a crossover with fan series DREADNOUGHT DOMINION called CHAIN OF COMMAND. Each of those included footage shot at Starbase Studios in 2016 and were released in either 2016 or 2017.
In the meantime, Michael made a decision to move forward with Starship Valiant and continue filming "The Ties that Bind." But because director BRADY FOSTER had picked up some professional production work outside of the country, shooting had to be scheduled for after he returned in November. But that wasn't much of a problem—the Starbase Studios sets weren't going anywhere.
Or were they…?
Continue reading

"The history of STARSHIP VALIANT! (Part 4)"