In Part 1, we met MICHAEL L. KING from Oklahoma, considered by many to be one of the nicest, most agreeable and helpful folks in the fan filmmaking community. Back in 2013, Michael got involved with a group of local fans planning to launch a new fan series called STARSHIP AJAX to be filmed at STARBASE STUDIOS. The folks who ran the facility, originally located in Oklahoma City, had moved the deteriorating remnants of the TOS bridge set that had been used for the second episode of STARSHIP EXETER and then worked to restore and expand them into Trek fandom's first and only 360-degree TOS bridge set.
Sadly, the Ajax team never really got themselves going, but Michael—who had initially signed up as a volunteer on that project—was able to launch a fan series of his own called STARSHIP VALIANT. His intention was to focus Valiant's stories more on the characters than the action. And although the initial script that Michael wrote, "LEGACY," began with a space battle, the fight quickly ends, leaving the rest of the episode to focus on the aftermath and how some of the main characters try to deal with it.
Joined by director and editor BRADY FOSTER, Michael and his team were able to film "Legacy" in late 2013 and complete the project by the summer of 2014, where it debuted at the central Oklahoma SoonerCon convention before being posted to YouTube just afterwards. This is what was released…
The new fan series was warmly welcomed into the Star Trek fan film community, and the following year in 2015, Michael was contacted by SoonerCon organizer AISLINN BURROWS asking if he'd like to show "Legacy" again during the convention at the end of June. Michael was more than happy to accept the invitation, but then he had a thought. In the almost-year since "Legacy" had debuted, it had gotten many YouTube views, and fans were pretty familiar with it. But imagine their surprise if the version they saw at the convention included brand new footage!
When Michael had first written "Legacy," there was supposed to have been a scene in sickbay where viewers would see Captain Jeffrey Clark wounded and dying, handing command over to Commander Bishop (played by Michael), who promises to get the crippled ship and crew home safely. The scene would have potentially introduced other characters who would become part of the series, like the chief medical officer and chief engineer. But unfortunately, back in 2013, Starbase Studios only had a bridge set and no sickbay, so Michael left out the scene from the script.
But things were different in 2015. After starting his own production, STARSHIP GRISSOM, Starbase Studios' RICHARD WELLS had begun constructing a partial sickbay with one bio-bed and monitor and a single background wall (there wasn't a lot of room to work with or a lot of money for materials). But even a partial sickbay was still a sickbay, and Richard was happy to let Michael use the set right after Grissom was done filming on it.
Of course, Michael couldn't do it alone, so he asked Brady Foster if he'd be willing to direct the new scene. Brady wanted to see a script, but the original scene had never been refined or finalized. So Michael spent 30 minutes quickly writing the new 3-minute scene. Brady read it, loved it, and they set a date to shoot the scene about a month later. They gathered the team together—actors and production crew—and even helped expand the sickbay set with a second bio bed and monitor along with a second background wall. The expanded set was ready for filming!
But then the flood came.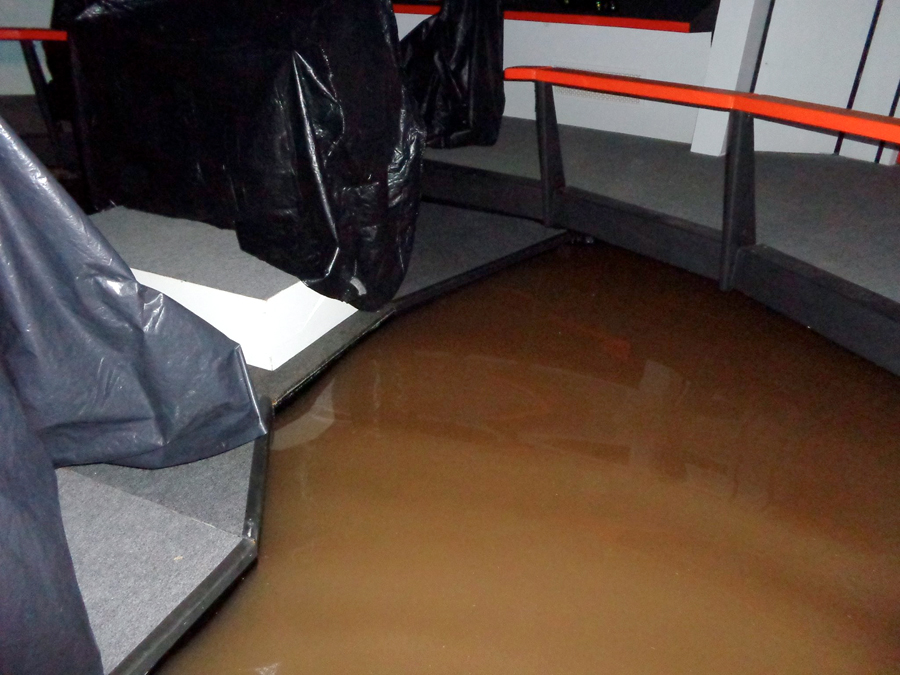 This was actually the second time that Starbase Studios flooded (the first was in 2013, and you can read about both incidents in this blog). A tornadic storm dumped seven inches of rain per hour, and water came pouring into the base of the sets, creating significant damage. With only a week left until filming, Michael worried that they would have to reschedule the shoot…which wouldn't leave much time to complete the new scene before SoonerCon. But Richard Wells, along with his business partner SCOTT JOHNSON, decided to tackle the repairs at warp speed. Helped along by volunteers including Michael himself, MACSEMIUS LAHAR, JOHN HUGHES, RANDY BETTERTON, VANCE MAJOR, KALAN THRELKELD, and others, the sickbay set was repaired and ready for filming right on schedule.
If you recognized the name Vance Major in that list of volunteers, that's because Vance has gone on to become one of the most prolific fan filmmakers in the history of Star Trek fandom, having written, produced, starred in, and just about everything else you can imagine for nearly a hundred (as I write this) fan films featuring the long-lived character of Erick Minard. But Valiant is where Minard started out.
Vance provided a voice-over at the end of the original release of "Legacy" and was referred to as Chief Engineer Minard, but now Vance had an opportunity to play his character in front of the camera. Also featured, in addition to Captain Clark (played by CHARLES WALKER), who dies in sickbay, is the character of Chief Medical Officer Dr. Roger Floyd (played by DAVID COX) whom Michael intended to become part of the continuing Valiant series.
Filmed in early May when the temperature was much warmer than the original below-freezing winter shoot (but not too hot yet), the entire three-minute scene took about six hours to shoot. Then Brady Foster had to combine the new footage with the original, while VFX artist CRAIG FREY worked as fast as he could on new CGI establishing shots as well as a brand new opening credits sequence that wasn't in the previous version.
The new "special edition" included one particular shot that Michael insisted on and remains very proud of to this day. While Captain Clark is dying in sickbay, he grabs Bishop's hand, and there is a close-up as we see black skin and white skin fingers clasping together. "It has always been very important to me to represent as many different nationalities as I could in the Valiant films," Michael points out. "After all, Star Trek takes place far in the future, and by that time we all work together to improve the lives of all humanity. I think at the time 'Legacy' was made, I wanted to 'gently' remind people that, although we are different on the outside, that does not mean that these differences should divide us. Love, friendship, compassion, and caring should not and do not depend on the color of our skin. And in making a Star Trek fan film, I honestly felt obligated to celebrate what made the original series so ahead of its time. The 'holding-hands' sequence was intended to show that, although this captain and first officer are different, they obviously have much respect and love for one another….an afterthought in Star Trek but an important reminder today."
Michael prided himself on having a racially diverse cast. In addition to himself, his real-life daughter DONECO WELLINGTON GUY played his onscreen daughter, and another African-American woman, APRIL CHAMBERLAIN, played a bridge officer at the beginning of he final scene. Michael recalls reading one of the reviews: "And this was a caucasian white guy; he said, 'It's kinda nice to see a fan film where all the actors aren't white!'" And it's true that, as recently at 2014, most fan film actors were indeed white. (In fact, most still are, although it's beginning to balance a bit more in recent years.)
Michael himself actually wanted even more racial diversity in the original version, having put out a casting call for Asian and Latino actors back in 2013. But none showed up. However, two years later when casting the new sickbay scene, two women, one Asian and one Latina, were interested in roles. And even though they only played nurses with no spoken lines, their presence alone was vital in order to represent a future of color and diversity.
Of course, the most obvious aspect of diversity was the fact that the lead character himself was a black man, something that, at the time, was a rarity in fan films. When asked if he felt any kind of special responsibility having such a distinction as a black show-runner and lead actor in a Star Trek fan film, Michael puts it into this perspective: "I think some of it was because we had not really seen a black man in a command position (and no disrespect meant if there is an overlooked fan film that I have missed). And then there was the fact that I simply wanted to play Star Trek. Diversity is important insomuch as being an example for others that they all can and will be a part of the future. Deep Space Nine presented a strong, moral commander who happened to be black, and it was really nice to have him in that role. Captain Kirk will always be my favorite, but Sisko is right up there."
The new Starship Valiant: "Legacy – The Special Edition" premiered in June of 2015 at SoonerCon, complete with a never-before-seen opening act in sickbay, new battle VFX, and a proper title sequence. Take a look…
"We filmed the scene and it turned out very well and true to what I had originally envisioned," recalls Michael. "I am happy with the scene and hope that it will not be viewed as just another indulgent play but instead a smaller part of a larger story meant to add additional depth to the story and characters. I know that 3 minutes isn't a lot of time, but it's all devoted to the characters…as it should be. We see just a hint of their personalities, and we see the devotion of a man to his captain and how, in a tough situation, he is just as fallible as everyone around him. He knows the crew is looking to him for strength, but he wonders if that strength is inside him."
With the successful completion of the Special Edition, the Valiant team went into 2016 with BIG plans and lots of enthusiasm. In fact, they were scheduled to start production on an ambitious second episode that would likely run an hour and a half! But then in late June, new Star Trek fan film guidelines were issued by CBS limiting the run-time of fan productions to no longer than two 15-minute segments. What were Michael and team Valiant going to do?
---
Next time in Part 3, the guidelines take everyone by surprise, but that is far from the end of the road! The year 2016 brings with it multiple appearances of Captain Bishop and his Valiant crew…just not necessarily all in Starship Valiant fan films! What the heck am I talking out? Come back and find out!