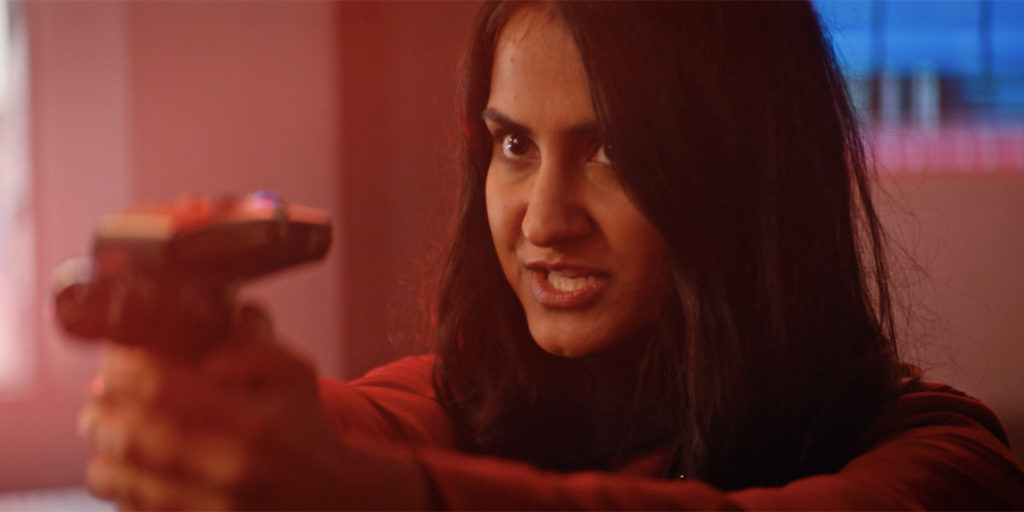 WARNING! The reading of this blog WITHOUT first watching "Ask Not" WILL ruin an amazing experience for you!
It only took seven minutes and forty-five seconds.
Actually, it took even less time than that. Without the traditional SHORT TREKS opening title sequence, this latest offering of CBS's series of mini-episodes dropped me immediately into the action. What followed was a whirlwind of masterfully delivered, impactful lines between two very strong characters. One was Captain Christopher Pike, and ANSON MOUNT could be taking a nap in a hammock and I'd still be mesmerized. So imagine what this amazing actor can do when the dialog is flying fast and furious…and lives are at stake.
The other is a brand new character, Cadet Thira Sidhu (played perfectly by Amrit Kaur), a young engineering cadet facing an impossible decision: does she follow Starfleet protocol or trust Pike? The answer is surprising, to say the least! It's also the culmination of a tense, non-stop five-minute sequence that doesn't leave the viewer any time or opportunity to ask "Hey, what's really going on here?" And that was a very, very good thing!
This is where I start spoiling the episode, folks. Seriously, if you haven't watched it yet, stop reading now, subscribe to All Access for 10 minutes, and watch "Ask Not." Or if you're in a country that hasn't gotten the second series of Short Treks yet, bookmark this blog and come back to it in January. It's not time-sensitive.
Okay, I warned ya. If you read further, the irreparable damage is all on you…
Continue reading

"Why the new SHORT TREKS "Ask Not" shows why there needs to be a CAPTAIN PIKE series! (editorial review)"