SPOILERS UP THE WAZOO!!!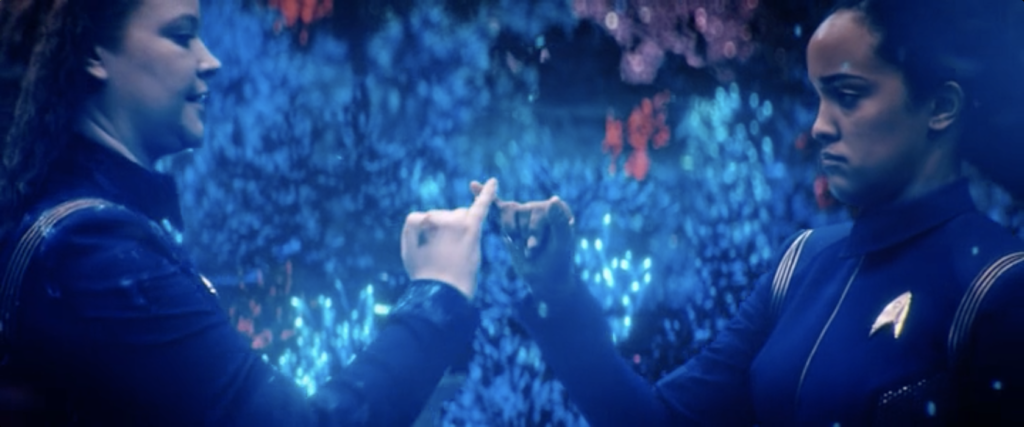 Oh, well.
After four very positive reviews from the guy known for his generally critical reviews of STAR TREK: DISCOVERY's first season, some of my readers were beginning to wonder if Jonathan had been replaced with an alternate universe doppelgänger.
Not this time, though. "Saints of Imperfection" was just that: imperfection. Now, it's not that I expect every episode of Discovery to be" perfect"—that starship sailed long ago!—but this one was far from it. In fact, it regressed into a lot of what I used to complain about often in season one: sloppy and lazy writing, rushing to "hit the beats" without giving characters or viewers a chance to emotionally process all that's hurtling at us, unbelievable plot contrivances, predictability, and a host of other annoyances (at least in my book).
Granted, this was the final episode produced under the supervision of former show-runners Gretchen Berg and Aaron Harberts, who were reportedly fired because of cost overruns and also for mistreating the staff writers. Both reasons are very evident in this episode. Although the VFX looked gorgeous and could easily win an Emmy later this year, I can understand why the budget for Discovery was blown. And while I love watching exciting VFX, I much prefer a good story with characters I care about.
And that brings us to the writing, which surprised me because the writer, Kirsten Beyer, wrote the strongest episode of season one, "Si Vis Pacem, Para Bellum" (the one on the forest planet where Saru freaks out), and is also the only staff writer who has several published Star Trek (Voyager) novels. In other words, Kirsten knows her Trek and her writing. So what happened to so totally derail this episode and backslide into many of the old problems of season one?
Continue reading

"DISCOVERY'S fifth episode of season 2… far from perfection! (editorial review)"