SPOILERS ARE JUST MY WAY OF SHOWING LOVE!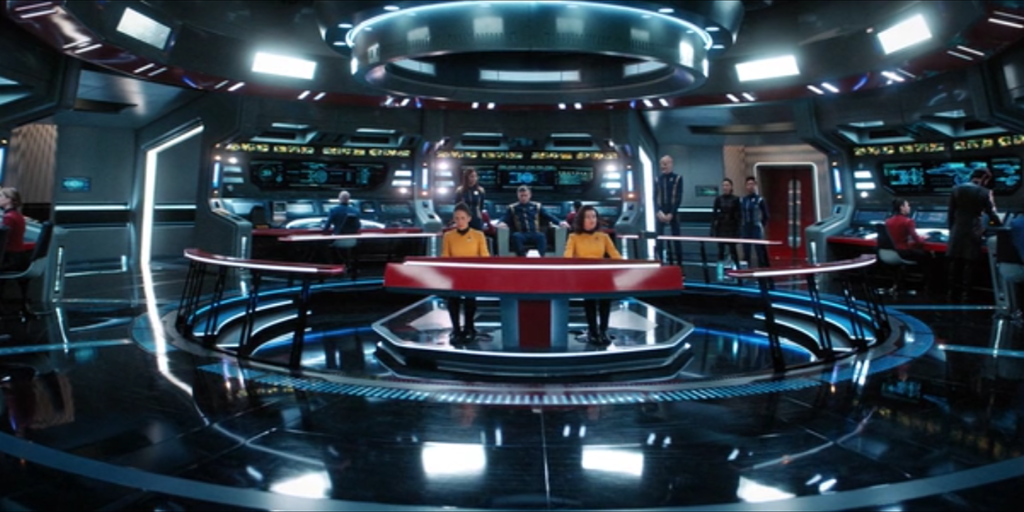 At first, I was thinking of titling this blog "The Big Good-bye" or "The Long Good-bye" or "We Get It Already—Everybody Is Saying Good-bye!" I also considered, "That's Not Orange, Dammit; It's Red!" But in the end, I didn't want to sound harsh because it implies that I didn't think this was a good episode.
The penultimate 13th episode of STAR TREK: DISCOVERY's second season, "Sweet Sorrow," wasn't a bad episode…far and away not! It finally showed us a redesigned bridge of the USS Enterprise NCC-1701 that didn't feel like an Apple Store. In fact, I wanted to grab a Klingon time crystal, take this bridge back to 2007, kidnap J.J. Abrams, and shout: "THIS!!!!" In fact—looking at the uniforms, the handles in the Enterprise turbolift, the sounds of the bridge and the photon torpedoes, etc.—it might not be a bad idea to take a time detour to 2016, kidnap Bryan Fuller and whoever was the original production designer on Discovery, and shout, "THIS!!!!" even louder.
So yes, I liked the Enterprise and the people in it. And I just signed the Change.org petition to CBS trying to convince them to do a new CAPTAIN PIKE series on the Enterprise in pre-TOS. Serious no-brainer, CBS: don't let Anson Mount get away!!!
But this episode also suffered from a number of weaknesses…many of them stemming from the fact that the season was originally set to be 13 episodes and, early on, a decision was made to stretch the finale into two parts. And there's no doubt that the last episode will be an amazing, budget-blowing WOW!-fest. And about half of this episode was equally stunning. But there was also a lot—a LOT!—of filler. And ultimately, this episode felt (to me, at least), like being the passenger with a student driver who is constantly accelerating and then hitting the brakes hard and then repeating the process.
So for the next-to-last time this season, let's dive into my thoughts on an episode of Discovery…
Continue reading

"The SHIPS hit the FANS on STAR TREK: DISCOVERY! (editorial review)"