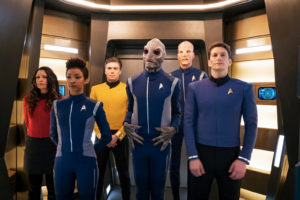 Okay, San Diego Comic Con 2018 is now in the history books, and nearly every Trekker is now talking about Season Two of STAR TREK: DISCOVERY.
Fans now know that, in addition to Anson Mount playing Captain Christopher Pike, Rebecca Romijn (who played the shape-shifting Mystique in the early X-Men films) will play Number One, and yes, we will be seeing Spock at some point this season.  Other new characters, like Tig Notaro as Chief Engineer Reno, are also being added (not sure as regulars or guests stars), plus at least one actor whose character died during Season One will be returning in some undisclosed way.
In addition to the debut of Season Two of Discovery sometime in early 2019, four "Short Treks" (about 10-15 minutes each) will tell stories focusing on the histories of established characters like Tilly and Saru plus a new character named Craft, and a fourth featuring Harry Mudd (played by Rainn Wilson, who will also direct his mini-episode).  Reportedly, one of these four shorts will be released each month leading up to the January premiere of Season Two.  Whether these "Short Treks" will be exclusive to CBS All Access (and Netflix outside of America and Canada) or posted for free on the Internet has not been made clear yet.  Personally, I think they should be posted publicly to draw in more viewers to the subscription service…but what do I know?
(Side/snide note – for any fan filmmaker who's been complaining, "You can't tell a decent Star Trek story in less than 15 minutes…" well, CBS is about to either prove you right or wrong.  Stay tuned!)
But by far, the most excitement came from this intriguing Season Two trailer.  And for the 1% of you out there who haven't seen it yet, here 'tis…
Not bad, huh?  But there was something oddly familiar about it…
Continue reading "A funny thing happened to STAR TREK: DISCOVERY… (editorial)"