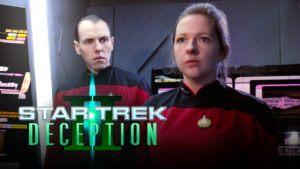 Last week, we started a look back at the history of Star Trek: Deception leading into the recent release of the amazing 15-minute sequel DECEPTION II, written and directed by British fan workaholic LEO TIERNEY.
As I did last time, I strongly recommend that you take a look at this blog that I published last February showing how Leo took a teensy-weensy little one-car garage and turned it into the bridge of an Excelsior-class starship as well as a Klingon bird-of-prey!  (Seriously, check out the blog…it's mostly photos.)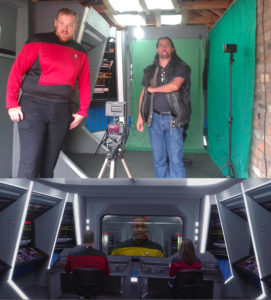 In part 1 of of interview, Leo and I briefly discussed his original 8-minute fan film, Deception, crowd-funded and produced back in 2013.   The very positive reception to Deception led Leo to begin contemplating a sequel, although it would be three years before he would start building sets and going through other aspects of pre-production.
Things ramped up big-time in 2017 as Leo shifted into full production mode, completing his sets, bringing on actors, and filming many of his scenes.  Updates came quite frequently to Leo's Facebook page for Deception, leading into my blog feature from February of this year.
Since then, however, there have been few updates on Facebook or elsewhere from Leo.  And so, as we conclude our two-part interview, we begin with the question I most wanted to know the answer to…
Continue reading "At long last…DECEPTION II (interview with LEO TIERNEY, part 2)"