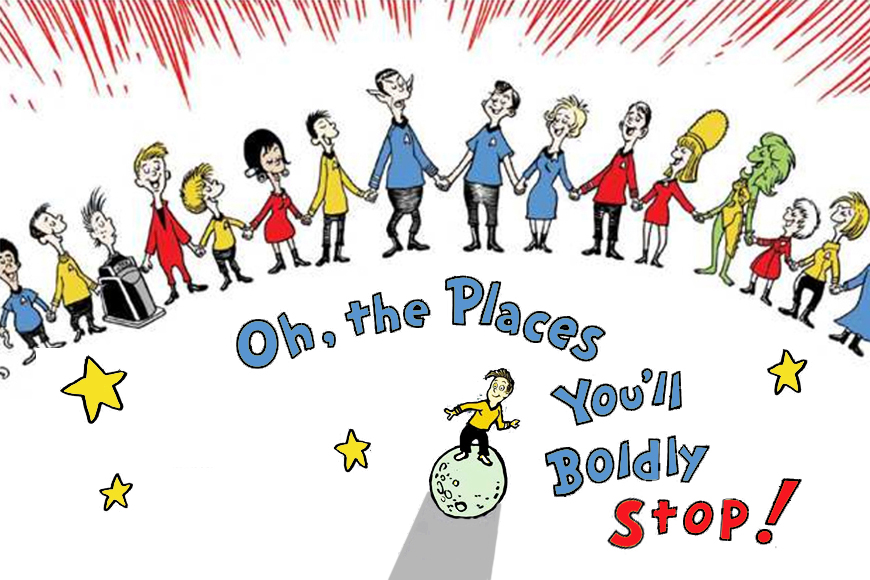 Do you remember those children's stories/books/movies/after-school specials where two rival groups are fighting, and suddenly one of the combatants is seriously hurt and everyone comes to their senses? These "simplistic" stories usually climax in the two battling groups putting aside their differences long enough to work together to help the injured person, ultimately realizing that what they were fighting about wasn't nearly as important as a person's life.
Believe it or not, the same thing essentially just happened in the copyright infringement lawsuit filed by DR. SEUSS ENTERPRISES (DSE) against Star Trek author DAVID GERROLD, award-winning comic book artist TY TEMPLETON, and ComicMix LLC editor GLENN HAUMAN. Back in late 2016, DSE sued the aforementioned trio over their attempts to crowd-fund and publish a "mash-up" book mixing Dr. Seuss style drawings with Star Trek inspired characters. It was to be titled Oh, the Places You'll Boldly Go! and here's some sample artwork of the mash-up alongside the Dr. Seuss originals…
After nearly five years, countless legal motions, judicial rulings, appeals, appellate opinions, and a ridiculous number of blogs that made me feel like I was writing endless research reports in law school(!!!), this potentially precedent-setting case officially settled last Friday, October 8. (You can read a summary of the roller coaster ride at the beginning of this previous blog.)
So what happened to suddenly bring about this seemingly last-minute settlement after five years of legal struggles?
Sadly, cancer happened—specifically colorectal cancer, stage three. Ty Templeton got the diagnosis back in May of this year, and it was serious news. In June, he posted this blog, with Ty's cartoon bunny "alter ego" explaining that his cancer would be inoperable until he went through months of chemotherapy and radiation treatments. He was still "on the winning side of the odds," but it wasn't going to be an easy time for him.
He actually went in for surgery last Wednesday, and I am told that it went well. Let's all please keep Ty in our thoughts and prayers.
In the meantime, things were heating up in the lawsuit. Back in May, ComicMix filed a Writ Of Certiorari to the Supreme Court asking them to review the case and overturn a devastating appellate opinion by a 3-judge Ninth Circuit panel ruling that Boldly was not considered to be fair use. On June 21, the Supreme Court declined to hear the case, leaving the most recent appellate ruling in place and sending the case back to the original judge.
Then in August, with the case once again in the Ninth Circuit courtroom of Judge Hon. JANIS L. SAMMARTINO, she denied both the Plaintiff's motion for summary judgement of the case (refusing to simply rule that Team Mash-up was liable for damages and ending the lawsuit with a pre-trial win for DSE) as well as the Defendant's motion to consult with the U.S. Registrar of Copyrights because ComicMix believed that DSE's copyright registrations for the Sneeches and the Zacks may not have been properly filed and might have fallen into the public domain. Obviously, it's hard to infringe on something that is no longer copyrighted, but alas, that motion wasn't granted either.
Continue reading

"DR. SEUSS/STAR TREK Mash-up case unexpectedly SETTLES because of cancer…"