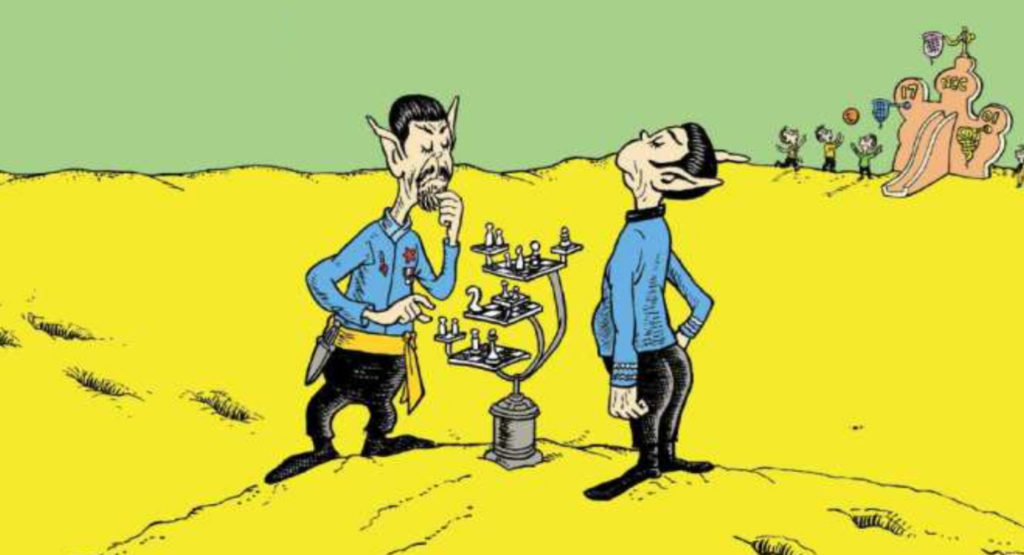 Yesterday, I recounted the two-year history of Star Trek's "other" major infringement lawsuit. Back in 2016, tribble creator DAVID GERROLD and comic book artist TY TEMPLETON teamed up to create what they considered to be a parody mash-up of Star Trek and Dr. Seuss, a book they intended to call Oh, the Places You'll Boldly Go! Along with publisher ComicMix, they launched a Kickstarter which took in about $30,000 before being shut down when Dr. Seuss Enterprises (DSE) sued all three of them for both copyright and trademark infringement. No money was ever collected from the crowd-funding campaign.
It's just over two years later, and after a roller coaster ride for both plaintiff and defendants (see Part 1), we're now in the final weeks before the start of the actual trial in early spring.
Or are we?
Following long months of motion-filing, jockeying for position with Judge JANIS SAMMARTINO of the Federal Ninth Circuit, and collecting pre-trial testimony and documents from witnesses during the discovery phase, it's time for one final "Hail Mary" pass from each side.
Yesterday, I reviewed the defense team's motion to dismiss the case (read it here in its entirety) on the grounds that DSE didn't really prove any realistic monetary damages (meaning that the mash-up should be considered as Fair Use and the complaint dismissed) and also that DSE's remaining two trademark claims from font and art style weren't valid. The defense arguments were solid and generally convincing…at least to me.
But then I read through the plaintiff's motion for summary judgment. Like the defense team, DSE would like this case to end before it ever goes to court (and they rack up another six figures in legal bills!). But while Team Mash-up wants the judge to dismiss the lawsuit entirely, DSE would prefer the judge to rule that the defendants are obviously liable for multiple counts of willful copyright and trademark infringement and should be forced to pay hundreds of thousands of dollars in damages. And why trouble a jury when the final verdict is so obvious?
Are the plaintiffs as convincing as the defendants? Let's take a look…
Continue reading "Major FAIR USE showdown coming in DR. SEUSS/STAR TREK copyright lawsuit! (part 2)"