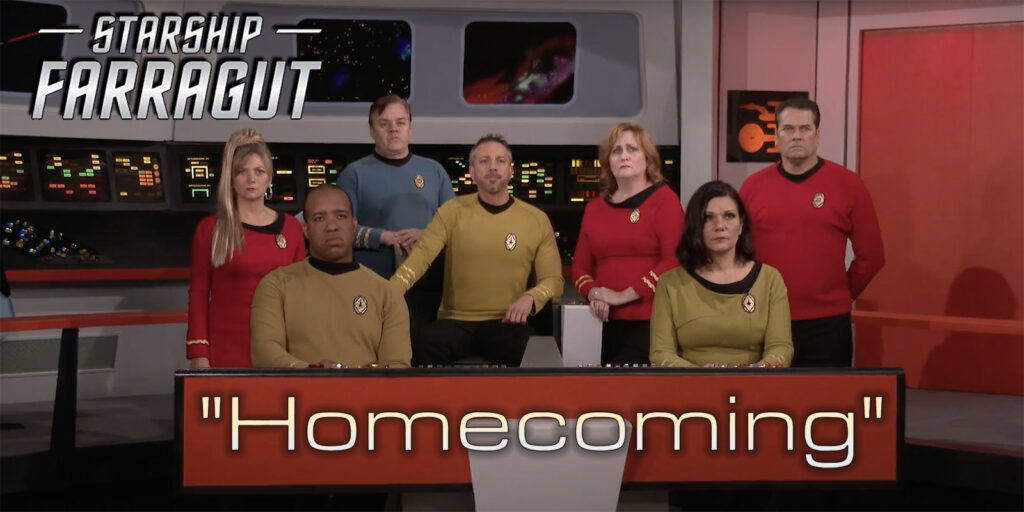 The history of the fan series STARSHIP FARRAGUT stretches all the way back to 2004 and spans a total of 6 full-length fan films, 3 shorter vignettes, and 2 animated-style fan films (one of them featuring the voices of TIM "Tuvok" RUSS and CHASE "Leeta" MASTERSON). Farragut Films was responsible for the majority of the construction of amazing TOS sets that were also utilized for STAR TREK CONTINUES and DREADNOUGHT DOMINION and are still available for use by fan filmmakers at NEUTRAL ZONE STUDIOS in Kingsland, GA. Farragut also spawned a short-lived spinoff series called TREK ISOLATION that released three vignettes. And coming in 2022, a sequel series titled FARRAGUT FORWARD will move some of the Starship Farragut characters into the Wrath of Khan movie era Trek.
Since we have so much material for today's interview, I'll keep the background introduction fairly brief. But if you'd like to read the full backstory of this proud fan series, here's Part 1 of a 3-part deep-dive into the full history of Starship Farrugut. Well, ALMOST full. The final part of that blog feature came out in early 2016, a month before the release of their penultimate episode, "The Crossing," and a few months before reshoots wrapped on their announced series finale, "Homecoming." Crowd-funded with about $15K in late 2015, fans expected to see a completed fan film later in 2016 or maybe 2017. That didn't happen.
Instead, it wasn't until mid-2020 that STEVE SEMMEL announced that he was taking over as post-production supervisor, having started off simply doing the music for the episode. I interviewed Steve in June of last year, and he promised a delivery date in the second half of 2021 "most definitely." And indeed, that's exactly what happened, as "Homecoming" was released on October 1. Take a look…
I reached out to three people to discuss "Homecoming": show-runner and lead actor JOHN BROUGHTON and writer PAUL R. SIEBER (both of whom have been with Starship Farragut since the very beginning), and of course, Steve Semmel (who came on board in 2018). We covered so much great behind-the-scenes information about both the finale episode and also going back to the earliest days of the series back in 2004.
I received so many awesome answers that I've decided to divide this interview into two parts. Let's get started…
Continue reading

"STARSHIP FARRAGUT finally releases series finale "HOMECOMING" (interview with JOHN BROUGHTON, PAUL R. SIEBER, and STEVE SEMMEL – part 1)"