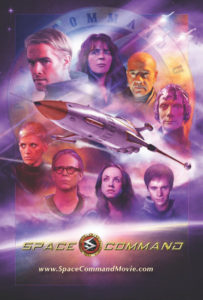 Wow, that was quick!
The latest Kickstarter for the long-awaited fan film SPACE COMMAND hadn't even launched to the general public yet when it took in more than $33K of its $45K goal in barely 24 hours earlier this week!
How did they manage this feat?  Easy…they had an "early bird special" for existing donors to have first crack at some limited-item perks, and over 500 of those prior donors pledged even more money to this latest campaign.
Why all the excitement?  To answer that question, you need to understand the history of this not-so-little endeavor.
Imagine a major fan film project with Star Trek and sci-fi veteran actors cast in it, and a team of Hollywood professionals lined up as the production crew.  Imagine one of the earliest Kickstarter campaigns bringing in six figures in donations, and then a second crowd-funder bringing in another six figures.  Now imagine those funds going into not only set construction and filming but also the creation of an actual studio intended to be used not only for this production but also to be rented out to other fan film projects.
Now imagine years and years going by with no finished fan film delivered.  Oh, there's been some short scenes released, some VFX, lots of updates by the show-runner assuring donors that, yes, this project is still on track.  But no actual film.  In fact, to finish the film, donors were informed that it's going to take even more contributions from fans.
You're imagining Axanar, aren't you?  Well, stop it!  This is the history of Space Command, folks…
Continue reading "SPACE COMMAND Kickstarter takes in $33K before it even STARTS!"