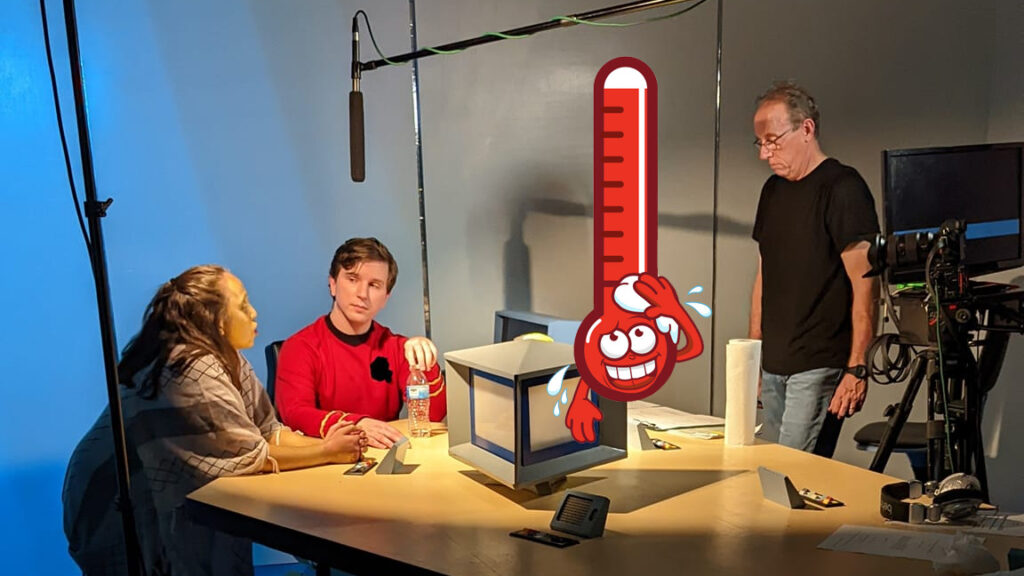 You've probably heard it on the news—or maybe you're experiencing it yourself. There is a massive "dome of heat" sitting across much of America right now with temperature records being broken left and right. Even in the higher elevation Ozark Mountain area, the mercury on the thermometer outside read 95 degrees last Saturday. And it wasn't just any kind of hot. It was the southeastern U.S. in June…meaning sticky, humid heat that melts you into a puddle of sweat even if you're standing in the shade!
But inside WARP 66 STUDIOS in the town of Flippin, Arkansas, well, it was even HOTTER!!! Actually, I should specify that inside one of the WARP 66 Studios, it was even hotter. That's because their TOS sets occupy two different locations. The bridge and shuttlecraft sets live in a nice, air-conditioned building owned by DAN REYNOLDS in Harrison, AR, and even though the lights and warm bodies can heat things up a bit, those two sets remain pretty comfortable.
However, things are much different in Flippin! GLEN L. WOLFE constructed a metal building on his property that currently houses the transporter room, briefing room, sickbay, corridors, and a swing set area. The building has no insulation, and only one small room inside for the actors to prep has a small A/C unit. The rest of the building is "cooled" by running small fans to move the air around. But when it's 95 and humid outside, those poor fans are fighting a losing battle, and with the hot lights and bodies inside, you may as well be filming inside of an oven!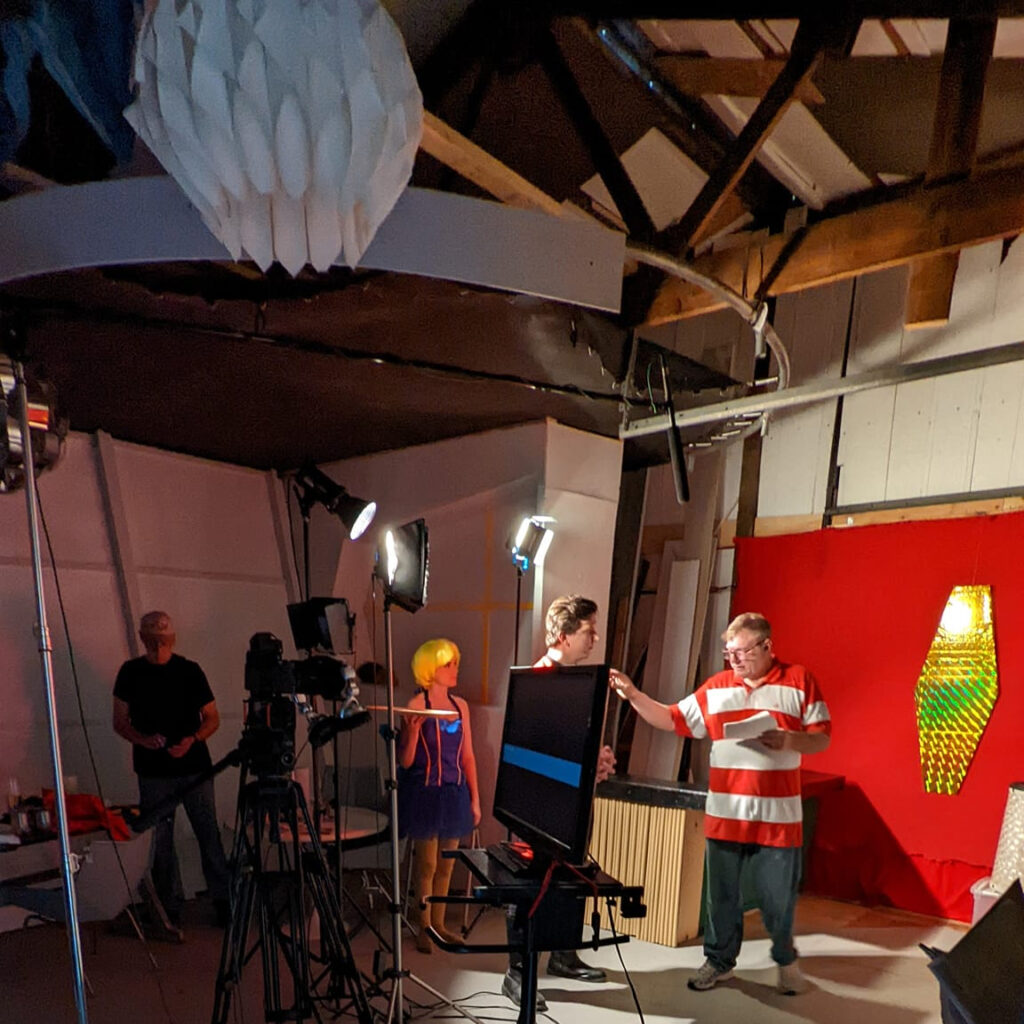 "It was dead air inside and hotter," said Dan Reynolds, who served as director of photography for this oppressively sweltering Saturday shoot. "Thank goodness Glen built it with extremely high ceilings."
Interestingly, not one but TWO different fan films shot simultaneously on those super-hot sets. The first and more significant of the two (in terms of total footage filmed) was for the next episode from Glen and Dan's "fanthology" series THE FEDERATION FILES. Titled "MUDD'S MISSION," this new production brings back two colorful characters from the series' very first release back n 2016, "HIS NAME IS MUDD": Captain Charles McCann of the U.S.S. Constitution, played by JIM VON DOLTEREN, and the irredeemable Harcourt Fenton Mudd played with flair by DAVID WHITNEY.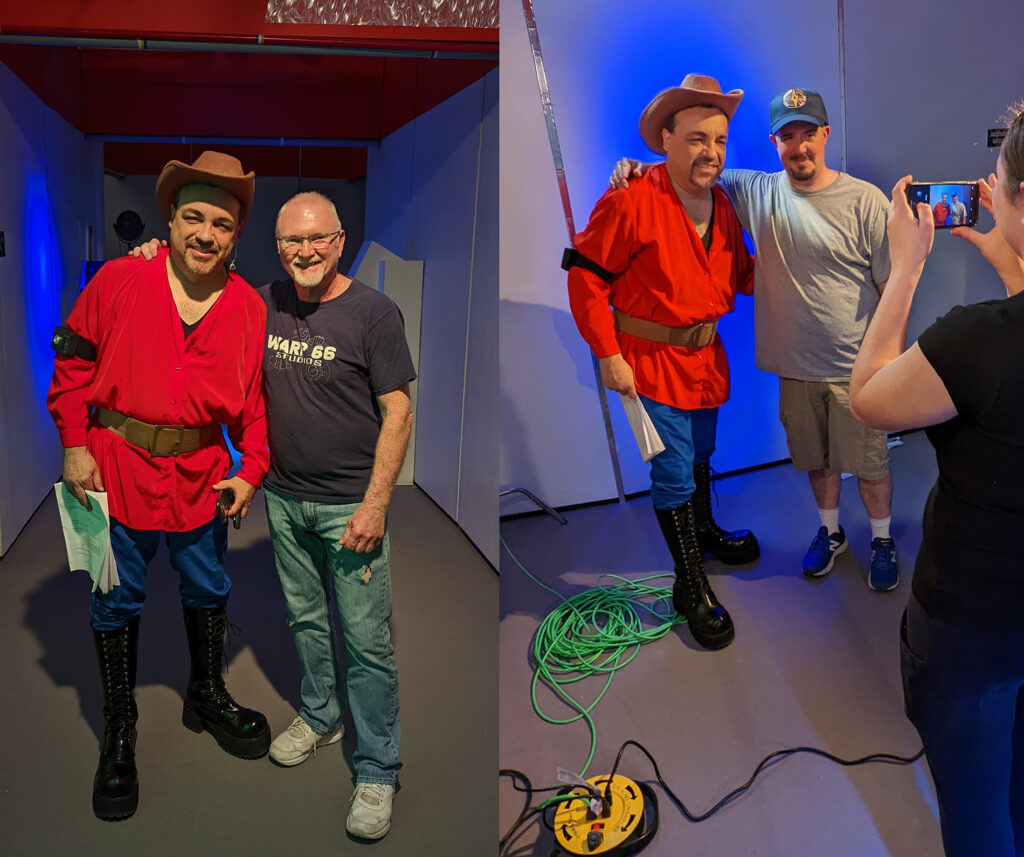 David, who lives in Iowa, actually filmed his scenes a couple of weeks ago during a much more pleasant weekend. "Up until June," said JOSHUA IRWIN, showrunner for the AVALON UNIVERSE, who was also there this past weekend filming pick-up shots for that team's upcoming release THE NEEDS OF THE ONE, "the weather in Flippin can be pretty mild. In fact, late spring this year has been cloudy and rainy, even into May. But June is about the farthest you can do it. July and August are out for shooting there, and we don't typically schedule anything until September again."
So why not simply cancel the hot shoot and come back some cooler day?
Continue reading

"The shoots must go on – filming MUDD baking in an OVEN!"