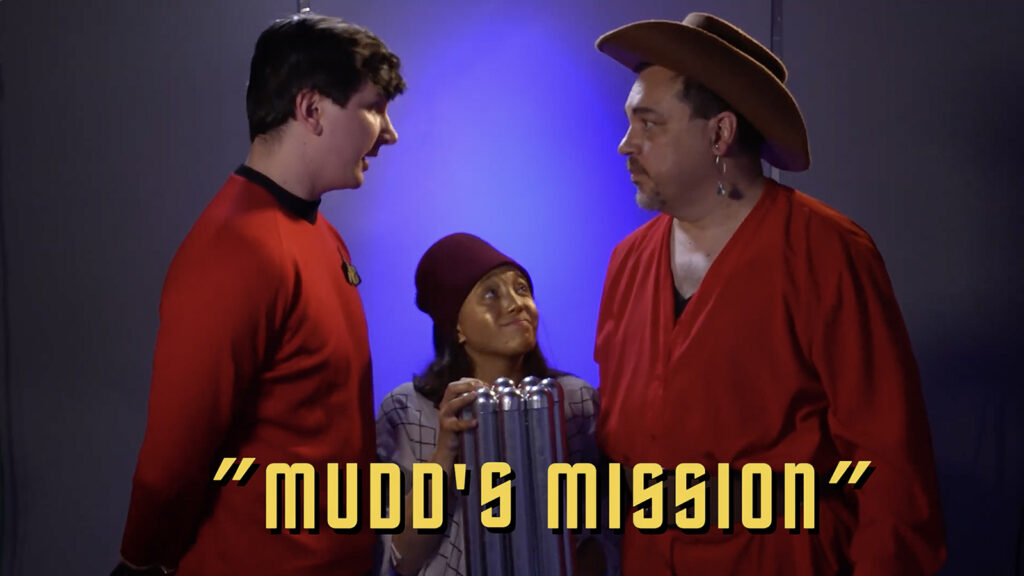 Okay, I admit that there is no Guinness Book of World Records for Star Trek fan films. But if there were, the newest release from THE FEDERATION FILES, "MUDD'S MISSION," would hold a whole bunch of 'em!
"Mudd's Mission" is the twelfth production from this long-running fan series which began in late 2016 with their debut episode, "His Name Is Mudd." Since then, showrunners GLEN L. WOLFE and DAN REYNOLDS of WARP 66 STUDIOS in northern Arkansas have released the following:
This latest offering is partially a sequel, of sorts, to their initial offering from six year ago in that it features the return of several characters from "His Name Is Mudd"—most notably Harry Mudd himself, deliciously played both times by fan filmmaker DAVID WHITNEY from STARFLEET STUDIOS in Iowa (producers of the fan series VOYAGER CONTINUES, PROJECT PROMETHEUS, and QUICK TREK). Also reprising roles from the original were JIM VON DOLTEREN as Captain McCann, ROBERT WITHROW as Admiral Withrow (a recurring character whom he also played in multiple episodes of STAR TREK: PHASE II), JOSHUA MALONE as Harry Mudd's son Corey, and MICHAEL L. KING playing Captain Jackson Bishop (a role he originated on the fan series STARSHIP VALIANT).
In total, eleven actors returned from "His Name Is Mudd" for the sequel, the other six I didn't list playing different characters than before. But having eleven returning actors isn't enough for the record books. Many ongoing fan series have large casts. However, before I tell you what does mark "Mudd's Mission" for a record, take a watch so I don't spoil anything for you…
The thing you probably noticed immediately was the sheer number of actors listed in the closing credits. A jaw-dropping total of 45 people(!!!) appeared in this fan film…many in multiple roles. For example, CHALEN EVERTS, a producer who recently released this fun behind-the-scenes video from a weekend of filming, played two different security officers and also an Andorian. These 45 actors traveled to Arkansas from a total of 11 different states, and represented at least four other fan series in addition to participating in The Federation Files. That's gotta be a couple of records right there! (Actually, His Name Is Mudd had 52 actors.)
But perhaps the most impressive "record" was how many episodes of TOS were referenced, either directly or indirectly, in this fan film. Glen and Dan are already well-known for keeping TOS alive and healthy with such fan films as "The Green Manifesto," which features Major/Colonel Green from the TOS episode "The Savage Curtain, and "No Good Deed," in which Glen constructed a nearly-identical set recreation of the S.S. Botany Bay from "Space Seed."
"Mudd's Mission" obviously references the two TOS Harry Mudd episodes, "Mudd's Women" and "I, Mudd." It also recreates a portion of the K-7 Space Station seen in "The Trouble With Tribbles." But that's not all…!
Continue reading

""MUDD'S MISSION" from THE FEDERATION FILES sets a bunch of fan film WORLD'S RECORDS!"